Kakak in Japan (Pt 1, 30 Oct)
Kakak (a Malay way to say elder sister) reached Japan on Saturday (30 Oct) morning. Phew!! So glad to meet with her in the bus station. Huh! So worry she has problem reached the bust station safely from Kansai Airport. She's been telling me the people in the airport were so helpful. Even though can't speak English, they tried to direct her by using body language.
We then went back to my apartment. After resting for a while, started to bring her out. We had lunch in
Hakodate Ichiba (函館市場)
near my place. She love it!! Especially the pudding. I'm goin to do a summarized review for the Hakodate Ichiba later in this Kakak in Japan series as I went there twice with her (as she requested :P) and once with Patrick during his bd. I did 2 posts for Hakodate Sushi before,
here
and
here
.
After tat, brought my sis to down town for a few hrs shopping. First, I brought her to experience karaoke in Japan in
Jankara (Jumbo Karaoke Hiroba)
. Hee... at first she said 1 h enough. After we started to sing, she got so hooked that she wanted for another hr. But as it was a Saturday, long waiting list, the staffs didn't allow us to extent. Oh well, I promise my kakak I'll bring her to Jankara again before she went home. Then we did a good shopping in a souvenir shop as the shop was closing soon. Discount from 30-70%. Wow! :)
We hv to rush as we hv a dinner appointment with my lab's gang.
Welcome dinner for kakak (1)
When we reached Wang Hao's house, it was so merry. All the gals were busy preparing their own things for us. *sob sob* Fish Fish just sit and wait. :P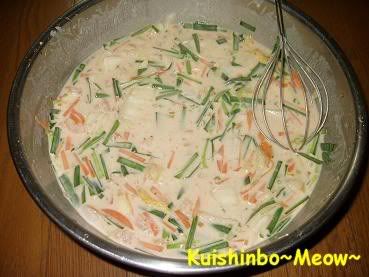 Park san prepared her chijimi (チジミ) batter. Chijimi is a Korean pancake.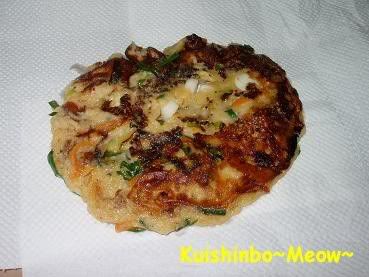 She didn't has a hot plate, which is the best thing to make a beautiful chijimi. So, she used Wang Hao's stove to do it. It didn't come out well for the shape. Hee... The one u see on the top, was one of the prettiest. Made her omost wanted to cry. As this was the 1st time my sis tried it. She felt like her whole work was a mess.
But... the taste was just as great as usual. We love it. After seeing us eating the chijimi as nothing really matter, she felt much better. Poor gal! She has one of the best chijimi I had ever tried. Very authentic. I love chijimi more compare to okonomiyaki (お好み焼)(Japanese pancake). Here is
a recipe for okonomiyaki
. Can't find a good chijimi recipe yet from net. :P Maybe my way looking for it was wrong.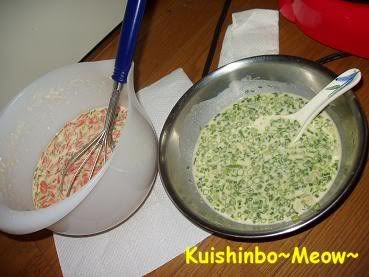 As for a Brazil born Japanese, Mirian, she tried to challenge her first takoyaki making. Above were he 2 batters she prepared. One was without meat, obviously why... *sob sob*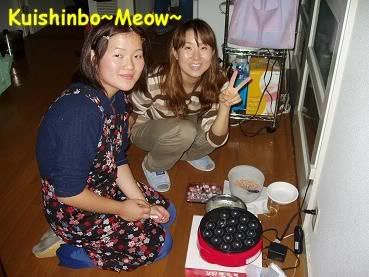 Here is Mirian (left) and Park (right) with a ready to cook action. ;)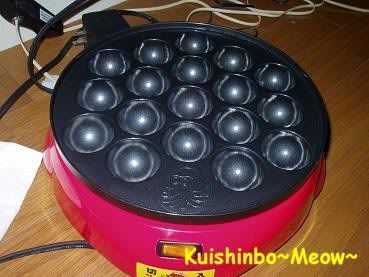 Mirian brought her new Takoyaki machine on that day. It was cheap, only 1180yen (RM44). Making fish fish wanted to hv one too. Small, cute n convenient.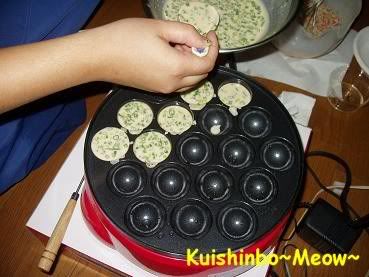 First, after brush some oil in the Tako holes, pour the batter till the holes are full.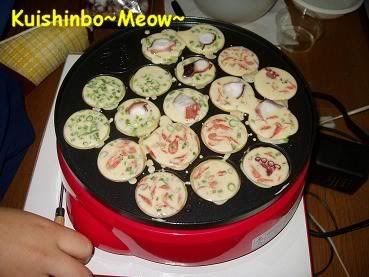 After a while, add in tako (蛸)(octopus) chunk into the veggie one and the one with hoshi sakuraebi (干し桜海老) (dried sakura shrimp). Heee... Park forgot that the meatless one no need to put, and she put each hole with tako. Well, it was too late by the time we realised. Nvm, can owez pick out.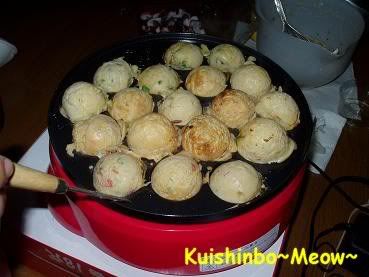 Then, with a quick turn, the Takoyaki ball started to form. When the other half hemisphere for the Takoyaki oso ready, then turn turn turn the ball for a few time before take it out.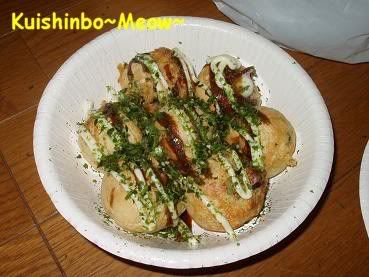 Phew!! Pretty round takoyaki. I think it was a beautiful one considering that was our first time. This plate was done by fish fish. :P Not bad ler? With topping of mayonnaise, takoyaki sauce and dried seaweed.
The taste was good, just that a bit hard compare to normal takoyaki. Heee... think Mirian used too much flour for her batter.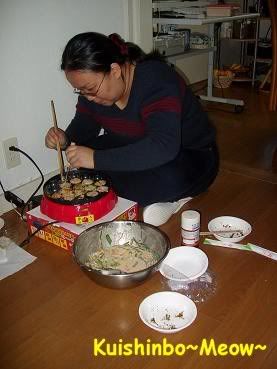 Kakak tried to challenge make Chijimi ball indeed. Well, it was no good shape. Cause the flour was kind of difficult to form balls. In fact, they sticked to the Takoyaki hot plate. She was so busy, that she didn't even got time to 'cheese' for the picture.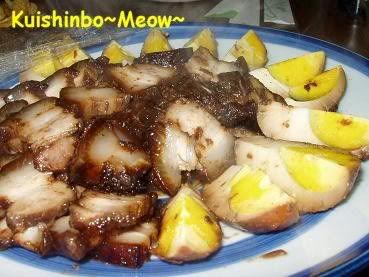 Ok, fish fish did bring something. :P My mum home cook Lu Rou and Lu Dan. She got one of the best Lu Dan that I hv ever had. Of course lah... mama's taste owez no. 1. :P
Oso, I asked my mum to bring the Yeo's chicken curry (full name Yeo Hiap Seng) for my frens to try. Ai yar~ she got the wrong brand, it's Wee's. Hmm... can't find good links for both brand. Strange. Anyway, Yeo's is a famous brand in Malaysia n Singapore. Whereas Wee's is a local brand in Sarawak. The one shown on the pic is Wee's. Look very much like Yeo's from outside.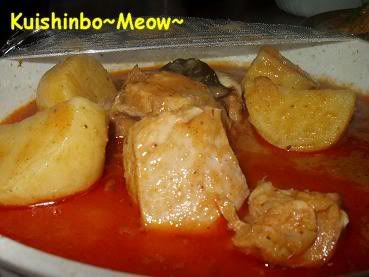 After microwaving, here is the ready to eat version. The look, not bad. But the taste, I would still think Yeo's better. I like the Yeo's gravy and the potato more. Though I dun know bout Wee's chicken, but Yeo's chicken was good, according to my teenhood memories. :P
I learnt in UKM before that Sarawakians ranked No. 1 in consuming canned food in whole Malaysia. Hmm... I'm not sure how bout now.
Ok, to be continued in Pt 2.