Kakak in Japan (Pt 2, 30 Oct)
Welcome dinner for kakak (2)
These were the other half foods that we had for the welcome dinner.
Aso, the only Japanese gal that usually mix in this foreigner group, was a cute good cook. She prepared 2 dishes. First, a Japanese style meat loaf.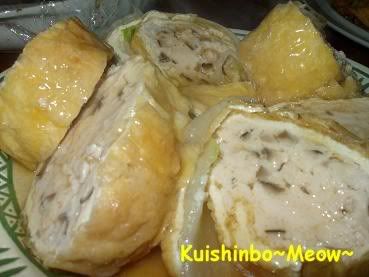 This was how the cooked meat loaf looks like. I tried the deep fried tofu and cabbage that wrapped the meat loaf. Very nice. Wa fu (和風)(Japanese style).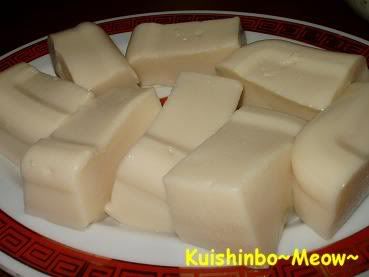 She oso made goma tofu (胡麻豆腐)(sesame tofu). The sesame taste was very rich, but with a little bitterness when without any seasoning. And the texture was really puri puri (ぷりぷり)(an expression in Japanese that explain a food texture like pudding). After adding a little bit of shoyu (醤油)(soy sauce), the good flavour of the whole thing was brought out. And the bitterness gone. I love~ it.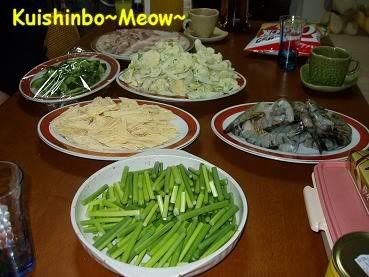 As for our host, Wang Hao, she prepared many dishes that nite. She is another good cook. These were the ingredients she used for her cooking. Magic magic on... then all these raw materials... changed into some drooling dishes. :)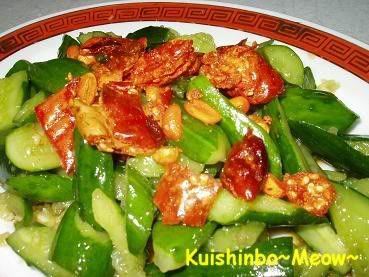 First, a Chinese style pickled cucumber with dried chili and peanut as topping. The dried chili was fantastic, not spicy at all. Good tit bits to go with a cool beer. :)
Then she used sliced pork, yuba (湯葉)(soy bean piece) and cauliflower to make one Sze Chuan style mix vege dish. It was very good. The Sze Chuan spicy sauce bring out the good flavour of the mixture. My only complaint on Wang Hao cooking, a bit too salty for me. But it is just the right taste for others. Heee... i even complaint my mum's cooking too salty sometimes.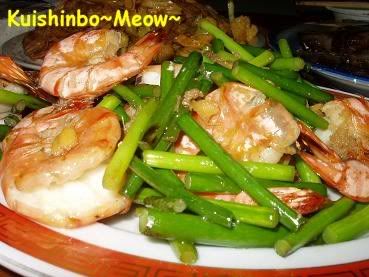 She used ninniku no ne (大蒜の根)(garlic stem) to do one simple stir fry with prawns. She just added some salt and sesame oil as seasoning. The ninniku no ne was extremely sweet.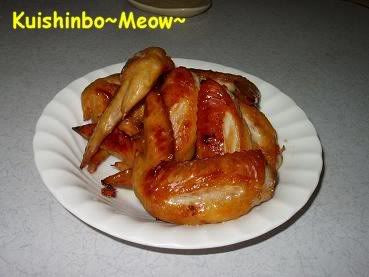 I didn't see she prepared this. Baked chicken wings, came at 2nd last. This is her strong point dish. Her husband has been saying she makes really good baked chicken wings. And yah, I think they were good as everyone just keep having whole one except me, even after a full dinner with all the dishes.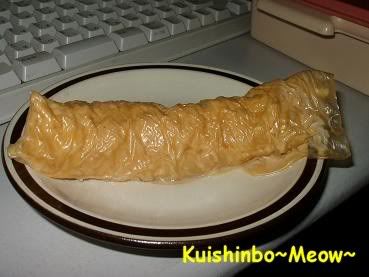 Lastly, she took out another dish, Chinese style meat loaf, but she put smashed tofu inside this meat loaf to hv some modification. I didn't eat this as well as it has meat inside. But, this final dish has the least reduction in amount, as everyone was in a burping condition oledi tat time.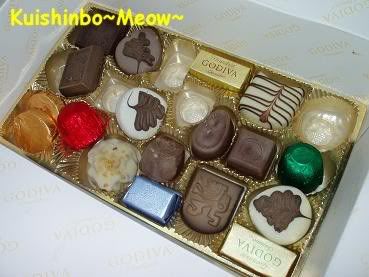 Wang Hao took out a box of
Godiva
that she bought in France for us as dessert. Heee... choco... of course fish fish couldn't resist it. I had one. :P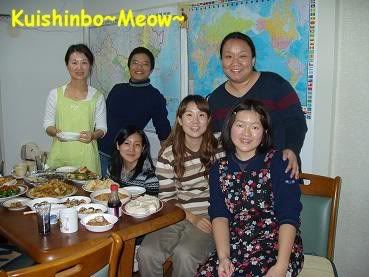 These were the members on that day...
Left to right: Wang Hao, Zhao Wei Jiang, Aso, Park, Kakak and Mirian.
Thanks gals, for the great welcome dinner for my Kakak. :)