Kakak in Japan (Pt 3, 31 Oct)
A little good news for those in USA,
hey! Spring of Trivia
is on now...
To read more...
Uji River
2nd day morning, I decided to bring my Kakak walked half round along
Uji
river before we were heading to
Kobe
. We were so glad it was a good weather morning.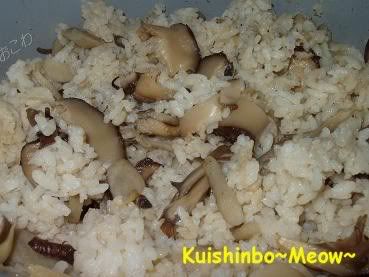 We had fish fish brand Takikomigohan (炊き込みご飯) at home before we went out. :P Actually I cooked this on 29th nite, so tat Kakak could hv it on Saturday morning when she reached. Ai yar~ who knows got too much other delicious stuffs for her to eat. So, with some of the foods we brought back from the welcome dinner, we had a nice breakfast.
Well, it is a very simple Takikomigohan... I put 4 types of mushrooms: shiitake (椎茸), shimeji (しめじ), maitake (舞茸) and eringi (エリンギ), Gobo (牛蒡)(a burdock) and yuri no ne (百合の根)(a lily root bulb). Then just add in some black pepper grinds, and a cube of
dried young sardines stock
by
Knorr in Malaysia
. This was my first time to try using a stock to make Takikomigohan instead of normal Japanese tsuyu (つゆ). Heee... the taste was good, only a bit too soft, think I add to much water. :P But Kakak love it. ;)
Below are a few pics of how Uji river looks like in mid autumn. :)
Anchoring boat along the still clear Uji river.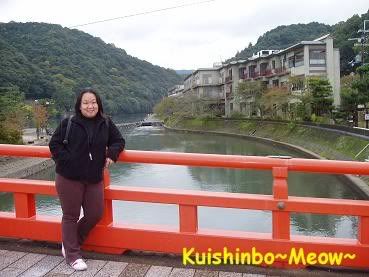 Kakak with a background of mountain and river. See the mountain, still very green. Now, it is very late autumn oledi, and the mountain all turn into a mixture of red, orange, yellow and green.
Here is another side of Uji river, with a very swift water flow. This is the typical river style in Japan, shallow and swift, but wide.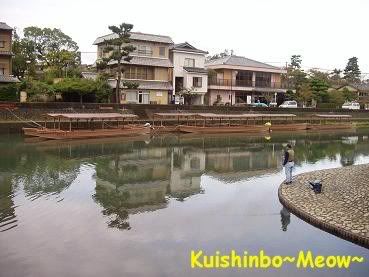 Uji is a very good place for some quiet and slow kind of leisure. Saw this man was fishing alone. But he doesn't seem lonely at all. And yes, I like this scene very much. :)
Meet up with Angel in Kobe
We waited for
Angel
to meet up with us. Heee... a bit doki doki (どきどき)(throb)... as it was the first time I will meet a blogger. :P
Finally we met up... Even though it was the first time, we get to talk to each other easily in a very short while. Maybe sama-sama (same) Malaysians. ;)
Angel decided to bring us hv Ramen (ラーメン) (Chinese noodle in soup) in a famous shop in Kobe, after she knew Kakak not yet tried Ramen in Japan.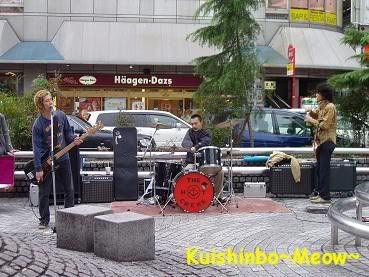 One street band was playing very loud music when we past thru the Kobe street.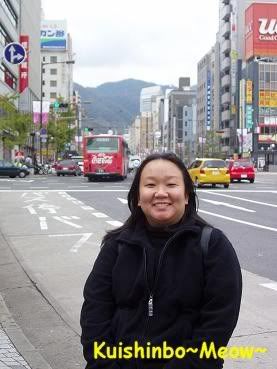 And Kakak wanted to take a pic with a background of Kobe city. There u go Kakak, even got a bus with Coke CM behind wor.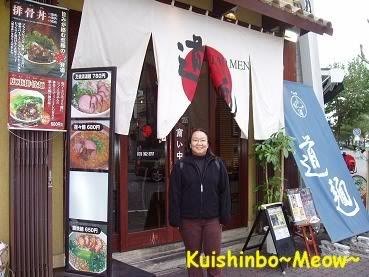 We reached the shop. It is called
Tao Men (道麺)
. I hv past thru this shop a few times, but never really think that the Ramen inside will be good.
Here is the Geki Kara Tantanmen (激辛坦々麺) (super spicy tan tan noodle) for 800yen (RM29.50). Angel and me ordered this. Wow!! It was very good, especially the soup. The noodle itself very good too. Even though a bit oily for me, but I love the spicy soup taste.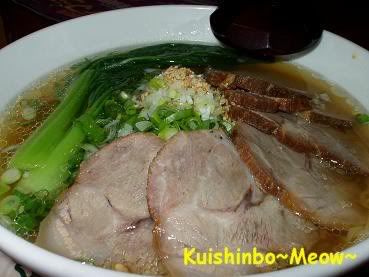 As for Kakak, she had Char Siew Soup Noodle (叉焼清湯麺). 700yen (~RM26). Considering the price, I think the Char Siew portions were generous. :)
Heee... thanks Angel... for bringing us to this good place for lunch. My sister really like it.