Kakak in Japan (Pt 4, 31 Oct)
Kobe city
After the lunch, we decided to go to
Kobe Kitano Ijikan (神戸北野異人館)
first. The word Ijin actually means Foreign People, and Kan means House. So, in this place, u can see a lot of overseas-style houses. This is becoz Kobe is an old port city in Japan and has been an open port since 1867. Many foreigners lived in Kobe from 1873. And Kitano started to have foreign residents from 1887.
Nowadays, most of these Overseas Embassies remainded the old ways there were, and are opened to public for sightseeing purposes. Well, I'm not goin to touch about the house there one by one, as many info bout these would be easily found on the internet. Fish Fish will try to introduce to u this place from her fish eyes' view. :P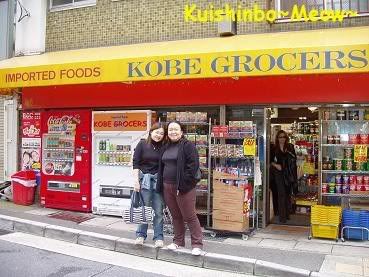 I hv been to this place a few times, but I never know this place hv a mosque. It was Angel that told me bout this. She said in Kobe, there are a lot of Muslims. She led us to the mosque. On the way, I saw a 'Halal' grocery. Wao! Could hardly find this in Kyoto. Or maybe I dun know? Found this
Japan-Bangla Net
. Got info telling u where to get a
Halal store
in Japan. But not all listed I guess.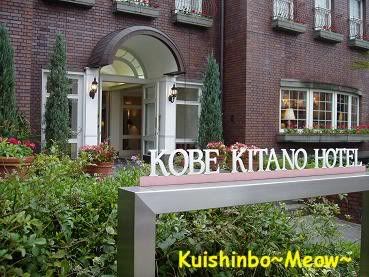 Then, we past thru a nice hotel.
Kobe Kitano Hotel
. Very Western style. Must be not cheap. I saw one young lady busy taking photos from this corner. After she gone, fish fish did some copycat. Phew! Nice corner. Hee... thanks for inspiring me that. :P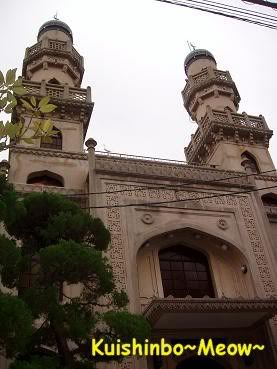 Finally we reached the
Kobe Mosque
. U can find the other mosques in Japan from
here
. Angel told me, when the Hanshin Daishinsai (
阪神大震災
)(
The Great Hanshin-Awaji Earthquake
) happened, this mosque was not affected at all. Hmm... me and Angel got the same conclusion...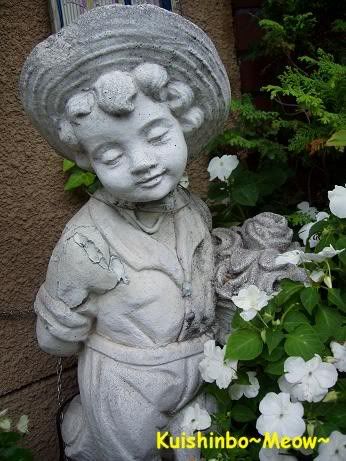 After the mosque, we went to the Kitano Ijinkan street. Kakak was busy looking for her souvenir in one of the shop along the street, whereas I'm busy with this cute statue outside the shop. :P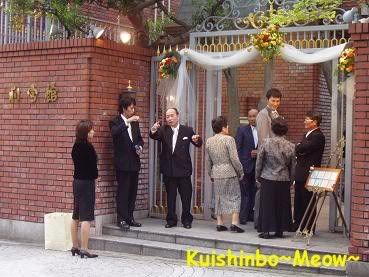 Ok, this caught my Kakak eyesight.
"Me want him, take his pic quick!! He's so handsome!"
Err~~ Kakak suddenly got so excited when she saw this tall and good looking bridegroom (in grey suit).
Click! I push on my camera button. But didn't dare to take too near. So blur. Ai yar~ this Kakak, owez asked me to take all the guys' pic.
"Ai yor~ my mata (eyes) too busy~ All the guys are so good looking!"
Yes, Kakak was so busy when taking train, walking, waiting, lining up, even eating time... Her eyes too busy to get off from any of those guys.
"Ha!! Must tell San Ba Min Yin... Anita... and all my collik liao... Let them very Xian Mu (envy) me..."
She started to daydreaming liao.
Err~~ it made me blushed sometimes when she just keep looking at them. *Sigh!* If only her bf sees this.
Heee... I laughed so hard when I was reading
www.xes.cx
as he was saying 10 Pretty Gals/Min in Tokyo in his review about
Trip in Tokyo
. Luckily my Kakak didn't say to me, hey... 10 cute guys/min in Kyoto. But my Kakak said if Kyoto vs Tokyo gals, she thinks Kyoto gals look prettier wor. Hmmm... fish fish... no comment. All got 2 eyes, 1 nose and 1 mouth.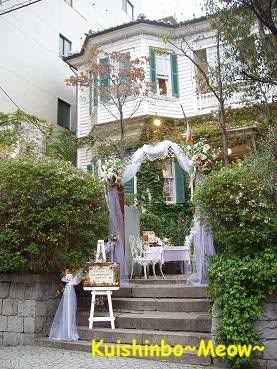 This was another scene where the Kitano attracted my Kakak. The wedding place. Yap, another thing why this place is famous among the Japanese is because a wedding style tat is different from the traditional Japanese style. For the Japanese, u dun hv to be a Christian to hv the wedding ceremony be done in church. The marriage in church more like a popular style, or something fashionable.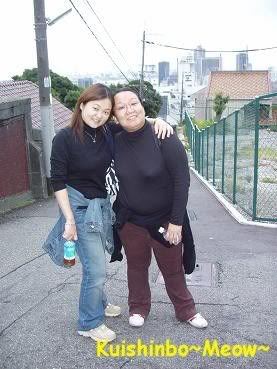 Poor Kakak... she has been climbing uphill and downhill so much today. She kept complaining me ill-treated her for letting her walked so much. :P Yoku ganbattana~ Kakak... There's no way u will able to go in Japan if u dun walk a lot.
Left: Angel. Right: Kakak with her tired look.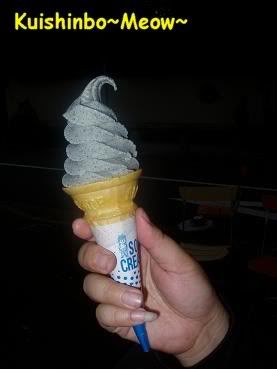 She was so relief when we started to walk downhill. Ok, it was kind of chilly for me... but Kakak feel like to hv something cold. She saw this Goma Aisu (胡麻アイス)(Sesama Ice Cream). So, bought one. Yap, it was nice. Creamy milky with a sense of nice black sesame fragrance. I had one bite and let her finished the rest.
Heee.. i like this pic above. Notice or not my Kakak's hand turned into kind of a spooky. Floating hand with a big black ice cream~~ in the middle of dark dark nite.... Wooooo~~~~ :P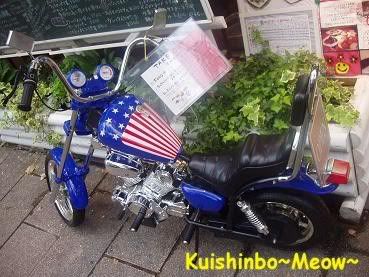 We past thru a restaurant. Western food I think. Didn't notice much. But thought this model bike in front of the shop was really cute. Blue~ Kind of difficult to connect it with 'food'.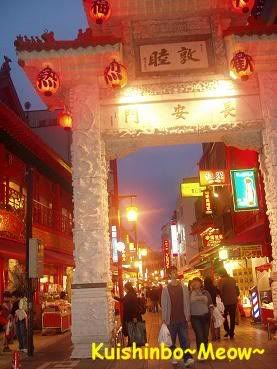 We then said bye bye to Angel that evening, as she was goin to meet her HK's buddy for shopping. Thanks for the nice companion. It was a great time for Kakak. She kept saying 'Angel's cute'. Hee...
I then brought my Kakak to China Town in Kobe called Nanking Machi (
南京町
). Ok, it's a China town. With a lot of Chinese foods, groceries and clothes. But it didn't attract my sister much. She's not coming for Chinese stuffs in Japan. So, within 15 min, we finished the whole place.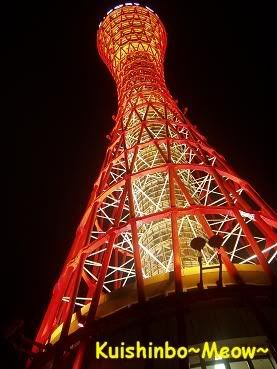 We then went to our final destination in Kobe. Kobe Harborland (
神戸ハーバーランド
). Kakak asked me to take a few pics for her in
Kobe Port Tower
area. I like this tower, it looks very shiny at nite.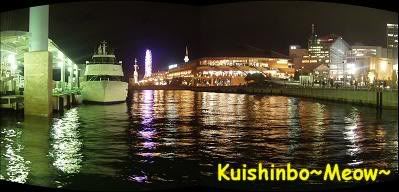 I tried to play with my camera. Took 2 panaromic pics. This one is the harbour view at nite. If u see clearly, I didn't do any editting for cutting off the unwanted part.

And this one is a panaromic pic of sis in 3 shots. Combined them into one. :P Heee... The original size very HUGE!!
Ok, tat's all for today. Tomolo will talk bout dinner in Kobe~~ ;)