Kakak in Japan (Pt 5, 31 Oct)
Halloween bakeries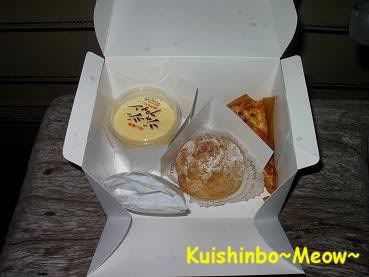 It happened that it was Halloween that day. So Kakak said wanted to eat pumpkin pie, and I bought a slice for her from a famous shop in Kobe, recommended by Angel. ;) The shop name is Kobe Yogashi Kurabu (
神戸洋菓子倶楽部
). I oso bought 1 chou cream and pudding. The pumpkin and chou cream were good, but kind of disappointed with the pudding. Oh well~
After these sweets, Kakak n me decided to look for a good place for dinner. Raining, can't really walked around. We looked at the pamphlet, and decided to go for a restaurant that hv Kobe beef.
Kobe Burando Tei
We chose a western-style restaurant called Kobe Burando Tei (
神戸ブランド亭
) (Kobe Brand Arbour) in
Mosaic
, a shopping complex in Kobe Harborland, a very nice complex.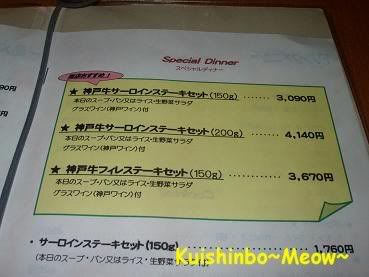 This was the menu list that attracted my Kakak. She chose a Kobe Beef (
神戸ビーフ
)Sirloin Steak Set (150g). 3090yen (~RM112). Sirloin is a high quality meat among the different beef parts, soft and marbled. It is always used in making steak. For more info about naming of different parts of beef,
refer here for Japanese explanation
.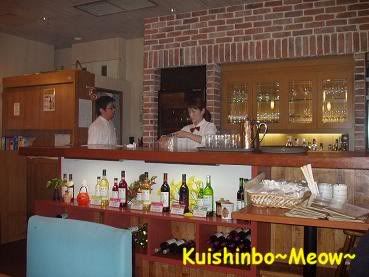 While waiting for the food to come, I took few pics of the interior. This is the counter with varieties of wine.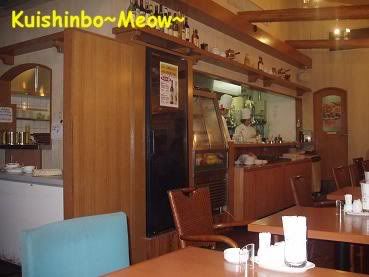 This is the corner of layout of the dining tables and the inner part is where the food was prepared.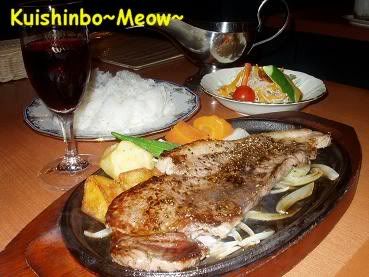 After waiting for a while, my sister 100% Kobe Beef set finally served. She was so excited seeing the big piece of meat with assorted veggie in front of her. :P The Kobe beef set came with a plate of nice Japanese rice, a bowl of fresh colourful salad, a glass of tempting red wine and a bowl of glittering thick sauce for flavoring up the steak. Not a bad price for such a portion rite? ;)
Before I go down further with Kobe Beef set, u can refer here for a detail reading bout
What is Kobe Beef
?
I pick up some of the info to explain here. Hope I didn't translate into wrong info. :P
To be qualified to be called Kobe Beef, it must be a Tajimaushi (
但馬牛
) (Tajima Cow) species that is bred in
Hyogo prefecture
(兵庫), can be from the north part of Hyogo Tajima (
但馬
) until Awajishima (
淡路島
). Only the top quality meat from these Tajimaushi that passed the regulations can be called Kobe Beef.
Tajimaushi is a type of Black-Hair Japanese Cow (Kurogewagyu, 黒毛和牛). In whole Japan, they have black-hair cow, but only the Tajimaushi is generation by generation no mix-breeding from other prefecture's cows. Even the famous Matsuzakagyu (
松阪牛
) and Omigyu (
近江牛
) are breeds from Tajimaushi.
Kobe, was the 1st place in Japan to hv the 1st beef shop in Japan during 1868 by a foreigner.
Ok, enough for the Mame Chishiki (豆知識)(Little Knowledge). ;)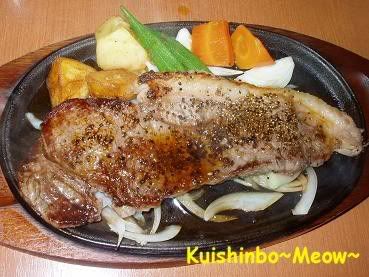 Here is a closer look at the big piece of steak.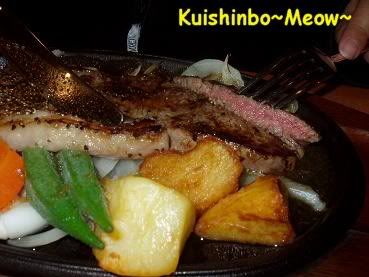 My sister wanted a medium one. So, u still can see the red red colour inside. :( Definitely not for fish fish.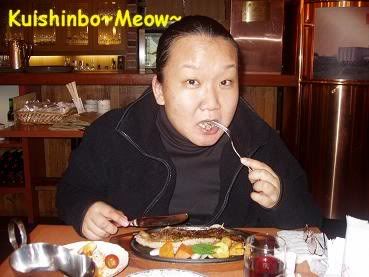 Heee... Kakak wanted me to take this pic... Want to make her Jie Mei, Anita drool wor~
The first bite on the meat, she was like...
"Mmm~~ I'm in heaven!"
Heee, her smile was very shiawase. Yah, she is a meat-eater.
"Soft! Sweet! Melting~"
. Ok, I think enough for u all to understand how good is the meat oledi.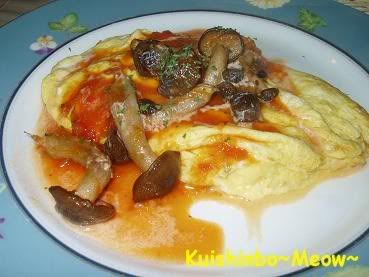 Ok, how bout fish fish? She had a plate of omelette topping with mushroom. 750yen (RM27). Not bad, but not too special as well. I had that with the half plate rice of my sis. She can't finish the whole plate of rice. Anyway, my main purpose was just to bring my sis to try the beef. So, tat's ok with me. Was really great she felt very satisfied with the beef. If only I know more bout Japan's good stuff when last time my mum came. But for sure she wants a well-done for the beef. :P She terribly scare bloody meat. :P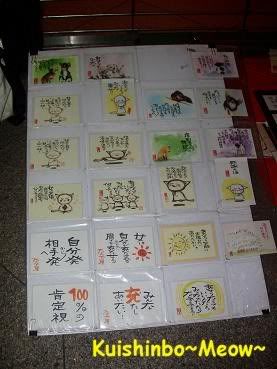 On the way home, it was a very heavy rain. We stopped by in one of the street stall in Kyoto city to buy a few hand-made cards before we went home.
Tired, but nice one-day trip in Kobe. :)