Kakak in Japan (Pt 7, 2 Nov)
~USJ~
I chose this day to bring my Kakak to
Universal Studios Japan
(
ユニバーサル・スタジオ・ジャパン
), a famous movie's theme park in Japan. The No. 2 theme park in Japan, after
Tokyo Disney Resort
(
東京ディズニーリゾート
). The No. 3 theme park in Japan is
Huis Ten Bosch
(
ハウステンボス
). Fish Fish went to all three oledi, all the 1st time was with my mum. Yap, my mum loves theme park. Heee... It was a nice time to go with her actually, I miss that. Her 'kiasu' (a colloquail way of saying people who scare to lose) spirit is fully utilized in this case. :P
If u want to go to a theme park... Best condition : normal weekdays, good weather and not the peak tourists season!!
We bought the ticket in JR's Green Window (Midori Guchi) oledi, so no need to line up buy ticket anymore. It was a very good weather day.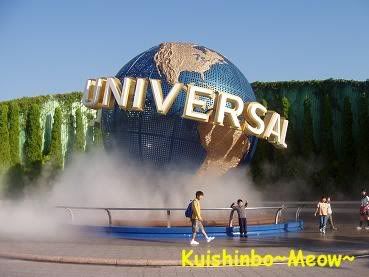 The Universal Ball spinned round and round and round to welcome everyone.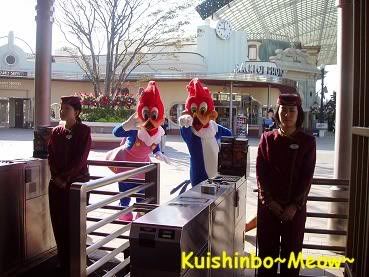 Ur tension will get higher when all the anime characters start to move out to do greeting with nice USJ music as background. Heee... the woodpeckers were 'Hello' to me when they saw me wanted to take their pics. Cool~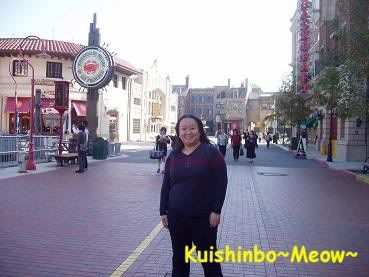 I told Kakak must rush fast for the
Spiderman The Ride
as it is the latest and heatest attraction in the park. Even fish fish hasn't tried yet. It was a new attraction up last year. So our first destination was heading for that. Yippie! Fish Fish finally finish all the attractions in USJ. U know wat? This was the 8th time I went to USJ, not becoz I like it so much, just happened that I hv to bring people to there, and oso I got a My Friendly Pass last year, which I can enter the park at anytime for 8 months with only 6900yen (RM250). But this time, the ticket is out-dated oledi. So i hv to buy a new ticket to bring my Kakak to go in. One person for 5500yen (RM199), so 2 for 11000yen. Takai!
Frankly speaking, the Spiderman was not until my expectation, I was hoping for something better. I was quite disappointed when I realised it is only anime and not real actors. Oh well... But my Kakak loves it, she said it was fun. The best thing u go early and fast to the Spiderman first when u go to USJ, cause if u r late, there will be a long long queue, u will be only wasting ur time waiting for ur turn to play the attraction. One attraction sometimes can let u wait more than 2 hours, if u dun plan well!
The park opened at 9am till 8pm that day. The park operation hrs change according to the crowdness of the park. I was thinking the attractions will be starting from 9am till 8pm too... very disappointed, only the Spiderman started at 9am, the other all started after 10am, some even 10.30am. Arrrgghhh...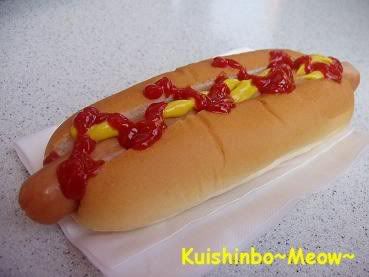 So we got no attraction to go for 45 min after we finished the Spiderman. Decided to take some pics and find something to eat.
Kakak saw hot dog food cart. She wanted one. So we bought one with 360yen (RM13). It just came with the bun and the frankfurt. The ketchup n mustard packs, for free adding, u can add as much as u like. Heee... pretty or not? The pattern of ketchup and mustard done by Kakak n me. :P
We past thru a big Christmas tree. The Christmas celebration not yet started, but decoration has been up a bit here and there oledi.
Then, we headed to
Sesame Street 4-D Movie Magic
. The show will only be on for a few hrs operation before it is changed into
Shrek's 4-D Adventure
from late afternoon. These 2 shows share same cinema. So, if u dun have enough time for both, I would strongly recommend u choose the Shrek. I love Shrek, it was really fun. I hv tried 3 times, and I still think it is fun. :P Kakak n me managed to catch up with Shrek as last attraction just 10 min before the park closing time. ;)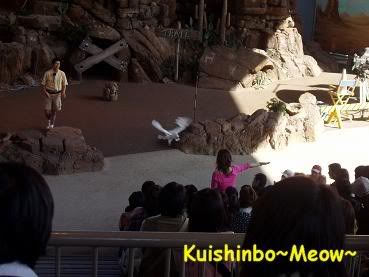 Animal Actors Stage
and
The Wild Wild Wil West Stunt Show
are just next to each other. The time of these 2 shows oso just nice to watch one after one. So, we went to see Animal Actors Stage first. I like this show, owez, as I am a deep animals lover. :P
Pic above showed how a trained parrot take money from a young lady's hand.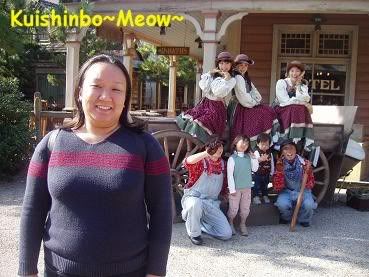 After that, we went to the Wild Wild Wild show. And when we came out, a street performance called
Cowboy Hoe-down Party
was just over. We didn't able to watch it but Kakak wanted me to take a pic of her with the performers as background.
We then wanted to go to the
Jaws
. On the way, we stopped by in
Snoopy Studios
. Thrilled me to see Snoopy!! I just love Snoopy~ I caught a good snapshot of Kakak with Snoopy. But my one, it came out blur. :( Hmm... better than nothing though. Snoopy really one of the most famous character in USJ. Heee... At least fish fish is one of its silly fan. :P I guess why I like Snoopy is its very attracting character in
Peanuts by Charles M. Schulz
.
Kakak didn't like Jaws. She felt the attraction kind of boring. Hehe... same thing for fish fish too actually.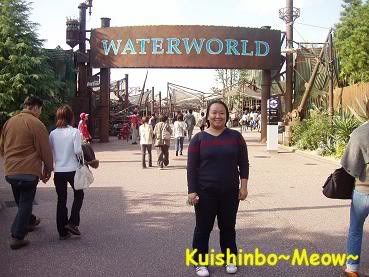 We went to another famous show in USJ,
Water World
.
Kakak in front of the Water World entrance.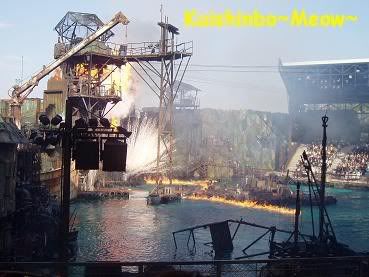 This pic shows the almost finale part of the show. Ai yah~ I didn't catch the rite timing for the plane to drop down. But I think I got a good catch for the explosion scene. :P Heee...
We oso have
Terminator 2 : 3-D
and
Backdraft
. These 2 oso my favorite. But Kakak like Terminator, but not the Backdraft, she complained too hot. Heee... she will feel good when it is winter then.
Since she complained hot, so I brought her for some cooling down in
Jurassic Park - The Ride
. She felt good after that. Yah~ she loved this attraction. But poor fish fish not so good, sitting at the side seat, and was splashed wet terribly. Aaarggghhh... Bad Kakak, was laughing hard. :(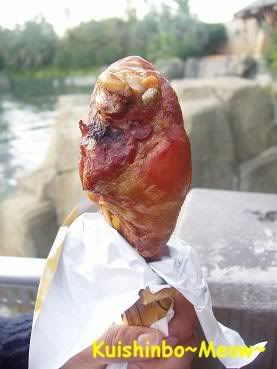 Came out, we saw another food cart selling turkey leg. One for 520yen (RM19). Bought one for Kakak. HUGE one. Japanese hv a very cute name for Turkey, called Shichimencho (七面鳥, literally means 7 faces bird. Why ar? I dun know).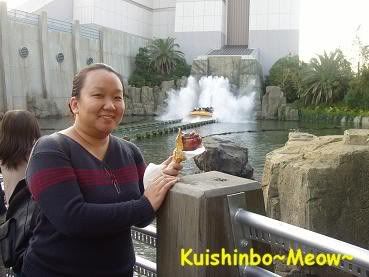 Kakak with her nice turkey leg and good splashing of the Jurassic Ride as background.
As for fish fish, bought a Curstard Spring Roll from another food cart. 260yen (RM9.40), expensive for a small stick like this. The taste, not too bad, not too good as well.
We then rushed for our time to watch
Universal Monsters Live Rock and Roll Show
( fish fish's favorite, nice one for people who enjoy singing and dancing performance),
E.T. Adventure
(good for kids, but not for me),
Back To The Future - The Ride
(I like this better than the Spiderman, one of the heat ride in USJ) and finally the Shrek.
So we finished all the main attractions giri-giri (barely in time). It was sure very tiring.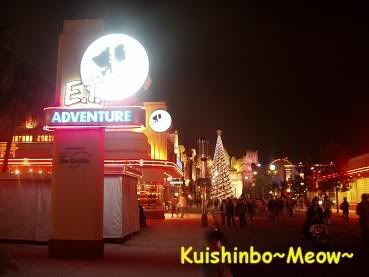 Before we left the park, I took some pics of the nite scene. Dun know how, my flash gone wrong from that nite, till nowadays. So, I hv to put more efforts in taking good picture without any flash. Uurrrgghhh... really need to buy a new one, but... hmmm... $!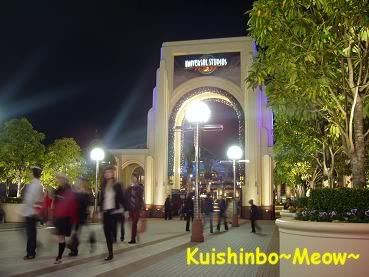 This was the final pic I took after came out from the park.
Well, we then headed to hunt for dinner.
Anyway, tat one for tomorrow's post.
fish fish's comment on USJ
: Getting more disappointed with it now.
First, they canceled the Express Pass usage which u can use for free last time. Nowadays, for using the fast pass, u need to pay extra 2000yen at least for off season. So, it's actually a double charge for consumers.
Second, last time when they start the operation hr, it means every attraction oso starting. But now, the park is opened at 9am, but the attraction only started 1 hr later. And instead of closing the attractions same as park closing time, some of the attractions close 1 hr earlier.
fish fish's suggestion
: For those who like theme park, and do not hv extra money for 2 theme parks, I would strongly suggest Tokyo Disney Resort will indeed be a much better choice. It really worth back the money. I like
Tokyo Disneyland
more than
Tokyo Disney Sea
in term of attractions and size. The Tokyo Disneyland post I will do it in later day then.
One common thing in Japan's theme park... U have all the western stuff... The familiar characters that u know... all western... except, the language all in Japanese. How do that sound? :P