Kobe Luminarie (16 Dec)
I went with Angel and her frens to
Kobe Luminarie (神戸ルミナリエ)
last nite. It took more than 2 hrs for me to reach Kobe.
Angel came to meet me with her another 2 frens. Heee... see the three cute gals? The 1980's gals. ;)
From left to right: Angel, Qian Qian (China) and Ka Li (Hong Kong).
This was taken when we were having drink and waiting for the other.
After everyone came, we finally able to move to the venue. That was oledi omost an hr later I think.
The 1st thing I saw the Luminarie, "Wah!!" The pics can't really impose the amazing light up that I saw. It looks much better in reality.
This year, the Luminarie going to be on from 13 till 26 Dec. So, for those of u in Japan, who want to see, grab the chance. :) Not a big one, but a nice one.
The word 'Luminarie' originally came from Italian 'Illuminazione Per Feste' which means "Illumination for the festival". Luminarie workpieces were started in
Baroque period
, initially as an decorating art.
The 'Kobe Luminarie' started in December 1995, the year when the
Great Hanshin-Awaji Earthquake (阪神.淡路大震災)
happened in 17 January. To commemorate the spirits of the earthquake's victims as well as to build hope for the restoration of the city. After the Luminarie ended on that year, as strong requests from all parties to continue this exhibition, it has now becoming one of the annual Kobe Winter Scenery.
The theme for this year is 'La citta della Luce' (神戸,光の都) (Kobe, Hikari no Miyako) which literally means 'Kobe, the metropolis of light'.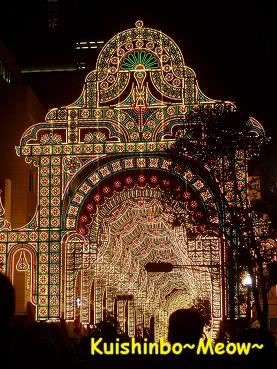 This one, is named Stella Polare (北の星, Kita no Hoshi). The Northern Star.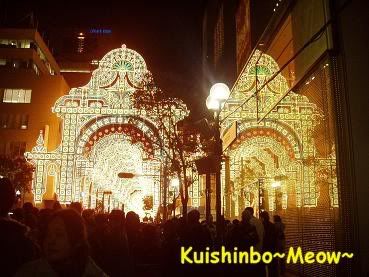 This Stella Polare even looks more amazing with its reflection. After this main gate, we past thru a series of workpiece called 'La memoria delle stelle' (星の記憶, Hoshi no Kioku). The Memory of Stars.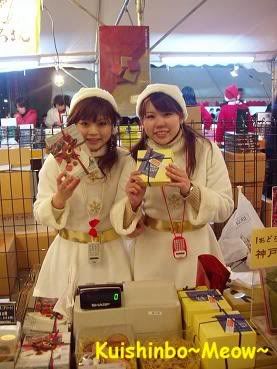 Along the Hoshi no Kioku, we saw many yatai (屋台, Japanese style hawker stall) selling different things. These 2 gals were dressed in nice white santa fashion to sell Kobe omiyage (お土産, souvenir). I was asking one of the gal if I could take her pic, and she pulled her another fren to join her. :P So, I hv 2 pretty gals in this pic. Kawaii ne~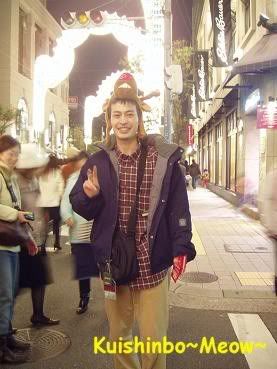 Then, I saw another guy distributing some kind of pamphlet on the street. He discovered me taking his pic, so he might as well make a pose for me. ;) Not bad looking ler~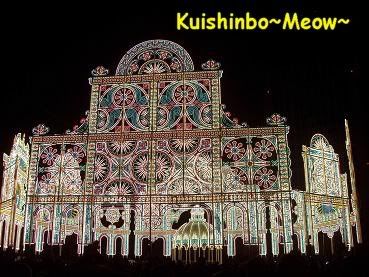 Then we came to another workpiece, very good workpiece. Called 'La mappa del cielo' (空の地図, Sora no Chizu). The Map of Sky. I took a few versions for this workpiece.
The above is Sora 1.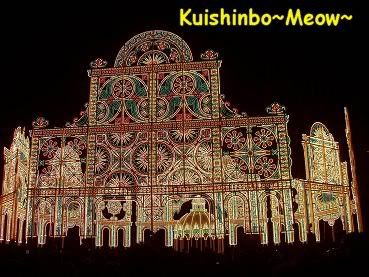 Sora 2.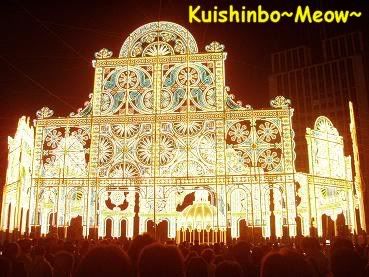 Sora 3.
Which one do u like more? ;)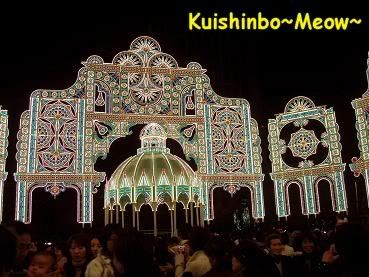 Inside, has a dome-like workpiece named 'Cassa Armonica' (光のカッサ.アルモニカ, Hikari no Kassa Arumonika).
There were another 2 pieces called Costellazion (光の小星座, Hikari no Koseiza). The Little Constellation of Light. And another one is Sirio (シリウス).
It makes u feel kind of a strange inside your heart when u looking at these artpieces with very light and sad music as background.
We felt hungry after that. So looking for food in yatai that doing business temporarily during the exhibition.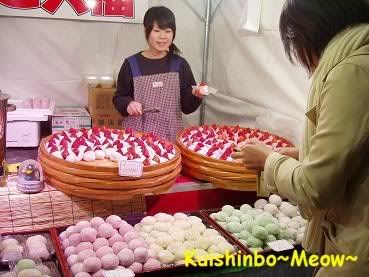 Saw this stall selling Daifuku (大福). A soft round rice cake stuffed with sweet bean jam.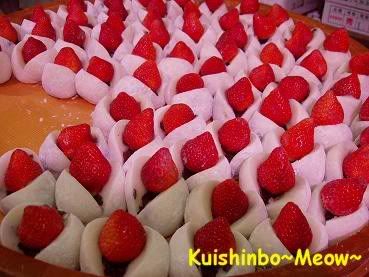 This is the Ichigo Daifuku (苺大福) that I like very much. Wat more, the have my favorite Custard Cream Ichigo Daifuku too. I omost wanted to buy. But 300yen (RM11) for one too expensive. I can buy at least 2 with that price in normal shop.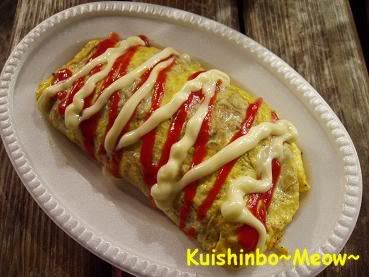 Then I found my favorite Omusoba (オムそば) (omelette fried noodle). 500yen (RM18), reasonable. Bought one. Nice, but not hot enough. It will taste much better if the noodle was served hotter.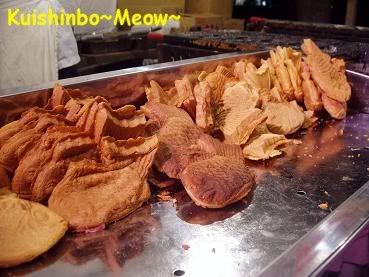 Then, the 4 gals chose one flavour each for Taiyaki (鯛焼き)(A bream fish‐shaped pancake filled with bean jam). 150yen (RM8) for one. We bought Purple Sweet Potato paste, Asian Mango paste, Strawberry Milk paste and conventional Custard paste. I like the Sweet Potato and Mango version more. Strawberry the least, cause too sweet. The pastes were good, but all the 4 pieces pancake were very lousy. Too dry and hard. Oh well~
Even after the yatai food, we felt kind of Chutohanpa (中途半端) (Halway-full). So the gals decided to fill up the empty space in their stomachs in an izakaya (居酒屋) (Japanese style pub). Strongly recommended by Ka Li and Angel. So, here the 4 gals off... ;) Hohoho...