Monkeys Monkeys! (26 Dec)
After paying 500yen each person, we started our fun in Jigokudani Ya En Koen
(地獄谷野猿公苑)(Jigokudani Monkey Park)
.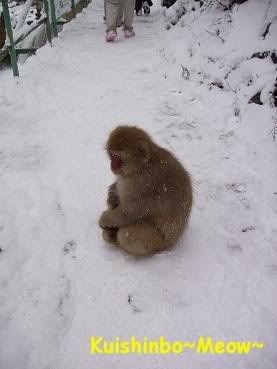 On the way, this monkey was blocking us. Kekeke... but its blocking was indeed very cute.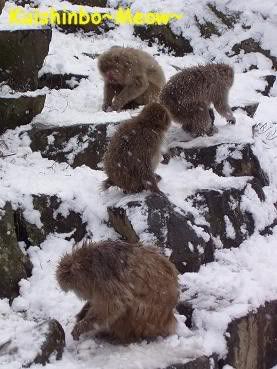 Monkeys busy looking for food under the snow. Must remember dun give food inside the park.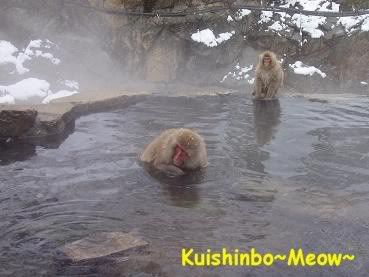 Dang Dang! Monkeys having hotspring bath. U should see how enjoy the were inside the onsen (温泉)(hotspring).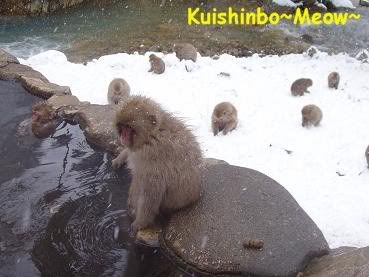 Those that were tired just relaxing themselves at the hotspring side while looking at the others.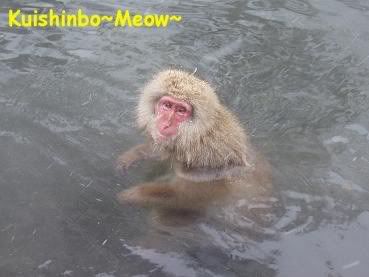 One more thing must remember, dun look still into the eyes of monkeys. It is a sign of asking for a fight. ;)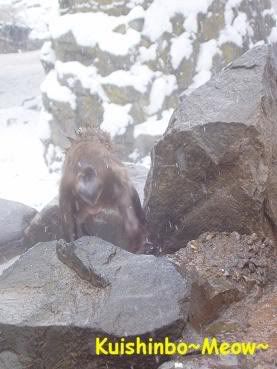 Ai yar~ this shy boy, didn't even let me to take its pic. Phew away...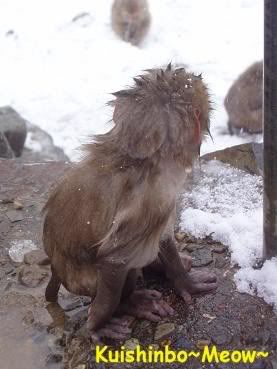 Oh~ I caught sight of this cutie. Another must remember, dun ever touch the monkeys. Especially the small monkeys.
It was too shy to face my camera.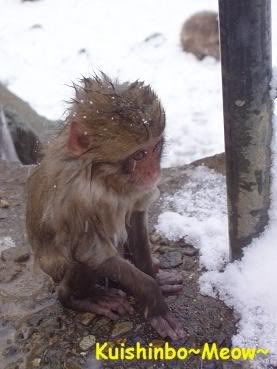 After fish fish negotiated with it...
Cutie:
"Ok, just half of my face..."
Fish Fish:
" Eh~? Half face not enough ler... Such a pretty face. U must show all you know. I promise, you will look great!"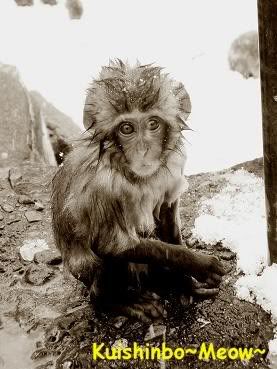 Kekeke... it finally decided to have its first debut under fish fish's camera. ;) Ok, I did a bit of editting, changed into sepia mode. Cute ler~
If u noticed, the adult face very red, but not the young. Yap, the faces will change into very red when grow older, turn even more red during the mating season (発情期, Hatsujoki). Hmm... very interesting to see all the amazing actions or changing by the animals during mating season. It is owez the males do all the effort for courting the females in the animal kingdom. Kekeke... Human? Hmmm...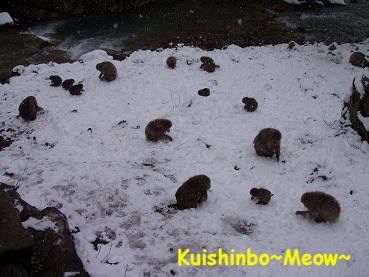 These monkeys were very busy looking for beans under the snow. No time to care bout us.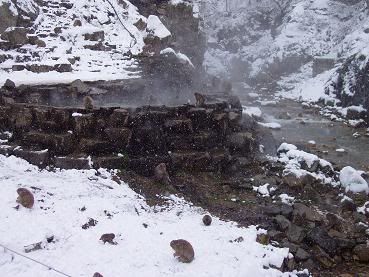 Another click before we say bye bye to the monkeys.
"Iyo iyo otoshi wo"
(いよいよお年を)(May a better year) Fish Fish said to every monkey that I met. ;)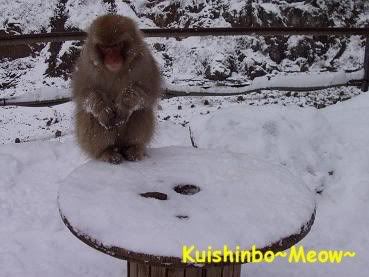 See~ this monkey seem to be sayang to let me go.
"Bye bye~ fish fish~"
"Bye bye~ monkeys~"
*sob sob*
Ok, we decided to go to hv something to eat. The
Chimaki shop
I mentioned earlier.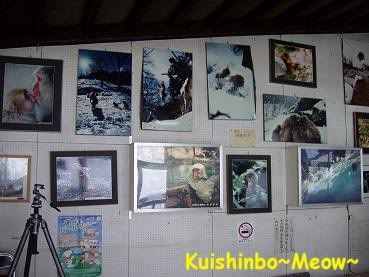 We went into a rest house to get ourselves warmed up. Poor Beatrice, wear too thin. This gal ar~ luckily she didn't catch a cold. Inside the rest house, got so many nice pics of the monkeys. Amazing pics. Many of them touched my heart.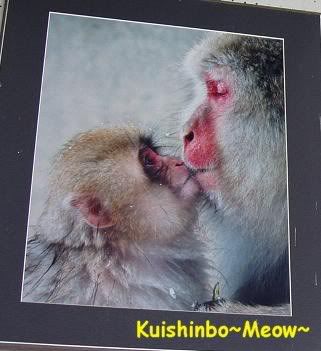 One of my favorite. "A kiss of love~". Ai yar~ miss my mum when saw this pic.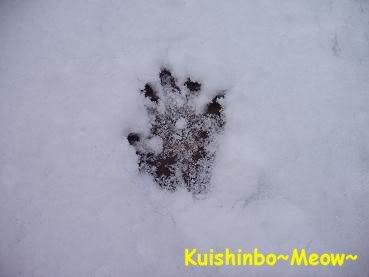 Saw the monkey's palms when crossing to the chimaki shop. Nice nice.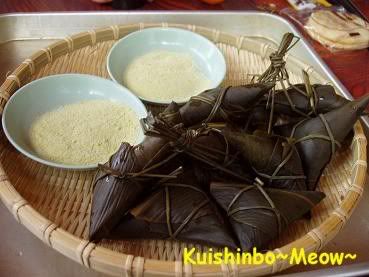 We ordered 2 stacks of chimaki. 1 stack (5 a stack) for 630 yen. Expensive! And the service? Terrible!!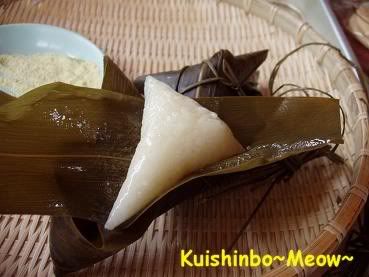 This is how a Japanese Chimaki (dumpling) looks like. The guides were telling us the service of this shop really terrible. They felt regret to bring us here. But this was the only shop hv this chimaki in this area. It used to be a very nice grandma who dealt the business. But now, the business was handed over to the daughter in law, the auntie very terrible. And the grandma's son was terrible too. After hearing this from the guide, I felt very sorry for the grandma. The kingdom that she built hard all these years, goin to be destroyed by these 2 Homo sapiens. Zannen!!
The chimaki was so so, but the kinako (きな粉)(soybean powder) was very good. Just mix with sugar and salt... I'm goin to try next time.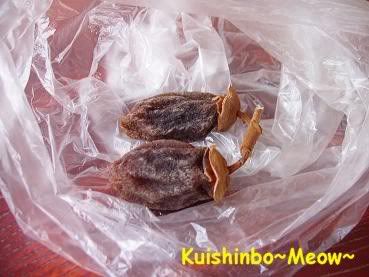 Now, these Hoshigaki (干し柿)(dried persimmon) that were made by Yumoto san... was splendid. It was very yummy. Not to0 sweet, and a very good smell inside ur mouth when you chew the Hoshigaki. Oishiikatta!!
We continued our journey back to the bus station with Yumoto san only. Nishi san and Fukui san had to catch a bus, so say bye bye earlier to us after the tea break.
On the way back, we past thru some part with different path.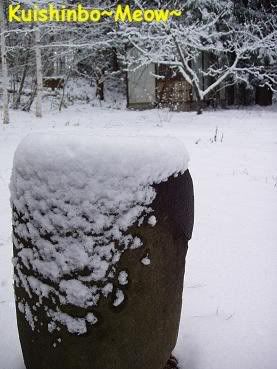 A stone stool stand still in a jinja (Japanese shrine) garden.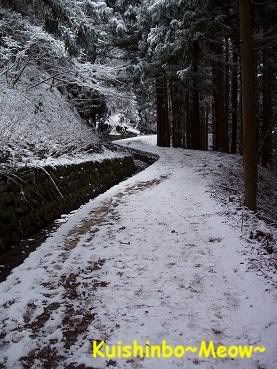 Long path led to country road.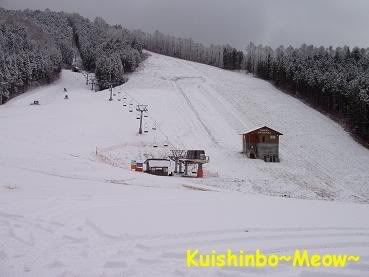 We went to see the place where the snowboard competition for Nagano Olympic 1998 was held. Still not enough snow, so not yet open to the public. See the path at the back of the small wood house? That was the place where the figure snowboarding going on.
Before we went back to our hotel, we decided to take a nice bath in the hotspring. So, Yumoto san led us to a hotel that offered day-trip hotspring bath to public. Then she said bye bye to us.
Thank you very very much, Yumoto san. :)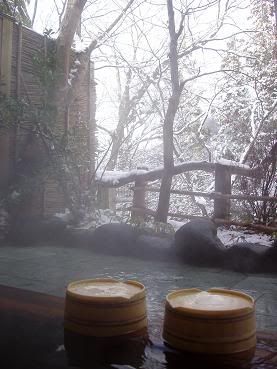 The 4 gals enjoy themselves inside a Rontenburo (露天風呂) (Open air hotspring). Too bad, our time was too limited. We didn't really have a nice long soak before we say bye bye to the place. But we took pictures inside the ofuro. :P
Oops, forgot the hotel name. Anyway, each of us paid 500yen for the entrance fee.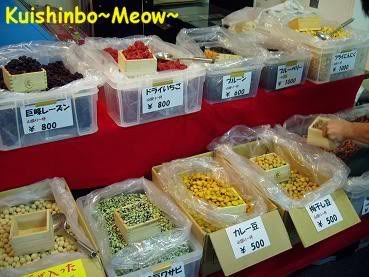 Back to our hotel. Did some shopping around the area. Saw this stall. Very very nice snack. All the 4 gals each bought a big pack. And the owner... he was sooooo sweet. Very very nice to us. Even packed another big pack of beans for us. Muak!
Bye bye Nagano! I hope I can come here again... someday...
Kekeke... Nagano... the 29th prefecture fish fish conquered in Japan. ;)