Kakak in Japan (Pt 17, Nov 6)
Very tired day today. First, 2.5hrs of seminar in the morning. Then, another 4.5hrs of meeting in the noon. Making my head very very heavy. Must have a good sleep tonite. Too scare to fall asick on such a terribly cold week.
Back to my post.
After saying bye bye to Fukumoto sensei, we went to meet Liang Chuang (LC). A fren of mine in Chiba. Actually I've only seen her for twice. She was not familiar with Kyoto, asked if I could take her look around in Kyoto or not. Well, since I was bringing Kakak around too... so I asked her to jump in to join us. And yes, that nite, 3 of us squeezed in my small fish tank. Kekeke...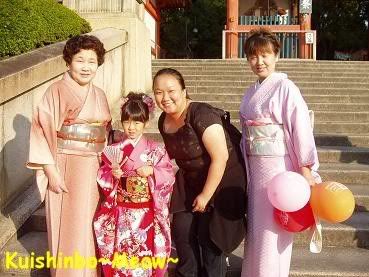 I decided to bring Kakak and LC to see Kiyomizudera (
清水寺
), a very famous temple in Kyoto. We decided to go by foot from Gion area. On the way, Kakak saw a family with pretty kimono for the 7-5-3 celebration.
"I want ler~ I want take pic with them."
Kakak whispered to me.
So after asking their permission... there u go, the pics of 4 different generations... ;) Poor little gal, must have been quite a shock got stranger suddenly dragged her to smile in front of the camera. See~ she couldn't make herself smile that time. Gomenne~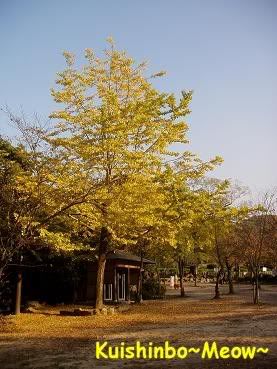 Then, we past thru Maruyama Koen (
円山公園
), a famous park in Kyoto, especially for the Sakura flowers. It is a great place for autumn season as well.
The above is a pretty gingko tree in golden colour.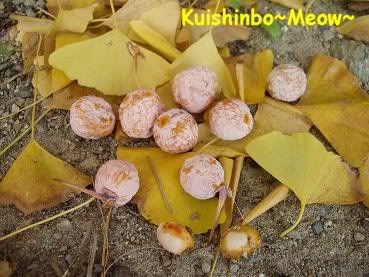 These are the fruits of gingko. Japanese like to eat gingko seed a lot, which are shown inside this pictures, the bottom 2 seeds. If you never touch a real gingko fruit before... u should try once... u would never forget the smell forever. How does it smell?? Like "SHIT"... I'm not kidding... it is really smell like a shit. I remembered when I first told my mum this is gingko... she didn't believe me, until I mashed the flesh to show her the seed. Hey hey... I guessed that was one of the shock she got from visiting Japan. :P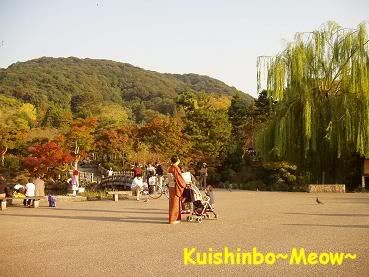 In Maruyama Koen, part of it have pretty colour combination oledi. Like this one... Mmm~~ young mama with her Kimono.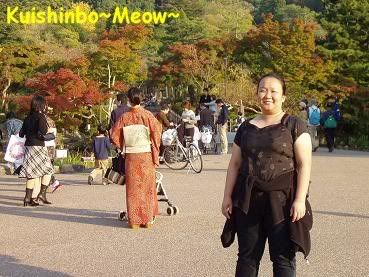 You bet Kakak won't miss out this kind of good chance. :P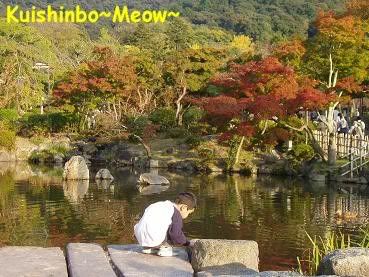 Heee... this boy was playing so focusly near the pond. So fish fish quietly took one of his picture. Beautiful pond!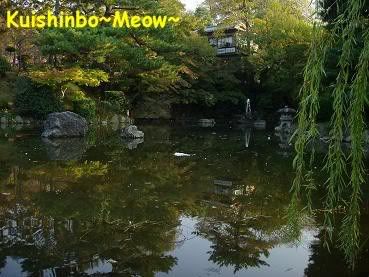 Next to this pond... another pond... but with a feeling quite different from its neighbour.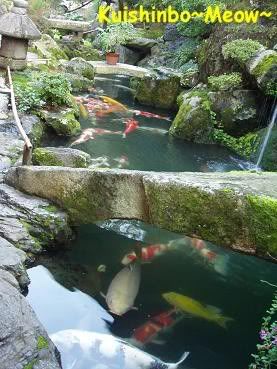 We saw one shop selling warabi mochi. One of my Kakak top favorite of Kyoto dessert. We tried to get a seat inside to enjoy the warabi mochi... But that would make us wait for more than 30 min. Arrgghhh~ we had to give up cause need to rush to the temple before the closing time. Wouldn't it be good to enjoy a bowl of good warabi mochi with this beautiful Koi pond beside? Must go to try next time.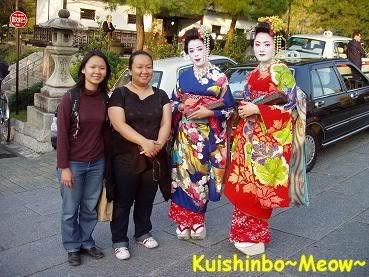 On the way, we saw two gals dressed in Maiko costume. Dun know if they were the real Maiko as that street was a famous place for make up in Maiko cstume. Anyway, it was a lucky time for Kakak and LC... cause not easily you can spot one in costume like that (Well, it's not a difficult task either in Kyoto. :P)
Left to right : LC, Kakak and the 2 Maiko gals.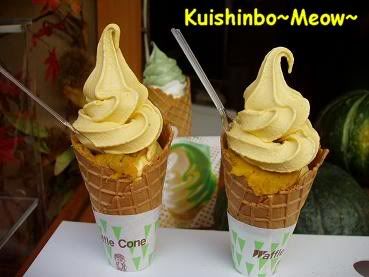 Kekeke... I think what I like the most on the way when walking along the slope to the temple... is the varities of food I can enjoy everytime. This was a new one I spotted... Kabocha Aisu (pumpkin ice cream). LC and me each bought one. The taste... REAL PUMPKIN~ it was good. Especially felt fresh with the idea of adding pumpkin paste as you can see in this pic. ;)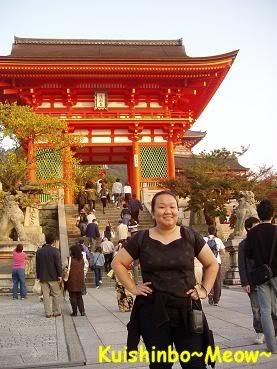 Finally, we saw this big red door. Yes! We finally reached the place after a slow dragging 1.5h walk because of we stop stop here, stop stop there.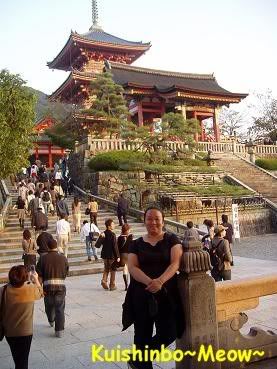 See the people? It was nearly to the busiest season for the temple. Couldn't imagine when the peak time come. We walked up to the top for the temple. Not too high though...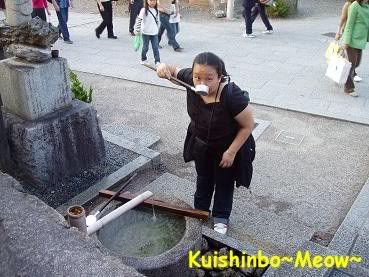 Before entering the temple, usually Japanese must clean their hands... Kekeke... Kakak was tasting the water. Quality of water in Kyoto is good, so not really a problem for her to get cirit birit (diarrhea).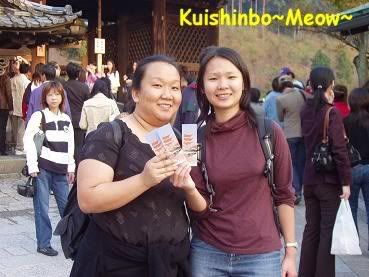 Kakak (left) and LC (right) with our 3 entrance tickets. Yap, in Japan, u have to pay for every temple you visit. This one was cheap, for only 300yen per person. Temples in Japan are belonged to private. In Japan, monks can also get married, drink alcohol... and they don't have to pay any tax to the government. They are rich~ (That was what my Japanese frens told me). Instead, 2 fathers of the gals in my lab are monks who own the temple.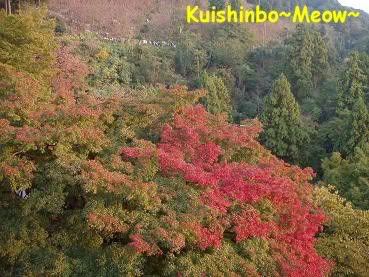 The red leaves inside this temple.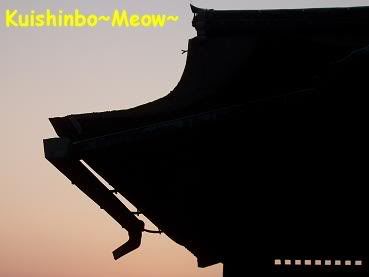 Roof of Kiyomizudera temple in a late evening. Actually I wanted to take the temple look vs the evening view... But, had to give up that idea as too many head, impossible for me to take a good one without my tripod.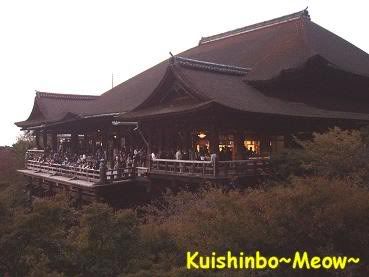 This is the main part of temple look from the other side of the temple. Crowded!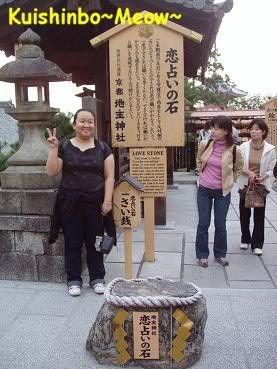 Beside this temple, you will see another famous small temple call Jishujinja (地主神社), free of charge. It is a very famous temple for 'LOVE'. In this pic, Kakak with her victory after she walked safely from one Love Stone to the next Love Stone. These were the famous 2 Love Stones. According to the explanation... as long as u walk straight safely from one stone to another stone... then your wish for ur romance will come true. Kekeke... I walked slanted 2 years ago... so until now... still the fish fish I am now lor~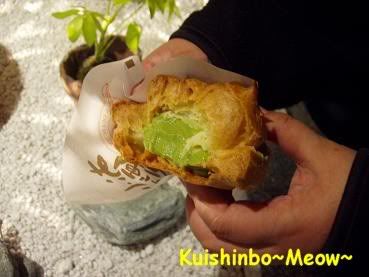 We finished the temple. On the way dorn using another slope... saw this maccha chou cream. A bit too rich for the taste, but not a bad one.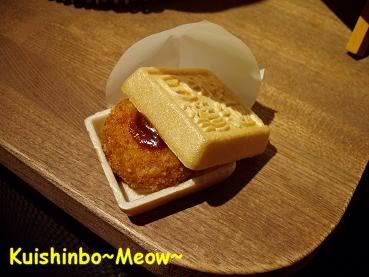 This attracted fish fish more. Using okara (tofu refuse) to make into croquette. Brilliant idea. It was good actually, just that too small portion. Well, was just trying. In fact, it has a certificate to show that this is the only shop has this okara croquette. I think it was a good way to make promotion... Heh, any kuishinbo that wouldn't like to try some new idea of food? :P Not fish fish for sure. ;)
Ok, tomolo, will make a review about my favorite sushi shop near my place. This time, goin to show new sushi plates different from my previous 2 posts about it.
Stay tune. ;)