Chijimi (30 Dec)
Went to stay overnite in Yuriko's place again on 29th nite. Yuriko said her parents wanted to see me. Her father came back from the hospital the next morning. He had a gallstone, need to be operated on the 5th Jan. Hmm... will call tomolo to know how was the operation.
Poor papa... wanted to eat so many thing... but can only eat porridge and veggie.
Yuriko's mama decided to hv Chijimi for lunch. But it was Yuriko who did all the preparation and cooking.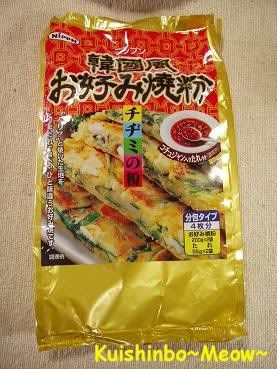 This was the Chijimi flour pack that was used. All u have to do... mix the flour with one egg and water... mix mix mix. Get ready veggie (Yuriko used onion and leek) and non-veggie (Yuriko used prawn, squid and surimi crab stick), and mix everything together. She made 2 versions.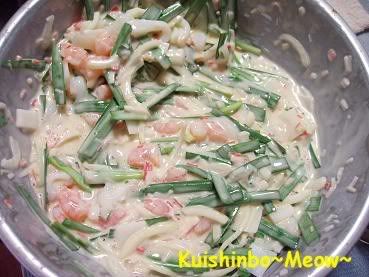 One with mochi (餅)(rice cake) inside. Which is very Japanese.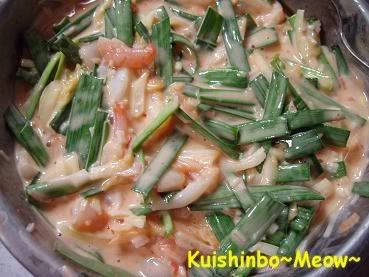 Another version with kimchi. Which stick more to the Korean style.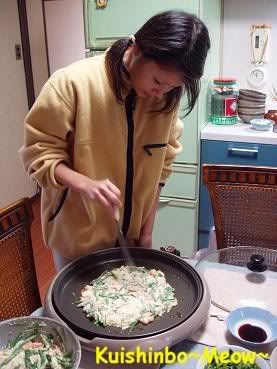 After everything was ready, Yuriko started to cook like a chef. ;) Fish Fish wanted to take her pic, she turned away cause she didn't make up that time.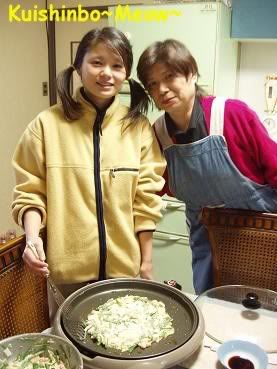 But then mama came in...
"No worry... mama got make up on. Come on, fish fish... take the pic" Kekeke... mama was saying.
Sure it was my pleasure.
Kachak! Here it is. I owez think that even dun put on any make up, Yuriko looks very sweet. Dun u agree?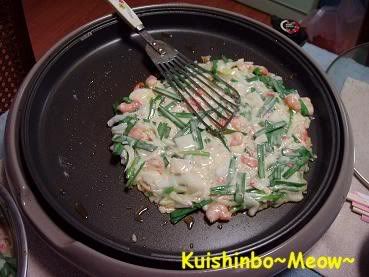 Mmmm~~ the smell of cooking Chijimi on top of sesame oil was drooling.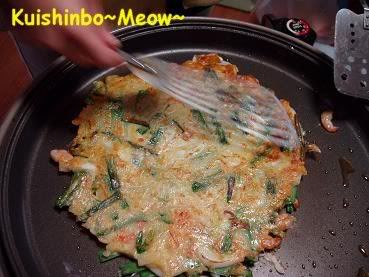 It turned into something much more divine when we turned it over. Ai yar~ tak boleh tahan!
Yippie!! Finally it was ready. Oh!! I must say "2 thumbs up" for this Chijimi. Both versions were splendid. The mochi was very good... and the chijimi was splendid. In the end, Yuriko oso put the mochi inside the kimchi version. Made it double oishii!
Dun even know how many pieces I had... many many...
Yap, I'm going to buy the flour pack back to Kuching in CNY to make one for my papa n mama to try then. ;)
Masshu
Masshu was with us all the time. The little adorable of Une's family.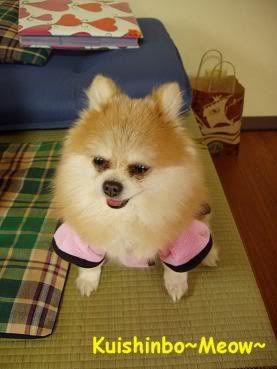 "Mmmm~ my eyes very heavy..."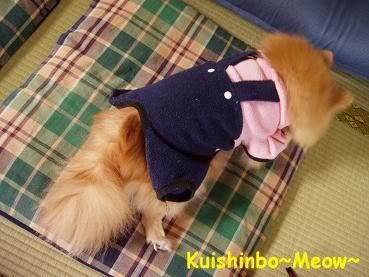 "Oh~ the cushion looks so soft and nice..."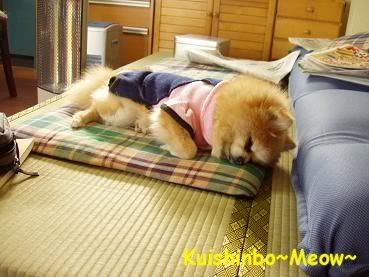 "Ah ahhh~~~ nite nite everyone..."
(Sleep on tatami... shiawase~)