Doll Fish
Since people curious how do fish fish looks like... So today, after my presentation, I spent time to simulate this Doll Fish by using
Candybar Doll Maker
, after got the info from
Alexa
's blog.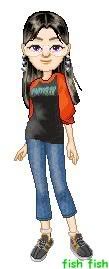 Kekeke... not really look like me actually. The Doll is much slimmer and prettier. can't fine a fleshy body in the site. >.< But hor~ I do have hair like that. The T-shirt, jeans and sneakers... I do own these... only that the colours are different. I have this earrings too. My eyes not so big, but my nose is as big as that.
So, please use imagination to picture the real fish fish then. ;)
Have fun with the site. Ladies...
Emmm... the site didn't have doll for guys. Hmm...
I'll continue post my Kakak in Japan posts again tomolo. Today a bit tired to do a long post.
Muak!