German Christmas Market (19 Dec)
I talked bout the
Takimi Koji
yesterday. Today, going to talk about German Christmas Market that was held in
Umeda Sky Building
last year Christmas. Hope you have a fun tour with Sylvia and me. ;)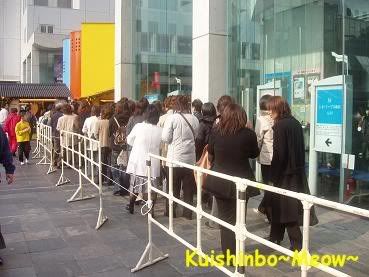 When we reached there, we saw this long Q... mostly are middle-aged ladies. Wow! Sylvia and me were thinking this German Market so popular ar~ So we followed the Q, until a staff said the line full, wait for next round.
"Excuse me, what is this line for?"
Kekeke... silly fish fish joined the line without knowing what was happening.
"Oh... this is for the Bae Yong Jun photos exhibition."
Straight away you can see very very strange expression from Sylvia and me... Silly gal!!! I guessed our expression were too obvious that the staff gave us quite a mean look. :P Hiya~ can't imagine if Bae's fans saw our expression... we will be flat like a sandwich ham oledi. Yabai!
Anyway, the little happening led us to good fun in the market.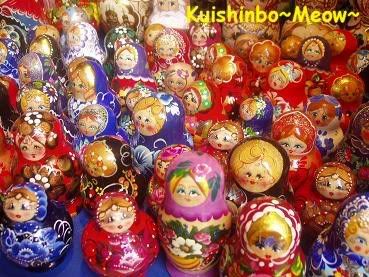 We turned for one round. Not too big, but got quite a few interesting stuffs. Such as this beautiful wooden ningyo (人形, doll). Cute~ But actually it looked more like a Russian thing to me. The price? Takai (expensive).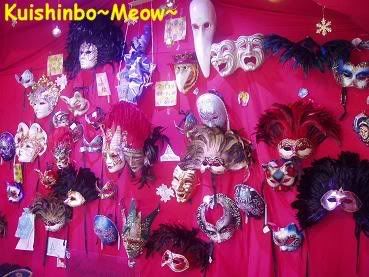 Oso got cool masks on sell. Woo~ how fish fish would love to hv one. But the price... totemo takai!! (Very expensive). Even a cheap one cost more than US$100 over... Oh well, still it was nice to see so many masks. Fish Fish was imaging she became a 'Mystery Masked Fish' that moment. Kekeke...
There were actually another few stores selling cute things. But our main aim was the food. :P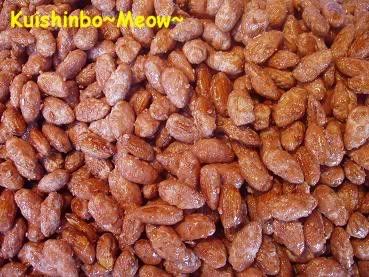 Now... this crispy almond worth a 2 thumbs up from fish fish. It was so good that even a fish that dun eat almond got hooked. Once start, hard to stop. We bought 1 small pack to eat (500 yen) while turning around looking for other things to fill into our stomach.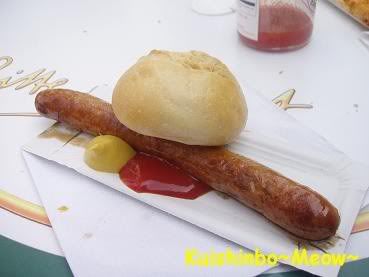 Sylvia went to buy a German frankfurt with bun. It was for 500yen only.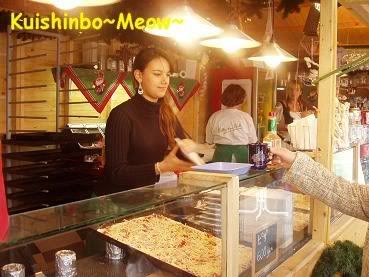 Fish Fish saw this pizza stall, with a cute gal inside. Ok, goin to buy something from her then.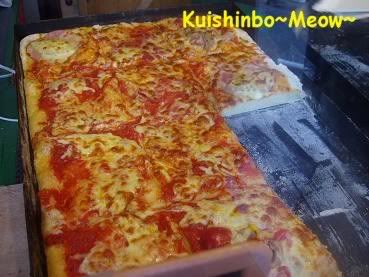 A fresh baked pizza plate was just out. Oo la la~ just wat fish fish was looking for.
"I want this corner"
I pointed to her the part that i noticed got no meat. At first she didn't get me...
"Ah~ vegetarian one is it?"
"Yap yap!!"
It was kind of a hard to communicate with her as she dun really speak English neither do Japanese, and I only know how to say 'Ich Liebe Dich' and 'Danke'.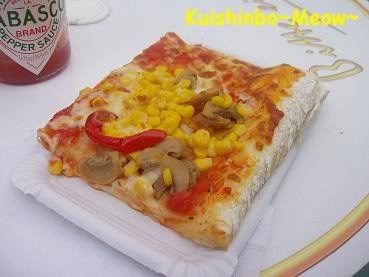 Here was a generous piece for 600yen.
It was nothing special for the ingredients. But it was the dough that amazed Sylvia and me. Both Sylvia bun and my pizza, I dun think they used normal yeast for leavening the dough. Instead, we suspected they used beer lees to replace the yeast. I hope some one who is familiar bout German bread can solve this doubt of mine. TQ!
Popsy!
What was the strongest impact that fish fish had besides the bakery?
It's definitely 'Popsy'.
Popsy?? What is that?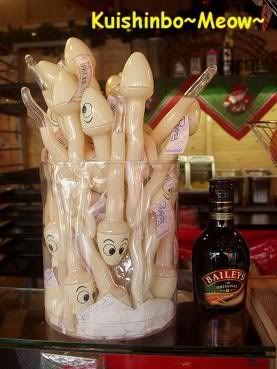 This... is Popsy. Get the idea oledi from this pic?
Yes? Quick head.
No? Kekeke... then u might be kind of a naive as fish fish. :P
I only started to suspect after I look at it for quite a while. It was confirmed when I ask the pizza stall's ladies.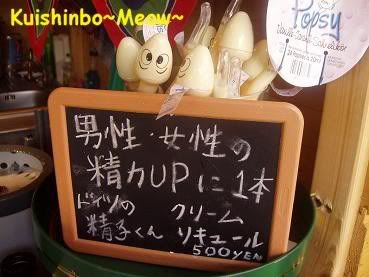 For those who knows how to read Japanese, you'll probably be laughing oledi.
Here is the translation:
A bottle for power up men and women.

Mr. Deutsche Sperm.

Cream Liquor 500yen.
I guess it is very obvious what it is oledi.
Don't worry... inside not the creamy thing as
Yuen Li
has mentioned is his
Let's Eat Them
.
It was yummy
Baileys
.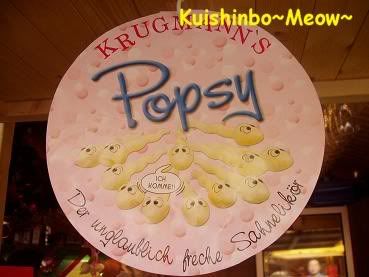 "I'm coming!" Cool way of advertise it though. The ladies were telling me this thing is a very common stuff in Germany. Hmmm....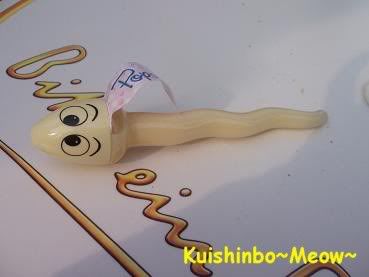 Another close up of Popsy. Yah... fish fish bought one. And Sylvia bought 2. She wanted to give one to her sensei.
"So sayang after drink finish the Baileys, want to throw away. It is cute."
fish fish said.
"Well, Yong, u can't do anything with it later, right?"
"Heee... maybe we can. Like... urrgghhh... fill in the real one."
I dun know how that came across my mind.
"Eeewwww~~ that's gross."
Luckily both of us didn't eat anything at that moment.
But then, how long will it takes for a guy to really fill up the whole bottle? Very very long time? I dun know the answer. Maybe you want to try an experiment on that? Hey, I'm giving out the empty bottle for free, anyone want?? :P :P
Hi ya~ I was owez teased by my frens in school time of my naive bout this thing before. Here was the 2 episodes.
Episode 1:
Junior high 1. In science class. Teacher was mentioning bout 'condom'. Never heard of that, but the guys were giggling. Now, this 問題少女 (I was called this becoz I asked too many Qs in the class) fish fish straight away with her usual way loud voice...
"Teacher! What is condom ar~?"
The voice clearly be heard in the whole class.
"Bwahahahhahahhaa!!!!"
Yah~ u can hear the guys laugh until their tears bursted out the next second.
"???"
fish fish
Episode 2:
Form 6 (equal to A-level). In biology lab. Chatting with 2 guys and 1 gal. They talked bout sexual stuff. Geee... new topic for fish fish. At first I was just listening... Then...
"... 口交 ..."
The gal, the 2 guys started with some topics with this word.
Fish Fish couldn't join the talk at first cause she didn't really know what they were talking about. But when this word comes out... I started to figure it... Ok... '口' is mouth. '交' is communication. So combine the 2... becomes 'Mouth communication'.
" My fren didn't like 口交, she said it's not that good feeling when do it on her boyfren "
the gal was telling the guys. Ah~ time for fish fish to join in the communication.
" Yah lor~ I dun think I will like that too. Disgusting. "
Straight away fish fish added up.
Now with curiosity, the 2 guys looked at me...
"Ee? Fish Fish u know wat is 口交 mer?"
Guy A ask.
"Why not? It is mouth and mouth kissing together mar. Just imagine all the saliva goes into your mouth. Yark!!!"
"Bwahahahhahahah!!!!!!"
The next second, u can sure how the 2 guys laugh till they perut sakit.
"Fish Fish, you really need a good lesson from us!"
Ever since then, they owez said wanted to bring me to see 'education movie'. Bad guys!!
I know a lot of you out their can't read that Chinese word. It actually means 'Oral sex'. Now you know why they laugh so hard?
OMG! Yap, tat was fish fish. The lesson from that? I went to buy book to get familiar with all these technical terms. >:(
Enough for today.