Ippudo Ramen (21 Nov)
Today, fish fish goin to review bout a famous ramen shop that I've been in Nov. I've talked bout 2 other ramen shops
here
and
here
. This shop is called Ippudo (
一風堂
), a famous chained Hakata (博多) style ramen shop. This shop started the business in 1985 in Hakata, Kyushu area. Ever since then, the branches spreading one by one thru the whole Japan. Today it has becoming one of the most famous Kyushu ramen shop.
Hakata ramen soup base basically using pork. So, instead of assari (light) flavour, it is more to the kotteri (heavy) style. Fish Fish usually didn't like tonkotsu (豚骨, pork bone) ramen soup, cause it is too stinky and heavy for me. But, since I hv seen tv introducing this shop a few times, and oso frens were mentioning to me how good it is... I decided to give it a try.
So, as usual, I pulled my kaki makan, Sylvia to go with me. :P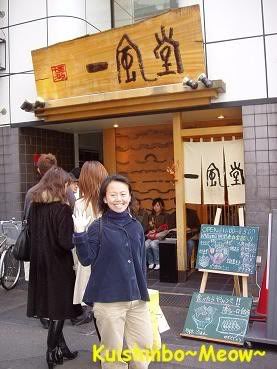 This was the 2nd time Sylvia went there. She really liked it for the 1st time. See how happy she was in front of the Ippudo? We went there before lunch time, so, still not much people. Good. :)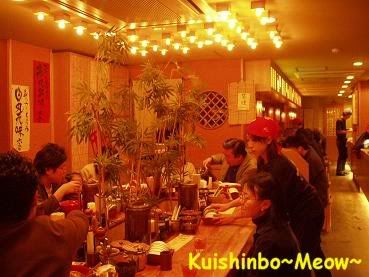 Once went inside the shop, I like it. It was not the usual ramen shop with a very strong pork smell. The layout of the restaurant makes one can enjoy the ramen in a very relaxing atmosphere.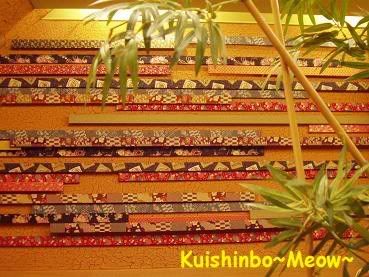 Design of the wall where we were facing. Very Kyoto style.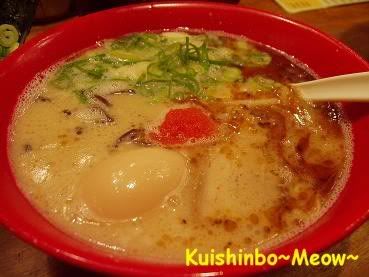 Both of us ordered Akamaru Zenbu Hairi (赤丸全部入り) which is the Kansai area limited edition. The Aka was because of the spicy egg with red miso as shown in the middle of this pic. Zenbu Hairi means with all the ingredient. It was quite expensive for ramen. I forgot exactly how much, think it was for 1150yen (RM41). Inside got moyashi (もやし, beansprouts), mentaiko (明太子, spicy fish egg), kikurage (きくらげ, Jew's ear), Hanjuku Nitamago (半熟煮卵, half-boiled egg) and Baraniku Cha Shu (ばら肉チャーシュー, roasted boned rib of pork). I gave the Char Siew to Sylvia.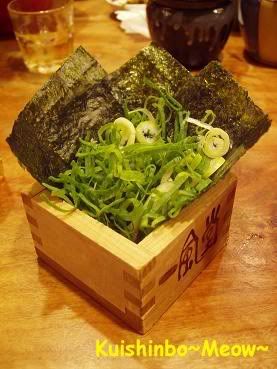 It oso came with the negi (葱, leek) and nori (海苔, seaweed). Ah~ I dun eat negi. Just left it there.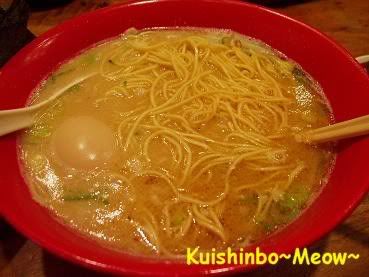 The shop used hosomen (細めん, thin noodle). U can either order the noodle to be Katame (固め, andante), Futsu (普通, normal) or Yawarakai (軟らかい, soft). We had the futsu one. And it was just to the right point. I love the soup. It didn't have the smelly porky taste that usually hv inside tonkotsu based ramen.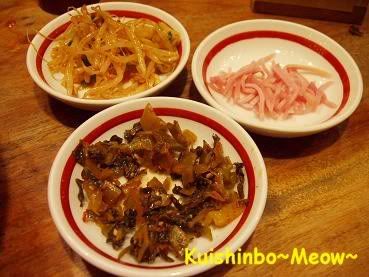 Fish Fish got really excited when see these pickles were actually for Tabehodai (食べ放題, eat as much as you can). Left to right: Moyashi, Takana (高菜, leaf mustard) and Benishoga (紅生姜, red ginger). I like the takana the best.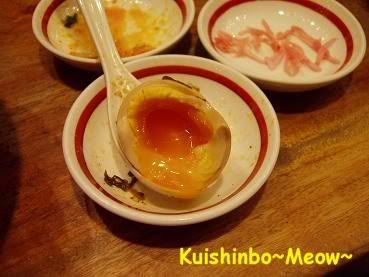 The gist of a ramen for fish fish, a good Hanjuku Tamago. It wouldn't be a complete for me without this half-boiled egg. I love~ the way the Japanese do the Hanjuku Tamago. The egg white was cooked in a well-done way, but the egg york remain its creamy richy melty taste. Mmmmm~ yamitsuki! (病み付き, addicting).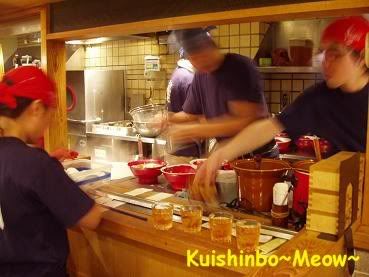 Busy chefs with non-stop hands getting bowl by bowl ready. Geee... wonder how much profit they earn for one day. :P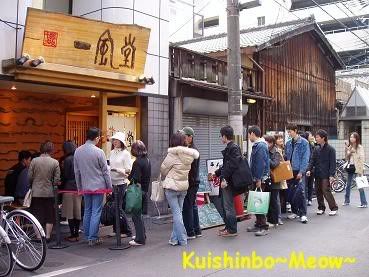 Wow!! It was such a long Q when we came out from the shop. Glad we went there early. Next time if I go, I will know what topping shoudl I ask for. ;) Cheaper too then.
Slurp~~ I'm goin home to cook my dinner now. :P
Tata.