Kakak in Japan (Pt 10, Nov 3)
Ai yar~ Kakak in Japan has been mission in delay for a long time. Today, I'm goin to promise myself finish this series before I go back to Kuching. So, for these 2 weeks, you guy have to keep seeing fish fish mentioning Kakak, Kakak, Kakak... :P (Kakak means elder sister in Malay).
For those of you that dun know bout this series, can trackback for the series from
Part 1
till
Part 9
.
Ok, here we go for the Part 10. ;)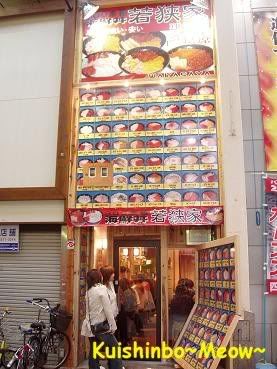 Have been quite a few times I saw this shop. It is called Kaisendon Wakasemaya (
海鮮丼 若狭家
), a shop specialized in raw seafood rice. You can have 300 types of dishes in the menu. Well, fish fish would go in to try if she is an omnivor, too bad she's a herbivor fish. So out...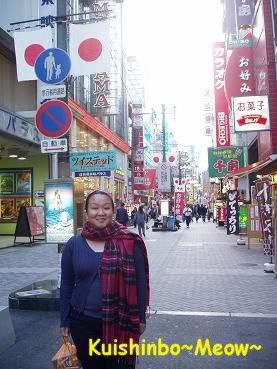 With a full stomach, we strolled around the shopping street Dotonbori
道頓堀
. I wonder why the Japanese flags were put up here. Japanese usually only put the flags during special season. This pic was taken at another end of the street with less people walking around.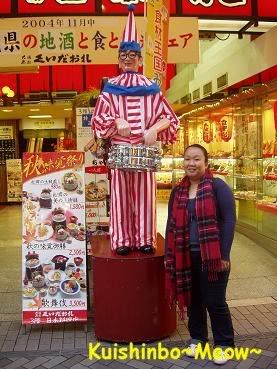 On this street, you will able to see people busy taking turn to take picture with this doll. He is a famous doll called Kuidaore (食い倒れ), meaning eat till you broke. A symbol in Osaka. There is a saying in Japan "Kyo no kidaore, Osaka no kuidaore" (京の着倒れ、大阪の食い倒れ) (Wear till you broke in Kyoto, eat till you broke in Osaka), showing how much the Kyoto people emphasized on good wearing and Osaka people on good eating in the old days. This Kuidaore have 8 floors. Frankly speaking, fish fish never tried the food in there yet, I think I'm goin to do that in one day.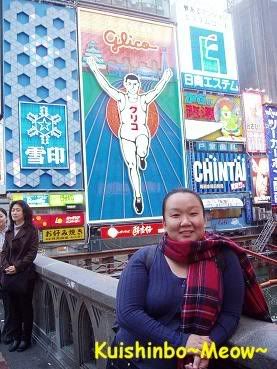 Kakak with the
Glico Neon
at her back, the symbolic mark of
Glico
company, a very famous Japanese sweet company. My junior applied for job in the company this year... they only want one new employee in the research field... but there were 2000 applications for that. Scary huh! One of its most successful brand world wide is
Pocky
.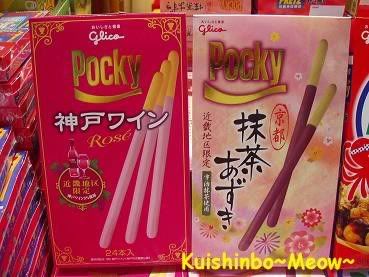 Here are the 2 "Limited in Kinki Area" products of Glico. The left one is Kobe Wine cream coated Pocky, and the right one is Green Tea Stick coated with Read Bean cream Pocky. These were the special Giant packs. One for 1050yen (RM38), with 24 sticks inside, each stick is 22cm long. My Kakak bought each one of this back home.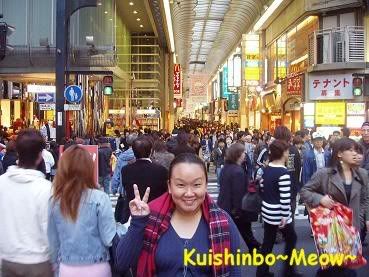 Kakak was amazed by the congested crowds in
Shinsaibashi
(心斎橋), a very famous shopping arcade in Osaka.
"Quick! Quick! I want... u show all those heads or not?!"
Ai yor~ she got so excited with this. Fish Fish, in the other way round, would prefer it to be much much much less heads. :P
Since she got her 1st great karaoke experience in
Jankara
, she wanted me to bring her to sing again. Conincidencely, there was a newly opened Jankara there.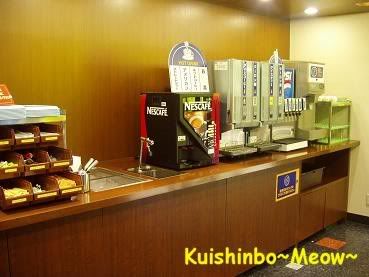 This new Jankara have the drink bar at the reception counter. U actually can started to take drink while you are still waiting for your turn to get your room.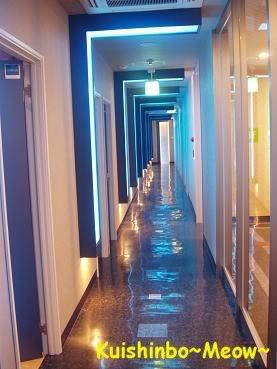 After around 30 min waiting, we finally got our turn. This time, Kakak wanted to sing for 2 hrs. Ceh! Who was the one said
"one hr enough liao"
for the 1st time. Kekeke...
See the nice new corridor? The room was much better than the one in Kyoto too. New mar~ What more, it was all in DAM system. Good! I dun have to take time to tell them I want DAM.
Kakak was evil, before I could make my second key in for my song, she has oledi key in 5-6 songs in one go. Oh well, I can owez come again next time. As long as she was enjoying her time.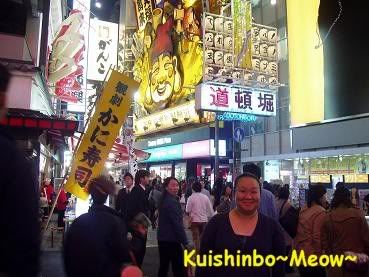 After the great karaoke time, I decided to bring her to Dotonbori to look for food. I was confused whether to bring her to crab meal in Kani Doraku(
かに道楽
) or fugu (河豚) (blowfish) meal in Ganko (
がんこ
). She chose to try fugu meal. And we ordered one Tecchiri Nabe (てっちり鍋) for her, and I ordered rice, tofu and vege tempura for myself.
>.<>:( Dumb dumb dumb!!! So guys, sorry, no pic for the review of this one. But I can tell you, Kakak was very very please with the meal. She loved the fugu. So, next time if you come to Japan, dun forget to try one as well... best time is during the winter.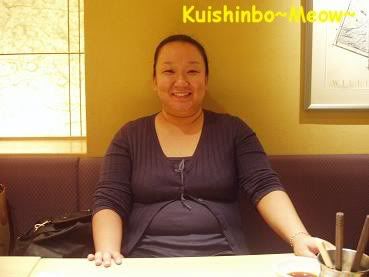 So, this was the only pic I had inside the Ganko. Well, at least a pic of my Kakak... better than nothing.
Tata~