Kakak in Japan (Pt 11, Nov 4)
Today, I showed my junior on the
Doll Fish
...
"Ah~ is this Yang san?"
she asked without even I said anything yet.
Hohoho!!! I made a good simulation, I guess. Kekeke...
Ok, ok... Kakak time. :P
Tofukuji
Today, we were going to Tokyo with Shinkansen in the evening. That morning, I decided to bring my Kakak to a famous site for seeing red leaves in Kyoto, called
Tofukuji
(
東福寺
).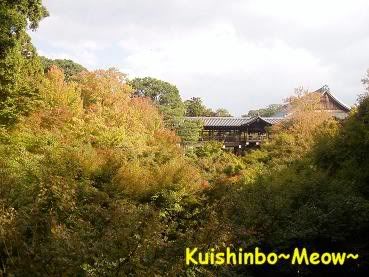 The bridge in this picture is the famous Tsutenbashi (
通天橋
) (Bridge to the heaven) inside the Tofukuji. All the trees are the Momiji (紅葉, Japanese Maple). Different from the Canadian Maple which the Japanese called it Kaede (楓). Hmmm... just imagine when all the leaves get red at the same time. ;)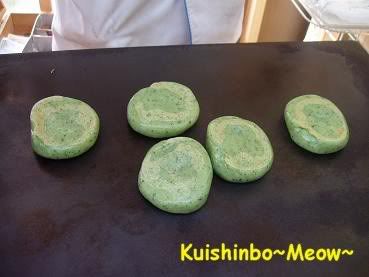 There was still a distant walk before we reachedthe main entrance of the Tofukuji. On the way, we saw a yatai selling Yomogi Mochi (よもぎ餅) (a mugwort rice cake). I love~ yomogi. Good chance for my Kakak to try.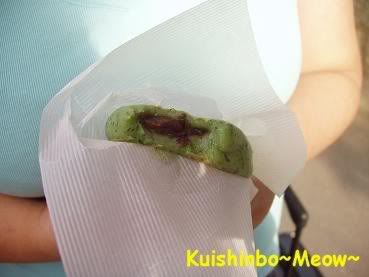 Inside got anko (餡子, red bean paste). Though I dun like anko, but this one was not bad. Especially love the mugwort rice cake itself. Very soft and chewy. I only had 2 bites, the rest all finished by Kakak, as usual... Kekeke... Same excuse from her,
"Eh! You can eat any other time you know?"
... *Yah~ rite*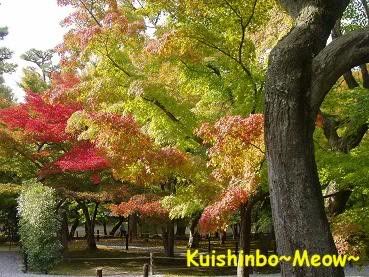 After paid 400yen per person, we went inside the Tsutenbashi. Beside it, some of the Momiji getting quite red oledi.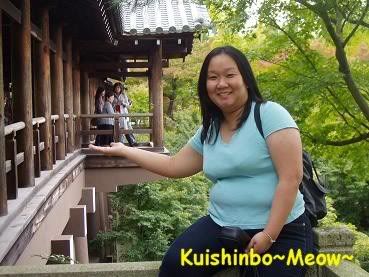 Kekeke... Meet the Giant with 3 preys of hers.
"Hohoho!!! None can escape from my 5 Fingers Moutain..."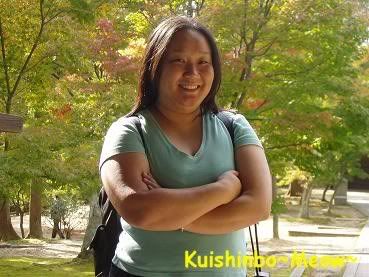 I like this pic of Kakak... So natural... *Of course lar~ see who was the camera gal mar* :P No shame....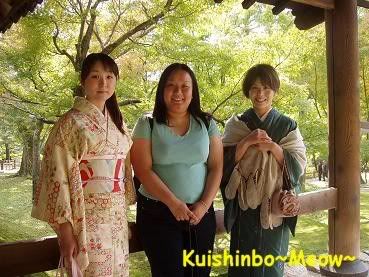 It happened we bumped into 2 pretty Kyoto's gals in their traditional kimono. Meet the 3 sweeties. Who do you vote for? Kekeke...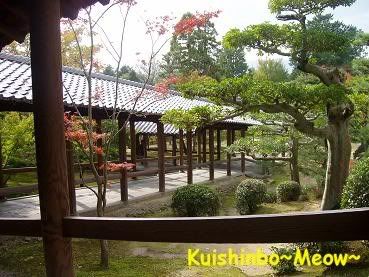 One thing I love bout Tofukuji is the fabulous Japanese garden it has.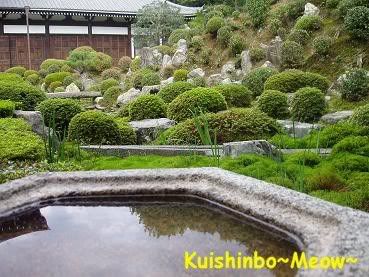 Another man-made garden in front of the main hall of the temple, which Japanese called as Hondo (本堂).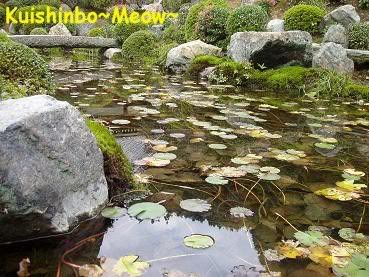 It's not June nor July, so can't see any pond lily... But fish fish did feel those yellowish leaves somehow to be attractive.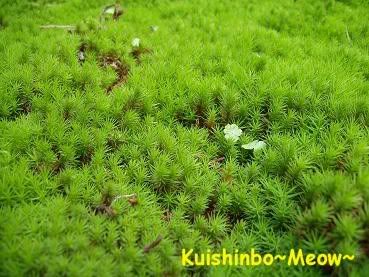 A very close up on the little small cute plant. Errr... I forgot the name, anyone can remind me on that? Thanks.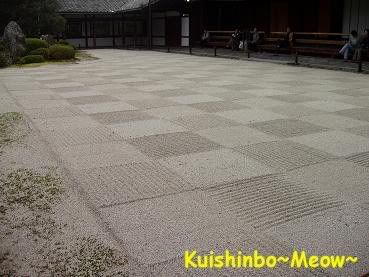 Besides real plant garden, another type of popular garden that one will spot in a Japanese temple is this Stone Garden. These stones usually represent the mountain, river, sea and island... This is actually the 1st time I saw this kind of pattern. Hmmm... wonder what does it represent actually.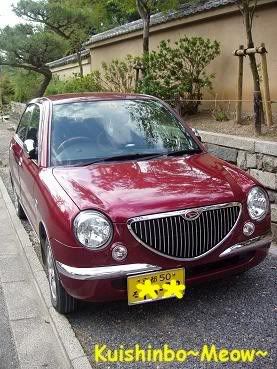 Ah~ after we got out from the temple. Saw this nice little marroon car. Errr~~ I want to know what brand is it? Any idea?
Then, we moved on to Kyoto Station. Still got a few hrs before we had to take the Shinkansen.
So, we decided to have a late lunch in
Capricciosa (カプリチョーザ)
. Ok, I have showed a review bout it when I went with Yuko. If you want to read,
please go here
. :)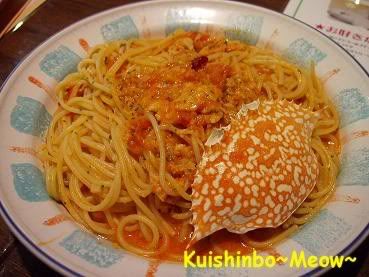 First, we had one normal size Watari Crab Tomato Cream Sauce Spaghetti. Kakak didn't like white cream stuff, so she wanted to have tomato one. Hmmm... she should really try the cream dishes in Japan... But she didn't want. Oh well~
Overall, this dish was not bad. 940yen.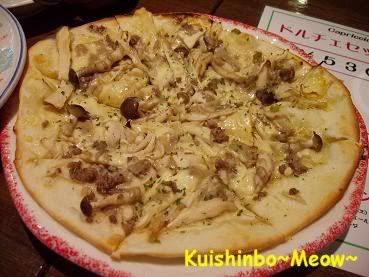 But fish fish's favorite on that day would be this seasonal menu Mushroom Pizza. We both love~ this one. Very nice... Too bad, it's only for special season. Can't exactly remember how much it is... But more than 1000yen.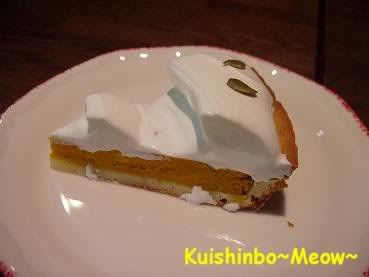 Kakak had a pumpkin tart, 420yen. Hmm... though she dun like cream, whipped cream was ok for her. But still, she asked me to finish most of the cream for her, while she have the tart. Wuek! Make me so sick after I helped her to finish it. I'm a typical type dun like to waste food... So if I can take it... I would help to finish the food. *Ai yar~ very dangerous point if I be pro-housemaker next time* >.<
One tip for all of you. In Japan, they have one phrase "Imo, Kuri, Nankin" which means "Sweet Potato, Chestnut, Pumpkin"... to show how strong the passion of Japanese women to these 3 things. In fact, one of my fren, when she was pregnant, she was craving for Kuri so much that she has 2 big packs everyday... o_O And for sure, you will be amazed by the variations Japanese can made out of these 3 things.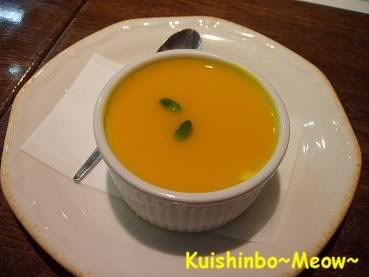 Fish Fish ordered a Mango Pudding. Mango + Pudding... 2 of my favorite. Well, definitely much better than the tart, IMHO. kekeke... 400yen for one.
We had a great meal. Still got some time, so I decided to bring Kakak to have a brief look at Kyoto Station... which will be on for tomolo.
Tata.