Kakak in Japan (Pt 12, Nov 4)
Kyoto Station, place where we took our Shinkansen to Tokyo. Since it was 1st time Kakak got chance to look around, decided to bring her strolled the Kyoto Station Building (
京都駅ビル
, Kyoto Eki Biru) for a while, the most beautiful station in Japan. And yes, fish fish do agree with that quotation.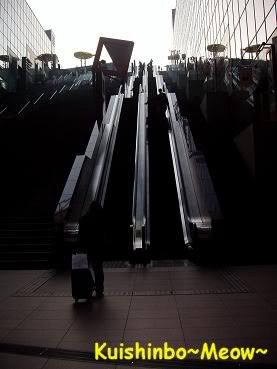 The weather on that day, not favourable for good pics. But still, I do think dark dark oso got a sense of beauty. ;) See the long loonggg escalator from the bottom till the top? I love this part.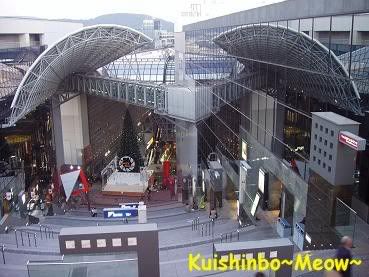 This was the look from the top to bottom. Kekeke... the reflection was making it seems like got 2 curvy roof.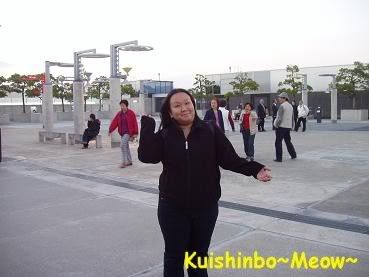 On top, got one nice garden. Not much plants. But u can get a good view of the Kyoto city.
"Dozo Kyoto Eki ni Irasshaimase..."
(Welcome to Kyoto Station)... Hmmm, the boss should consider hire my Kakak to be their advertisement gal. ;)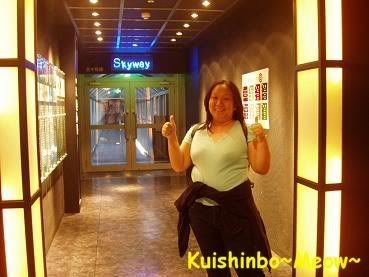 Time was getting nearer for taking the Shinkansen. But still, Kakak want to walk through the Skyway. We were omost like running through the bridge. With out luggage "Bup bup bup" noise all the way. Luckily, no other visitors were around that time.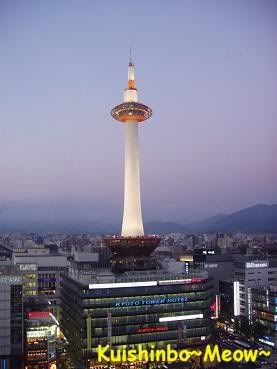 The only tallest building in Kyoto... Kyoto Tower (
京都タワー
), that I took from the Skyway.
Wow!! We were really sweating. Just 10 min in time before the Shinkansen arrived.
After 3 hrs, we oledi in Tokyo. We were goin to meet
Hui Wen
in
Shibuya
(
渋谷
) Station.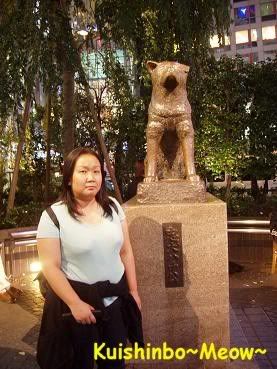 This is the famous Loyal Dog Hachiko (
忠犬ハチ公
, Chuken Hachiko) Statue in Shibuya. A heat spot for people meeting up with their frens. I still remembered the first time I met up with
KK
,
Wai Wai and Li Qing
in Tokyo, was here. It was my first time in Tokyo too. Arrgghh~ time flies.
See Kakak sour face?
"Ai yar~ dog statue only mar~ Nothing special."
Wait till she knows the story behind, fish fish too lazy to tell her the stories, she will ask more n more Qs like my mum then. >.<
I felt like having omelette rice. So Hui Wen brought us to an Omelette Specialtiy Restaurant. I can't really remember what the name was. Wanted to confirm with her, but she has went back to Penang for CNY yesterday. *envy* Well, will update to tell you the shop name next time. Meanwhile, enjoy the food pics. :P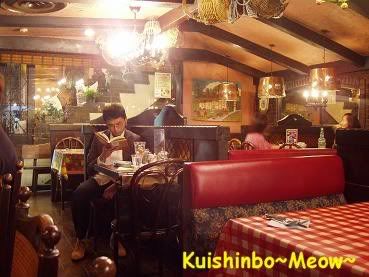 I like the interior inside. Kekeke... and I like the guy that reading book. Owez think that guys look very sexy when they are so serious into books. :P
Yar~ fish fish curi curi taking his pic. *bad gal*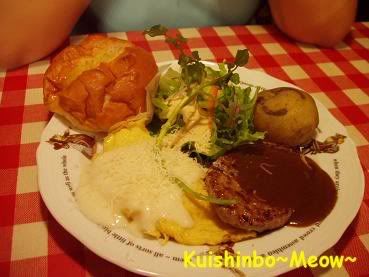 This was my Kakak's plate. A special dish. Good choice for people who wanted to have many fancy things in one. The main dish inside - burger and omelette. Yah~ it's a big plate. I think it was for around 1400yen.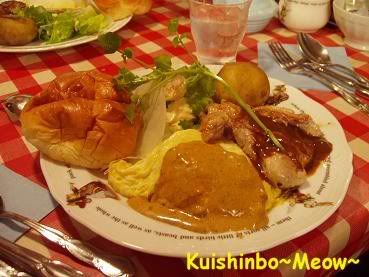 This was Hui Wen's plate. With the main - Chicken and omelette. Oso around the price of my Kakak. I love the sauce of the omelette. Very good. Couldn't help but to steal some from Hui Wen. :P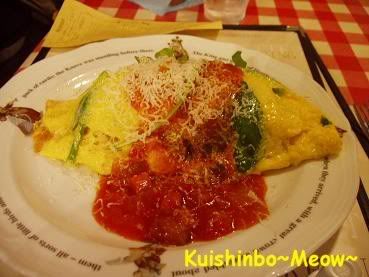 Mine was this Omelette with spinach inside. And topping with tomato gravy. Mmmm~~ yummy!! I love it! Think it was around 800yen.
It was a good choice for good omelette.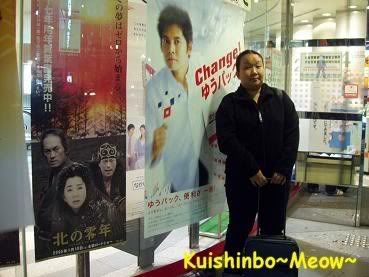 With a full and satisfied stomach, we were on the way to Hui Wen's dorm. Kakak saw this advertisement with Oda Yuji (
織田裕二
) on it.
"I want!! I want!! Take me with him."
She screamed. *Siao*
"U sure u got him oledi or not?"
She asked after I've taken the pic.
"Got lar~"
"Me ler? Me look leng leng inside or not?"
"..."
*enough*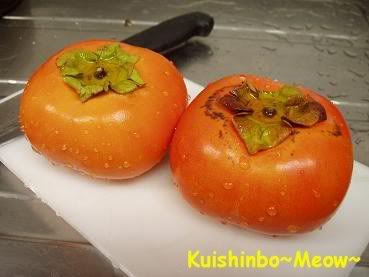 In Hui Wen's room, Wai Wai came to join us a while later. She plucked some nice persimmon (柿, Kaki) during a school trip.
I splashed some water on it, so that it looks more temptating. Look yummy? Kekeke...
The taste? Wordless... we were just too busy in munching piece by piece into our oledi full stomach. *cho shiawase* (super happiness)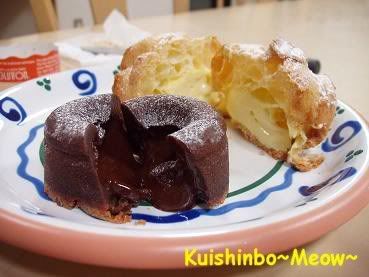 I bought some chou cream and choco fondue cake from
Beard Papa's
. Kekeke... I'm kind of satisfied with this pic. It shows how yummy exactly as they should be. Sweet tooth... did fish fish make you drool for one now? :P
Oh~ I love chou baby and choco sweetie... Come, give fish fish a good kiss in her mouth. Kekeke... (Really feel lucky that Kakak dun really like these 2, she's not too much into sweet things. She is more to a beef person.)
Thank you dear WW and HW. Thanks for letting out one room for Kakak n me for 2 nites. :)
I'm off.
Tata.