Kakak in Japan (Pt 13, Nov 5)
On this day, we spent a whole day in
Tokyo Disneyland
, part of
Tokyo Disney Resort
. We reached there before 6.30am, and went out from the park at 10.15pm. The park opened from 8.00am till 10:00pm that day. And yes, u bet Kakak n me was in there for more than 14hrs. :P
I'm goin to divide this TDL talk into 3 parts, as it is my No. 1 theme park in Japan. Hopefully, from fish fish experience, next time either if you bring your gf or family to there, hey guys, you would know how to impress them. Kekeke...
Yap... in Japan, guys would need to go thru 2 traumas in theme park even if they hate this kind of place. 1st, to impress his gf when the "hot love" period. 2nd, to impress their children. ;) It is definitely a great place if a gal wants to see how patient her boy boy can be.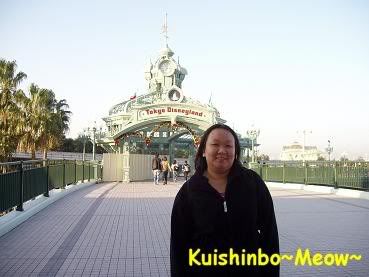 Once you see this sign, somehow you will be getting more excited. Ah~ but no, this was still not the main entrance yet.
Though it was a weekday, still the crowd were scary. Really glad we reached there earlier. This was my 2nd time here, 1st time was with my mum. So, I know better how to play inside the park. Entrance fee for each person is 5500yen (RM200).
Once turned 8.00am, either a primary school kids or mid 50's lady, everyone was starting to run like crazy. They made you panic actually, that somehow they made you ran as well.
I tried to walk fast but not running, cause my Kakak couldn't run. I was trying to make her walk faster...
"Ai yar~ I oledi tried my best to walk the fastest liao lar~!! No need rush rush, play 2, 3 things enough liao~"
she started to mumble.
"..."
but then I said,
"Hey, I didn't know walk with hands swing swing is called [FAST]..."
"I bring you all the way from Kyoto to Tokyo, just to come to this place. Now you say this thing to me. Isn't it irresponsible?"
She tickled my bomb.
"You don't give coorperation to me at all. How are you going to play well here then? Mum tried her best to coorperate with me last time you know?"
"No use if I'm the only one try to do the best for you, and not yourself. You said your legs were painful, fine, so I let you rest for a day last nite. Cancel the Disney Sea. I walked not less than you too. And after a whole day rest, now you still acuh tak acuh. Should I be angry or not?"
Yes, fish fish was kind of pissed off that time.
"Ya lar! Ya lar! I'm only say say. You fierce for what ar?? Wanna walk, walk lor~"
hehe... in returned, I triggered her shooting as well.
"U dun have to use mama to threaten me!! She is she, she kiasu!! Me is me... me not like that."
Her face turned more red.
"U dun know I fat ar??... Can't walk easily as normal people ar??"
"U try to carry so many burden with you when walking... see if you can walk fast or not??"
Finally she finished her last sentence.
OMG!! I nearly wanted to faint. I dun know if want to laugh or angry that time. U can never mention the word "fat" in front of her... But, she can use the word "fat" for her own excuse. I tried the hardest not to laugh... cause if I do so... u bet the volcanic explosion is goin to happen.
"Ok, sorry. But please give me your full coorperation ok? Until you go back to Malaysia. You can rest as much as you can. But this is Japan, there will be no way you can survive without walking. Ok~?"
*sigh* I know my Kakak dun take 'hard way' one, u need to do the 'soft way' with her.
Guess what? Yes, her mood turned 180 degrees better that time. Fast huh? She's very good with that. Kekeke... (Now I know why people say I am her Kakak).
Told mum bout this later on the phone. (Shh... Kakak didn't know bout this). Man~~ luckily I didn't make her choke. Mum was laughing so hard... she told me she couldn't stop once she think bout it). *bad bad fish*
Ok, enough for the short quarelling episode with my Kakak.
We went to get a
Fast Pass
for
Buzz Lightyear's Astro Blasters
. I'm too lazy to explain the Fast Pass system here, but this is a very useful system for you to play smart in TDL and save you a lot of waiting time. Please go to the link for a more detailed read. The Buzz Lightyear's Astro Blasters was the lastest attraction in TDL. And anything new will be terribly congested in Japan. So, I know I need to get this Fast Pass for the very beginning. Man~ really glad I did it.
We then went to the next door attration.
Space Mountain
. It's a type of roller coaster. But in dark. It got quite scary for my first time, cause didn't expect it to be something like that. And this time, I dealt it well. My Kakak loved it... the 1st one started to excite her to go for more oledi. Kekeke... that's good, her self motivation is the best drive for her. :P Like wat happened to my mummy last time.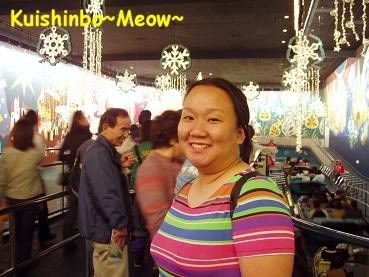 We still got time before our Fast Pass time. So, I brought my Kakak to have a ride on
It's A Small World
, belongs to the
Fantasyland
. Best place to bring small children for a colourful world. :) And not jammed at all.
In Fantasyland, you can also have rides in
Pooh's Hunny Hunt
. One of the hottest attraction as well. That was our last ride. We lined up for omost 2 hrs for that. Well, we have finished all the other important one that time, so we wouldn't mind lining up for this one. Pooh is my Kakak's favorite character.
As for fish fish, my most favorite attraction would be this
Haunted Mansion
. It really made me feel like I was inside a haunted world, with all the unexpected spooky stuffs around me. It was a Christmas special. So, different from the 1st time one. Good~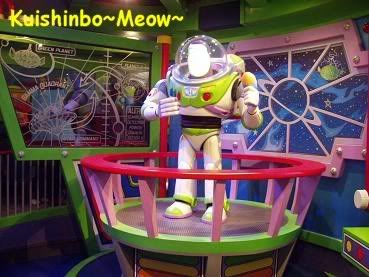 Then we went back to the Buzz Lightyear. Gosh~ the waiting line was for 150min. Scary! Me n my sis, we just went in like that with our Fast Pass. Kekeke... we could see all the admiring eyes.
"Geee... see all those envying people? Aren't we lucky??"
My Kakak said.
Haha! She said 風涼話. Who was the one almost caused us to line up like this too.
Thru the whole day, we managed to finish all the game with Fast Pass, including most of the one that dun have Fast Pass.
We had
Big Thunder Mountain
and
Splash Mountain
, only next to each other.
In
Westernland
, besides the Big Thunder Mountain, you can oso have a relaxing ride with
Mark Twain Riverboat
, which I will talk more later.
Tom Sawyer Island Rafts
, we didn't take this one.
Also a nice musical performance called
Country Bear Theater
. My first time for that, and I enjoyed it a lot.
As for
Critter Country
, it oso has
Beaver Brothers Explorer Canoes
. We didn't try this, no time.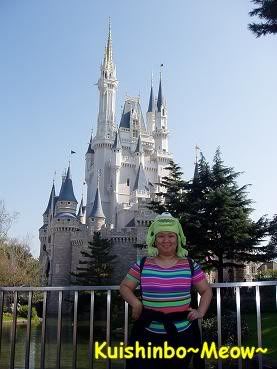 The main symbol in TDL, this
Cinderella Castle
. Inside, you can joined a Mystery Tour. I can't really remember, but I think I went for it for the 1st time I went with mum. This Castle is a very hot spot for taking picture from any corner in the park.
See my Kakak with Cinderella Castle? Kekeke... oso the green monster on her head. She wanted me to buy this one for her when we past thru a shop. Man~ this green monster really made my Kakak felt like a famous person. Anywhere we went, she became the focus to everyone. You bet she was feeling very high with all the attention. *自恋狂*
Feel strange with this natural scene inside TDL?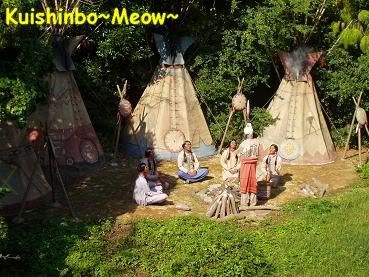 What more with some Indian villages?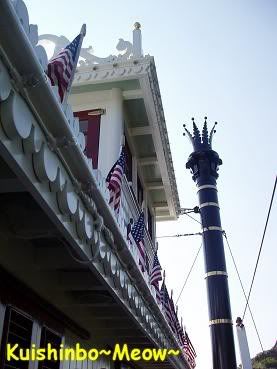 You will enjoy these views if you take Mark Twain Riverboat.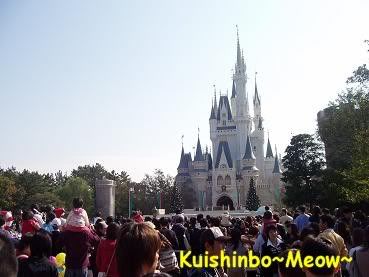 We then went to Cinderella Castle for a Christmas Stage Performance. See the crowds? It was a very hot afternoon time... Man~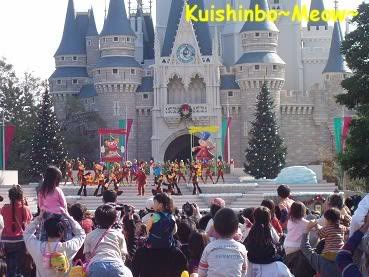 Once the performance started, kids suddenly climbed on top of their daddy's head. More and more kids asked their daddy to do the same thing. Reminded fish fish on one Chinese proverb...横眉冷対千夫指, 俯首甘為孺子牛.
I'm kind of lost interest in following up the performance, too many people and too hot. Now, fish fish envying eyes were on those who got the seats in the middle of stage. I asked the staffs how I could get one, after they told me that was thru lucky draw, Kakak n me decided to go and try our luck.
Guess what? Kekeke... we got it. In evening time. Perfect!! So, a more detailed review for a nite time one will be for later post.
On the way, saw one stall selling Curry Pop Corn. Oh~ a curry one? Hmmm... never tried. So I bought one. Not much to Kakak favour. Good~ I finished omost all of it by myself. :P
After that, where we went?... Buffet!!
Polynesian Terrace Restaurant
. It was quite reasonable, 2100yen with no time limitation. The pretty staff was kind, she let me to go inside to peep on the food before I decided to eat there. :P The food inside, I would say it's a mixture of Western and Eastern. Not a bad taste... Good varieties as well. Who would expect there would be a nice buffet restaurant in a theme park?
The foods...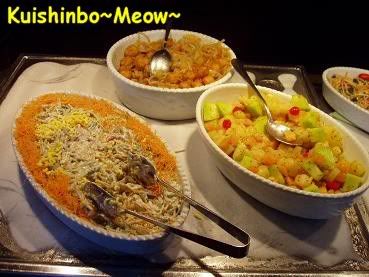 More foods...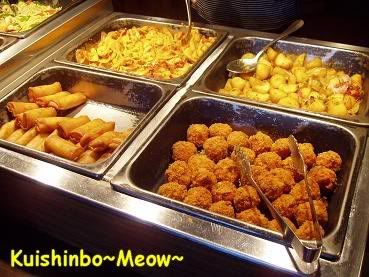 Quite a few kinds of frying stuff. The spring rolls were good.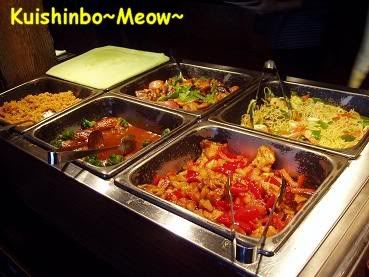 Among all the foods, I love the fried noodles the best. It tasted really good. I haven't had this kind of noodle a long time in Japan. Dun ask me how much I had for the noodle, I think it must have filled up 1 out of 4 stomachs of fish fish. :P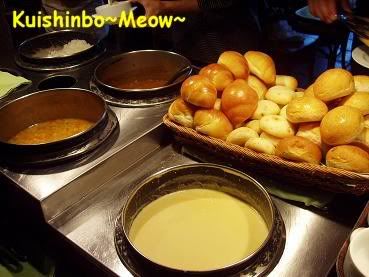 Oso got corn soup and buns (front) or you can have curry rice and onion soup if you want (back). The buns were very soft and fluffy. Very good to go with melty butter.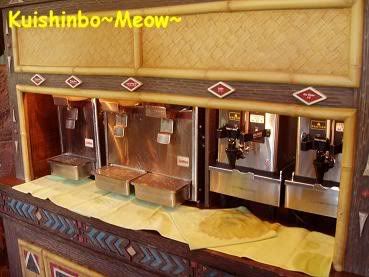 The nicely designed drink bar.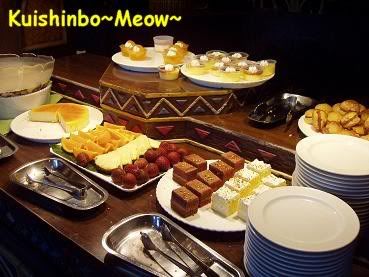 For sure, a buffet wouldn't be complete without any dessert and fruits. Oh well, you bet fish fish had this thing first in the beginning, as usual.
this
.
"Mum are really rite... You got stomachs like cow..."
Suddenly Kakak spilt out this phrase.
"..."
Nobody ask you to remind fish fish one this!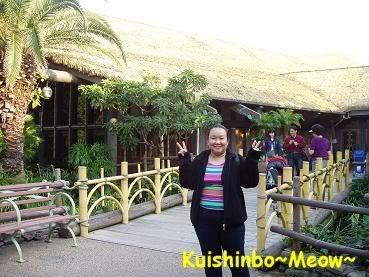 My Kakak with a very satisfied smile after we came out of the restaurant.
To be cont...