Kakak in Japan (Pt 16, Nov 6)
Half day with Fukumoto sensei
We left from Tokyo kind of early as we had to rush back to Kyoto to meet Fukumoto sensei, my Japanese language teacher.
While waiting for Shinkansen in Shinagawa Station, we still got a bout 30 min. Kakak was attracted by the Tachigui Soba (立ち食いそば) (stand and eat style soba). So, we shared a bowl.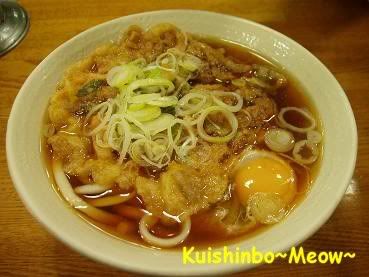 Somehow Kakak wanted to try udon, so we ordered one. It was very cheap actually. A bowl like this I think only for 400yen. Surprisingly, the udon tasted better than its look. Kakak love~ it. She keep saying, "Oishii~". Kekeke... that's the most important Japanese word that she remembered. :P
3 hrs later, we were oledi in Kyoto. We met up with Fukumoto sensei. She drove us around for a while to show my Kakak how my school actually looks like.
It was a very sunny noon. See Kakak with her 'see teeth don't see eyes' smile, in front of the main campus of my school.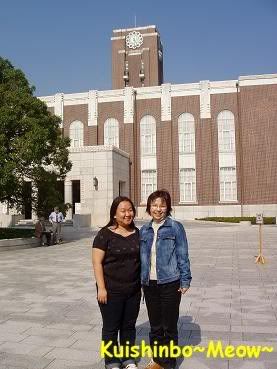 Kakak n Fukumoto sensei in front of the famous clock tower of the school. Fukumoto sensei is a pretty lady. Her figure still remain the same as 25 years ago. Amazing huh!
Kawamichiya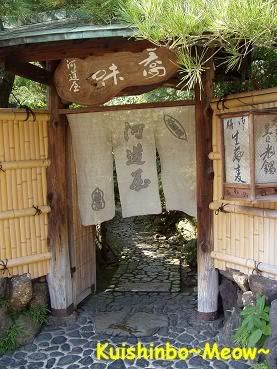 Later, sensei brought us to a very nice place for lunch. It is called Kawamichiya (
河道屋
), a shop that is specialized in making soba (蕎麦) (buckwheat noodle). I really like the entrance of the place we went. Very Kyoto style.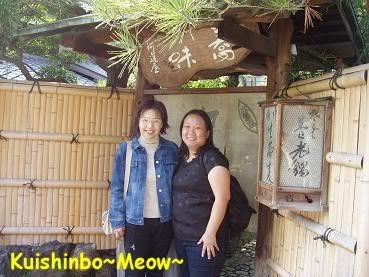 2 lovely ladies with their attracting smiles. ;)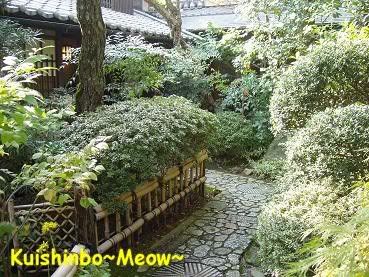 I got even more impressed with a great garden that greeted us before we entered the restaurant.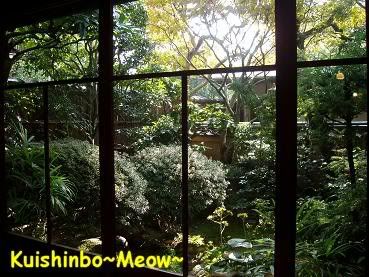 We were led to our table. My my~ yes, we had our lunch beside a great garden like this. Aarrgghhh~ during late autumn time, I believe this garden will be even more splendid.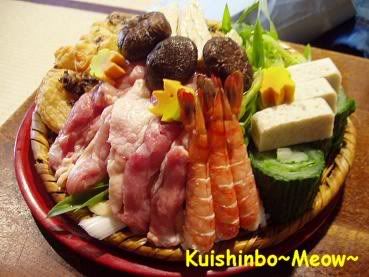 Not only the scene was so good... The food was fabulous too. This whole big plate was for 3 people portion.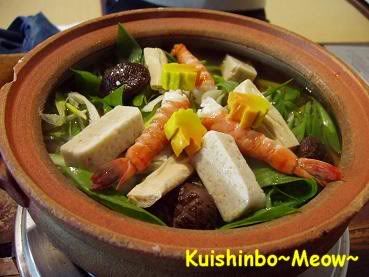 The lady then put the ingredient layer by layer beautifully inside a donabe (土鍋) (claypot).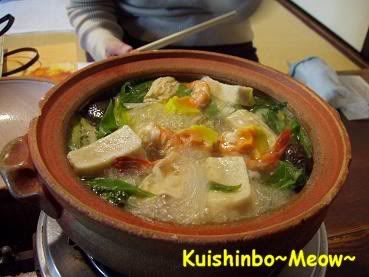 After that, we added in the soup and waited for the food to boil. Once we opened the lid... the great smell just ssoooossshhh~ into our noses immediately. We oledi get so starving by only the smell...
The taste?? Much much better than the smell. The taste was very mild, and yet... it was a taste that would make one addicted to it. I would say it was one of the best Kyoto hotpot dish that I have ever tried. All the ingredients used were the good standard one.
Fish Fish only unsatisfaction... a lot of things that I couldn't eat... :( which I gave them all to my Kakak. U bet Kakak get a great satisfaction from that.
"Sensei... ho shik... ho shik"
which means very delicious in Hakka dialect. Actually this is their common understanding. As you see, Ho Shik (Hakka) and Oishii (Japanese) actually sound very similiar. So instead of saying Oishii... mum and Kakak owez say the word in Ho Shik. Yap, it was my mum who had this idea. :P
Mum even say "Mushi Mushi" (insect) rather than "Moshi Moshi" (hello) everytime on the phone to me. Arent's she creative?
The meats and seafoods were served with some fresh lime sprinkling before eating. And you know what? Kakak even grabbed my lime over... *bad bad* But then, this meal was meant for her... oh well~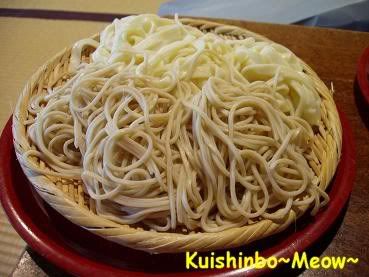 After we finished all the food in the nabe, then we added in the soba (front) and the kishinmen (back) inside the soup, so that the sweetness of the soup would be absorbed by the noodles. Kekeke... I filled up my stomach with these CHO. Yum~ Yum~ I especially love kishimen, and this one was a surprise for me. It was thick compare to the normal one, and yes... it was very good, both the taste and the mouthfeel. Very munchy.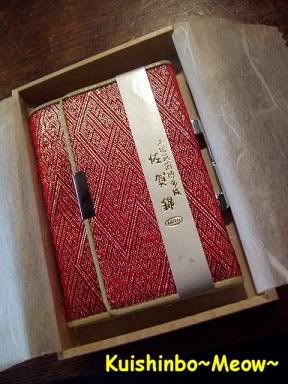 Fukumoto sensei even gave Kakak this Saga Nishiki (佐賀錦) purse. Saga Nishiki is a very famous textile in Saga prefecture.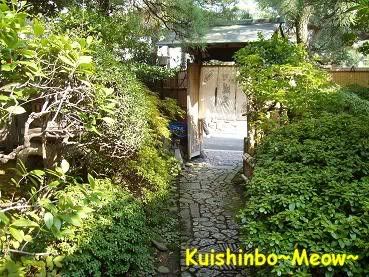 Before we left the shop, I took another last shot of the garden. I love this place, and I'm sure I'll be going again.
After that, Fukumoto sensei rushed for her meeting, and Kakak n me rushed to another venue to meet with another fren for another half day fun.
That... will be for tomorrow.
Tata.