New Year 2nd Day
Fukubukuro
Last year, I bought my very 1st fukubukuro (福袋)(a grab bag; a "mystery package" during New Year that containing a variety of articles supposedly worth more in total than the purchase price) with Sylvia in Tokyo. I bought one too for Wai Wai and Sylvia bought one for Li Qing. It turned up both I bought for myself and Wai Wai got 'heart shape' whereas the one chose by Sylvia dun have. :P
This year, Sylvia and I decided to grab a better one in a more high class departmental store. We chose Takashimaya (
高島屋
) in Kyoto.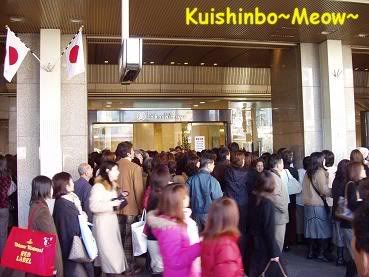 We reached there 10.10am. Just about the time the entrances opened. See the crowds waiting for the door to open? I wonder how early people started waiting that day.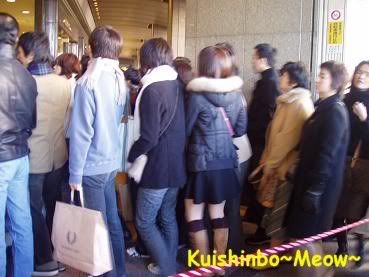 Then the door opened in 5min time. Gosh! The crowd suddenly were moving very fast. I think Takashimaya opened all the entrances for that day. Even the place I was waiting got 5 entrances. Even though very crowded, still people kind of following the Q.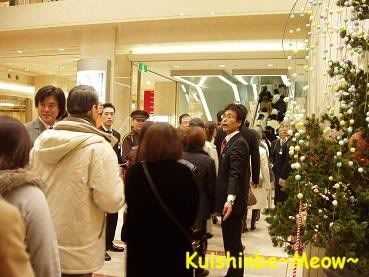 Sylvia and I finally get ourselves into the building. Staffs were lining up in 2 sides to greet customers that going upstair. See the blocking line? To avoid people from half-way slipped into the Q. Everywhere we heard the staffs shouting : "Welcome! Happy New Year! Good Morning!". If I work in these places, I guarantee in less than a day, I will loss all my voice.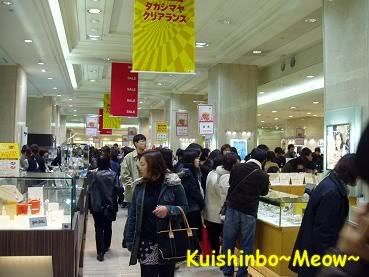 We wanted to look for jewellery again this year. So, we just did our Fukubukuro hunting in this ground floor. See the crowd that oso looking for the same thing as we did?
I was thinking to buy one Made in Japan jewellery fukubukuro. I chose Noema. (Sorry, can't find its homepage.) Bought the 5000yen (RM180) one. Got 3000yen, 10000yen and 20000yen too.
As for Sylvia, she bought Michel Klein 10000yen Fukubukuro.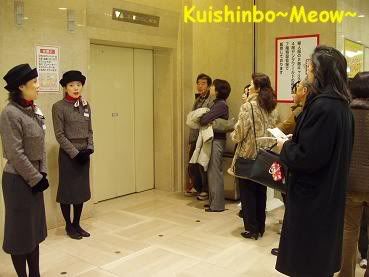 This is a pic of 'Elevator Gal'. In the high class deparmental in Japan, they usually hire pretty gals to operate the elevators. According to my fren, these gals actually oso being called OL (Office Lady), and the paying oso equal to OL. I'm not sure how true it is.
We didn't hv anything more to buy, so we decided to go to the base floor for food. :P
We saw this Midarashi dango (みだらし団子), very appealing. So we bought 1 set (5 sticks), 400yen. The sauce for normal taste very nice (left), black sugar one a bit too sweet (rite), get satiated easily... so so for the dango itself.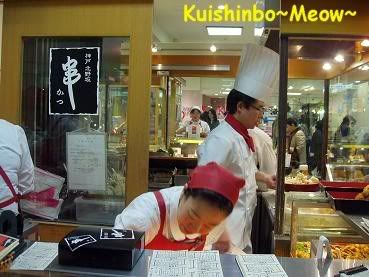 This Kobe Kitanosaka Kushikatsu (神戸 北野坂 串かつ) stall in the fresh food section oso attracted us.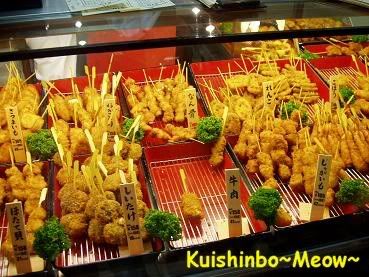 People were like buying 10, 20 sticks... Sylvia and me? Each of us only bought 3 sticks. :P Katsu Katsu... eat katsu... can katsu... Kekeke... (the word Katsu actually oso means 'win' in Japanese). I like the Nagaimo (長芋)(Japanese yam) katsu. It was something new to me. Think next time I'll try to make one by myself. ;)
I get myself another 2 food fukubukuros.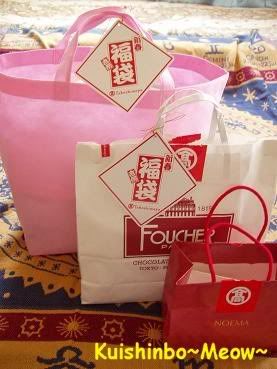 The smallest one: Noema accessories. Medium:
Foucher Paris
chocolate and biscuits (1050yen). The biggest one: Senbei (煎餅) from forgot what brand. But the senbei fukubukuro was the hittest (1575yen). I managed to get the last one but I didn't know Sylvia wanted one as well... Only when she came to the counter than I knew, felt so guilty... Try to sell mine to her but she didn't want cause she said Fukubukuro is depended on luck. She said it was just not her luck to get it. Ok... better believe this. And fish fish will remember next time grab anything I want in 2 sets... so that when next time even if Sylvia didn't want, can put back oso not late. Kekeke...
We didn't see other Fukubukuro senbei anymore...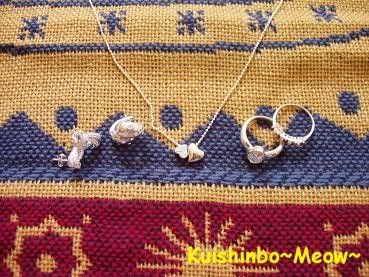 This was what I got inside the Noema Fukubukuro. It was a nice deal actually. 2 rings, 2 pairs of earrings and a necklace. Ai yar~ another 'heart shape' for this year... But how come fish fish never get a 'real heart' for herself?
Lunch in Lim's Place
Then, we rushed to Lim's place for a lunch. He invited us to go for steamboat. Haven't seen him for more than 1 year.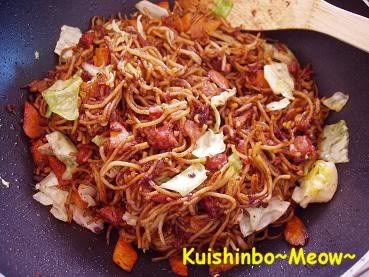 They oso prepared mee goreng (fried noodle).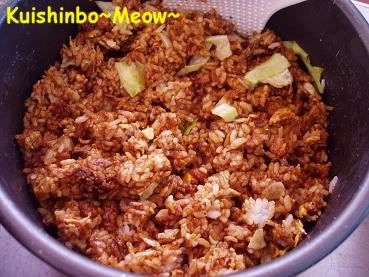 And nasi goreng (fried rice). Ai yar~ Malaysian foods. :P I ate the noodle with a lot of chili sauce. Shiawase~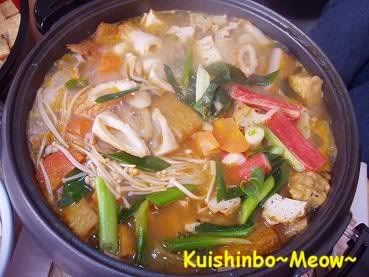 We oso had a very colourful Kimchi Miso Steamboat.
Burp!!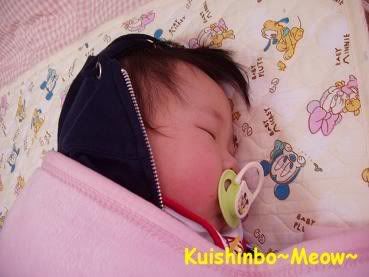 Lim's little baby, Koyuki (kekeke... the father named her 葉雪, literally means Leaf Snow, it seems like they tend to call her Koyuki... and she seems to recognise that name more). Goin be 1 yo in 18 Jan. Can oledi stand and walk. Smart gal.
Hmmm... must be having a sweet dream that time.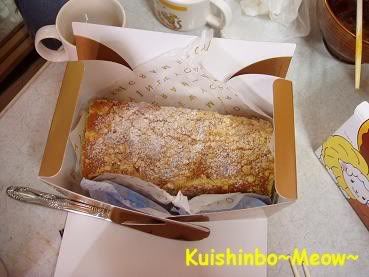 When omost the time for dessert. Koyuki woke up. Sylvia and me bought this Maroon Roll Cake. The cake itself was very good. But got alcohol inside, so Koyuki couldn't eat it. She can only take Mr. Donut that brought by David and his gf.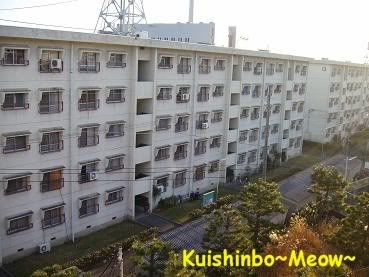 Housing estate where Lim is staying.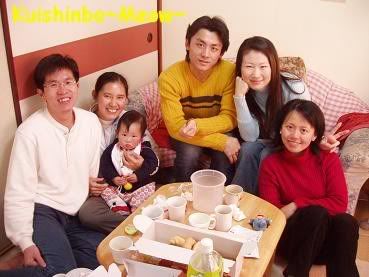 A few members went back earlier. So a group photo of leftover.
Left to right: Lim, Qing Yan (Lim's wife), Koyuki, David (from Taiwan. Another David from Malaysia went away early), Tutu (David's gf who is having holidays in Japan) and Sylvia.
All of us were quite surprised to see David bringing his gf. This guy ar... quiet quiet gave us a shock. But Tutu is a very sweet gal. Kekeke... David must hv been feeling very sweet inside his heart. :P
Tired day. But nice. At least a refreshment for me before I start my life in lab again. :(
Tata.