New Year Nabe
I was planning to do Nabe (鍋)(Hotpot) for a New Year Eve at home. However, Ah Fu suggested I cancelled it and have it in his home instead. So, 13 Malaysians in Kansai turned up to have a great Nabe time in Ah Fu's place.
The Nabe lunch was supposed to start at 1pm. But by the time all the members turned up, it was oledi 2.30pm. Malaysians time? Poor Ah Fu, have to go to the station a few times to meet up people.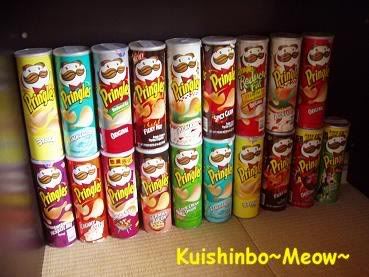 While waiting for the others, we discovered this wonderful collection of his. Wow!! The pringles series in Japan. Ok, next time I know wat I should give him as a souvenir liao. His room is very well ordered. But as it is tatami style, for winter, it is very cold.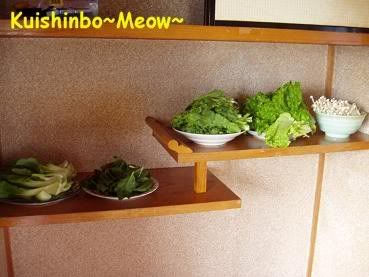 He oledi get ready all the ingredients before we reached. A few types of veggie.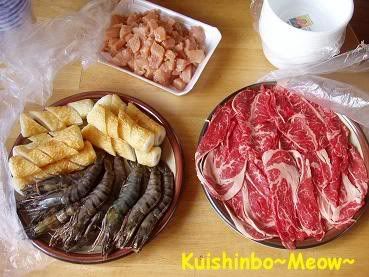 A few types of non-veggie.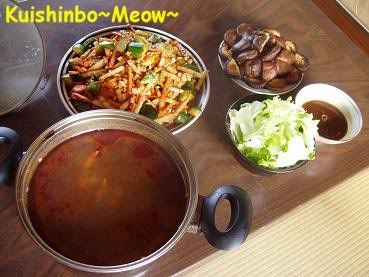 The tom yam soup for nabe, rojak (some said it should be acar... a small arguement on that even, :P anyway, it was a nice dish), mushroom and lettuce.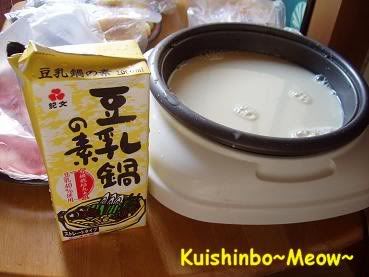 Fish Fish bought a pack of Tonyu Nabe no Moto (豆乳鍋の素)(Soybean soup for hotpot) a while ago, so today oso brought there to let everyone try.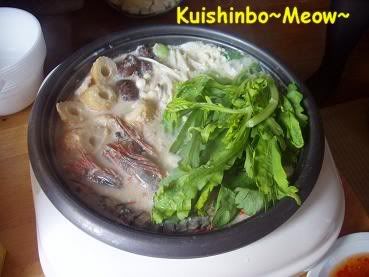 This was how the Tonyu Nabe looked after putting all types of ingredients. Surprisingly, it was very yummy. Mild taste, and not easily satiating. I will definitely make one again in future. ;)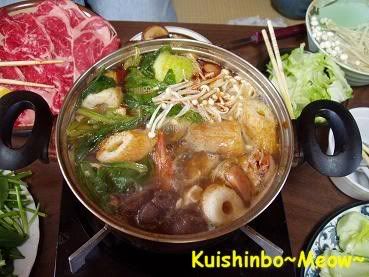 As for the Tom Yam soup, after adding stuffs, it changed into this drooling pot. The taste? Marvellous. Ah Fu is well-known among Malaysians in Kansai that cooks good, nice looking and helpful. :P People call him Takeshi in Malaysia. Kekeke...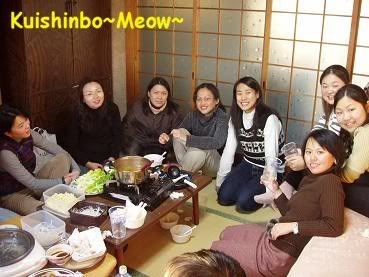 Most of the members that day were gals. In this pic, from left to the rite : Ai Mei, Ai Zhen (my high school senior who I hv never seen before, and contact each other in emails 2 years ago... then, only seeing her for the 1st time that day), Louisa, Jia Yi, Nyuk Bing, Angel, Adeline (Angel's sister who came to holiday that time. Heee... the 2 sisters sure look alike. They got another young sister who is oso very sweet when smile) and finally Sylvia (sitting on the tatami).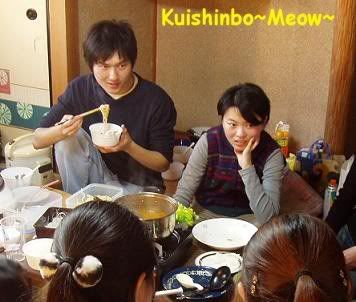 Ah Fu was indeed a very good host. He kept running up and down between 1st floor and 3rd floor, as the kitchen was on 1st floor whereas his room was on 3rd floor. What more, the stairs were very steep. Ah~ finally he could sit down and had a good meal.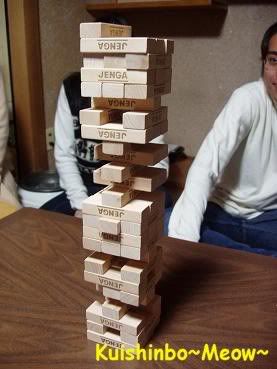 Everyone was very full. Can't finish all the food actually. We then played jenga. It was fun.
A few members left early. Whereas the other stayed until late evening.
It was a nice time. Really glad that day I have the chance to meet with Ai Zhen and Adeline as well.
Ah Fu, otsukaresama deshita. Thank you very much for the great Nabe time. :)