Pibinba and Okonomiyaki (19 Dec)
Well, everyone, sorry for the random posts of mine lately. Didn't follow order in date actually. Too many not yet posted stuffs, will jump here and there to see which one I want to write first. :P
Oh well, yesterday I talked bout
home-made Chijimi
. Today, fish fish goin to bring u try some nice Pibinba and Okonomiyaki. ;) The place where I visited was called Takimi Koji (
滝見小路
). It is located in the ground floor of
Umeda Sky Building
(
梅田スカイビル
).
I knew bout Umeda Sky Building few years back, but never think bout visiting it. Until that day Angel told me German Christmas Market was held there. So, I asked my kaki makan, Sylvia to go with me. Really glad I went. It was a very great trip. I will talk bout the German Market and the Umeda Sky Building itself in 2 different posts then.
Pibinba
After turned around the area, we concluded that Pibinba of Ishiyaki Pibinba No Osama (
石焼ピビンバの王様
) should try.
See the decoration of this shop. Heee... didn't look much like a Korean restaurant to me. ;)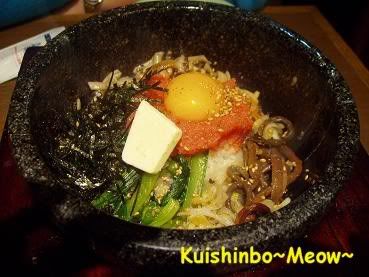 I must admit the Pibinba was good. We ordered only one. The Mentaiko Shimeji Pibinba with butter. 840yen (RM30). The Mentaiko went very well with Shimeji. And the melting butter penetrated into the rice and the ingredients. I especially love the burnt bottom rice part. Can really make one addicted easily. Too bad, the portion was not big enough. :P
Our stomach kind of a Chutohanpa (中途半端)(half-full), so we went to the 2nd shops.
Okonomiyaki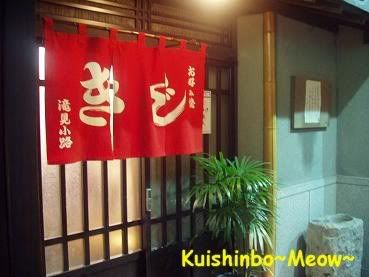 Kiji (
きじ
) was the name. A famous okonomiyaki shop inside Takimi Koji. We actually went there earlier, but that time was a long Q. How glad we were when we saw the Q finally gone. But then, it was omost 3pm tat time. Tea time! :P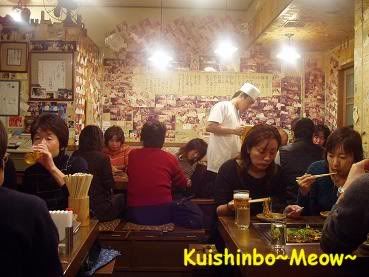 Once we went inside, uh oh... not empty at all. In fact, there were another 3 groups of people waiting for seats too. I love the interior... really felt like I was in the old time kind of space. See how people enjoy there meals and drinks? There was no book menu, the menu was written on the wall, as u can see in this pic. Cool~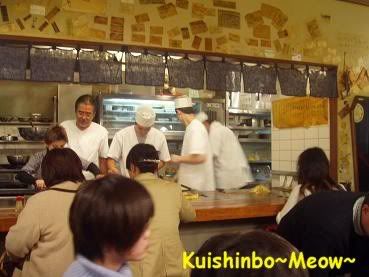 There were oso counter seats. Which Sylvia n me were aiming for. We wanted to hv a close look at the making of okonomiyaki. ;) I want to know what make this shop so special.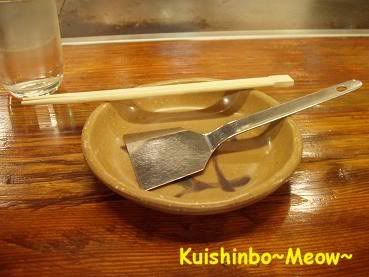 We ordered one Takimi Yaki (滝見焼). 750yen (RM27). This was the special spade for eating okonomiyaki.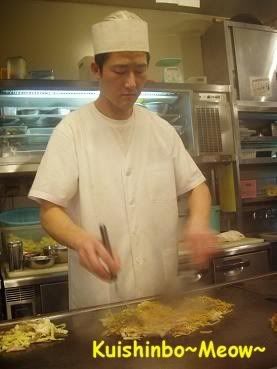 A few chefs was preparing foods in front of us. Besides okonomiyaki, they oso hv soba yaki (そば焼き)(fried noodle).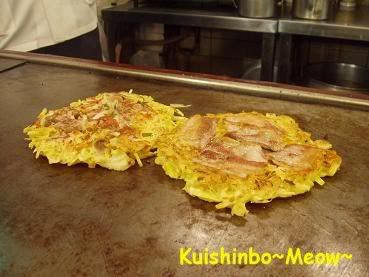 One by one okonomiyaki getting ready in front of us. It was fun to see how they made it with a very quick movement. This is wat I call 'pro'. :P
The big taukeh there, didn't do anything. He just observed his staffs working, at the same time, made a very good communication with the customers. Man~ I like him. I can see why so many people willing to wait in a long Q for the okonomiyaki.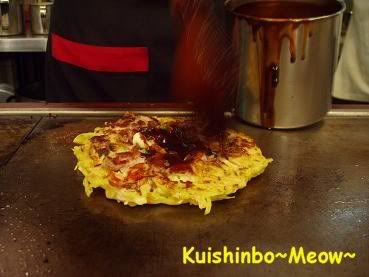 Finally, it's our one. Phew!! One big wipe, the sauce was on.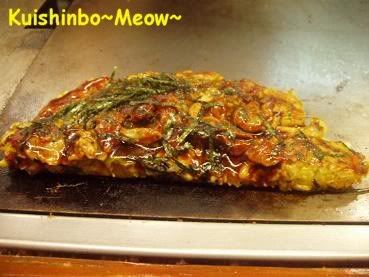 In the next minute, nori was spreaded. And they automatically cut into half for Sylvia and me. Geee... we don't even hv to ask them to do that.
The taste? Divine!! The okonomiyaki itself was really great. Wat more, the sauce was not the normal sweety type. More to a salty type, which suit fish fish's taste bud very much. This is one of the most recommended Okonomiyaki shop from fish fish. From 3 points: The food, the $ and the service.
This Takimi Yaki have Aoshiso (青紫蘇)(green perilla) inside. Brilliant idea!!! Hey, those of you that know how to make okonomiyaki, if you haven't tried with perilla, u must try. It really brings out the okonomiyaki flavour. I'm loving it. Kekeke...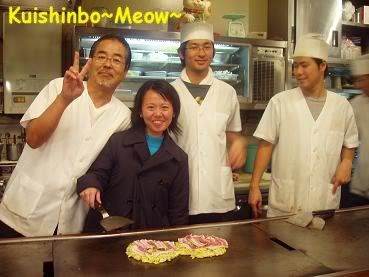 Actually when we first went into the shop, the taukeh was thinking that I was a Japanese, and bringing my foreigner fren, Sylvia to eat okonomiyaki. Heee... even when I speak he still think I am a Japanese. Hi yar~ seem like next time I can play a trick acting as Japanese liao. :P
Inside the pic, the left is the taukeh.
I'll definitely go again next time for the other menu. ;)