Saizeriya
Last week, during my everyday visiting to the hospital, it made me visiting this family Italian restaurant everyday too. :P
Saizeriya
, a good place to eat whether alone or with somebody. Reasonable price with nice foods. I've made a post on this place before, if you want to read, go
here
.
Today, going to conclude everything I ate last week in one post. Never so loyal to any restaurant like this before. Blame to my weak will to cook anything last week. Oso, this was the only economical place that I'll past by on way from hospital to my lab. With a starving stomach... u just want to hentam as much food as u can. :P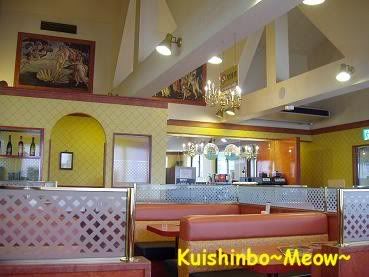 This is how the interior looks like. Can you see the sign 'No Smoking' hanging on the ceiling? Yap, they have 'Smoking' and 'Non-smoking' area for most of the restaurants in Japan. It was still early, quiet, very good time for a good meal.
It's been a while I didn't come here. A lot of the menu changed. So, I tried those that I have never tasted before.
This one is pizza with mushroom vegetable salsa. 399yen. In this shop, they oso show the calories and salt content of each food. For a piece of pizza like this... it gives you 435 kcal and 1.9 g NaCl (salt).
It was good. Can finish the whole thing easily.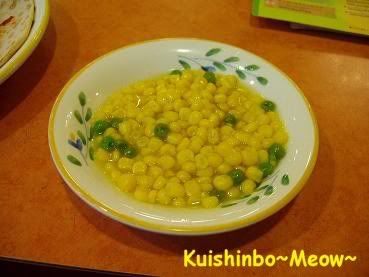 I oso ordered corn and green peas. Oh~ I love this corn. It was so soft and sweet. 147yen. Only 78kcal and 0.4g NaCl. A good choice for those who want a healthy yummy dish. ;)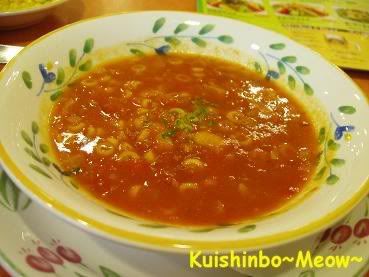 Kind of thirsty. So ordered this vegetable soup. It was not as good as it looks. Not sour enough. Kind of disappointed. 147yen. 104 kcal with 1.0g NaCl.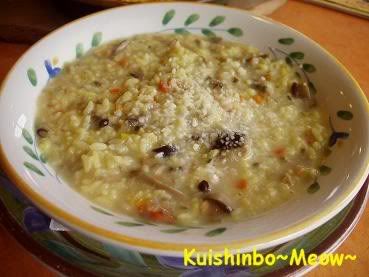 On the 2nd day, fish fish wanted to have some rice. I missed the mushroom risotto here. One of my top list for this restaurant. Too bad, they have changed the ingredient inside. Besides mushroom, bacon and vegetables were oso added. For other people, it might be a good one. But I still prefer the pure sweetness that released by the mushrooms. This was for 399yen, 247kcal and 2.7g NaCl.
I had the risotto with one side dish. Baked omelette with potato. Didn't think that they will put a lot of ham inside for me. I think I omost wasted 1/3 of the plate because of the ham. It was a nice one actually. A bit too oily though. Surely is a very high calories food, 508kcal! 1.4g NaCl. But the price was only for 304yen.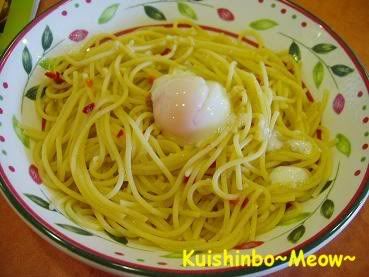 3rd day, I decided to try some spaghetti. Has been a few times disappointed with the spaghetti in this shop. But I decided to give it another try. Spaghetti Peperoncino with half-boiled egg. Kekeke... another modified Italian food into Japanese style. I wanted to have something spicy. Ar~~ wrong choice. It was not spicy at all, even though they put 2 chilies sign on it. :( In the end, I have to add in much more tabasco to make my appetite increase. The spaghetti itself was too cook. Ok, I wouldn't order anymore spaghetti from this branch. Just keep making me disappointed. But, the egg was good. Yum yum~
This dish was terribly high calories. 726kcal!! 3.2g NaCl. But the price was good, only for 369yen.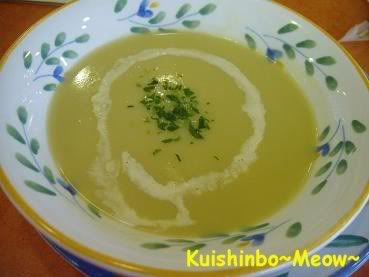 On the last day, I decided to try their winter limited menu. The broccoli series. First, I had this broccoli potage. It was nice for vege lover. But for those who like more on meat, this dish will be a bit too green. U can actually taste the broccoli when u sipped this. 147yen. Good starter for a meal actually.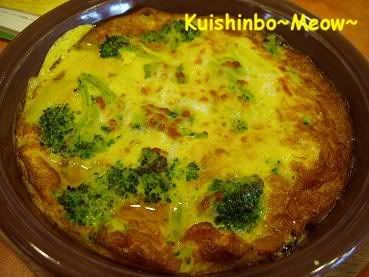 I ordered the omelette dish again. But this time baked omelette with broccoli. From the previous experience, I asked the staff to omit the ham into this dish for me. Dang dang! What a lovely look. But see the oil on the surface? U bet it is extremely high calories again. 299yen.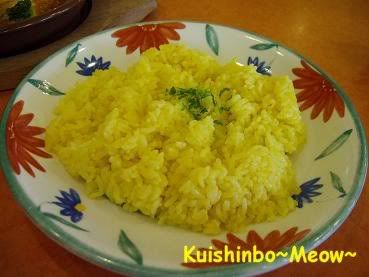 The omelette went very well with this healthy turmeric rice. I love this rice. Different from the Malaysian typical kind of turmeric rice with a lot of ghee and raisin, this one simply just use turmeric. So you actually dun feel oily at all. It was for 189yen. 397kcal with 1.0g NaCl. Gee... what a high calories lunch I had for the consecutive 4 days. Triple the normal calories I get for lunch. Blame that on the dripping injections. The doctor did say it will make me turned into a hungry horse mar~ (Ok... i know that was an excuse.) But frankly speaking, it somehow relieved my stress for that few days.
This week, fish fish back to normal again. Cook proper meal... Eat normally...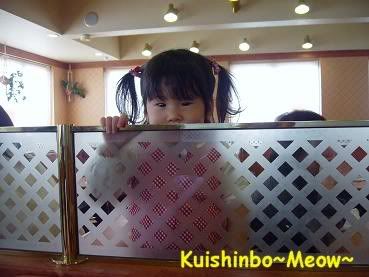 While I was having my lunch for the last day there... there was this cute little gal kept playing with me. Her mum was too busy with her jie mei chit chatting.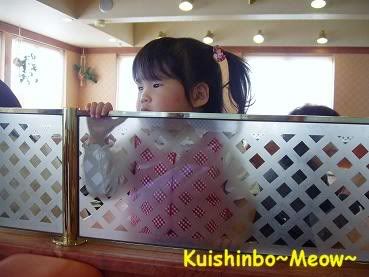 But then hor~~ her focus on me gone. She started to keep looking at someone beside me.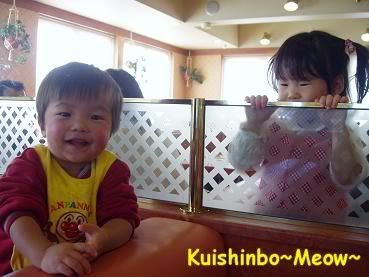 What else can distract this cute little darling from playing with fish fish if not something more attractive to her. Kekeke... You bet he was a cute boy. Such a lovely smile. Ai yar~ another future to be gals' killer. *sigh* The law of nature : attractive force. >.<
Ciao~