Sick (11 Jan)
Fish Fish's sick. Flu? Fever? Neither.
I was diagnosed by the doctor... Toppasei (Kyusei) Nancho (
突破性or急性難聴
)(Acute Hearing Difficulty). Couldn't find an English site for myself bout the info. Anyone can provide me with that? Thanks.
Dun worry, I am fine. Now on the progress of treatment. But I was really worried yesterday, didn't even hv mood to take my breakfast and rushed to the hospital.
It all happened in sudden on Monday nite. My left side ear just got buzzing sound non-stop. I thought it was something temporary, so I went to sleep that nite with an buzzing ear for the whole nite.
The next morning when I woke up, the situation worsen. I couldn't even hear clearly what was the news in the TV reporting. I tried to put on my iPod to listen... and the sound of the music was like from a torn-membrane speaker.
I knew it was nothing simple this time. Went to 1st hospital, they do not have specialist in ENT. So fish fish hv to cycle for another 30 min to get to another hospital that hv a doctor for that.
While waiting for fish fish turn, there's an Indonesia couple that brought their baby to see doctor, but can't speak Japanese at all, they seem like having a difficulty to explain to the nurse. So the keypo fish fish went over to help them.
"Can I help you?"
I looked at them.
"Oh~you can speak English!"
The mama was so relieved.
So she started trying to explain things to me... but seem like her English is limited.
"Sakit?"
I asked her.
"Sakit?!"
U should see how big her eyes were.
"OMG! You know how to speak Indonesian?"
(Fish Fish: Of course, I'm a Malaysian mar~ ;P)
"Yah~ saya bisa Bahasa Indonesia. Sikit sikit."
Fish Fish added.
So I helped her to translate all the things to the nurse. The husband is a student in my University too. Just that he is in the main campus. He came here for 1 year oledi, but he couldn't speak Japanese at all, cause his sensei only want him to stay in the lab to do his study and work.
"Japanese is useless for you."
His sensei said to him. Poor guy...
"To live in Japan, you need Japanese."
I would fight back with the sensei if I was there.
After finished, she asked me,
"Pernah berapa lama di Indonesia yah? Bagus sekali Bahasa kamu..."
"Saya orang Malaysia."
(Kekeke...)
Ai yah~ this time 2 pairs of big big eyes looked at me. Luckily the baby didn't understand my talking yet. :P
"Orang Malaysia?? Bukan orang Jepang??"
"Bukan. 100% orang Malaysia."
(Heee...)
"Tidak nampak macam orang Malaysia sama sekali yah~"
"..." (What more can I say? Have uncountered time of misconception from people oledi. Either in Malaysia, Japan or other countries. *Sigh*)
What make fish fish laugh more was the
Face Analyzer
I tried after reading
Kim's post
. After sending 11 pics for analysis, only 4 of them were able to be analyzed. The other 7 quoted 'No Archtype Found'. Hmmm... From the 4 pics... each analysed me 88%, 80%, 65% and 32% Korean/Japanese. The leftoever percentage was Chinese. Ok... now I know why I was mistaken as Japanese liao...
Back to my hospital talk. :P
Then, my turn. After gone through 5 times of Hearing Test (Chouryouku Kensa, 聴力検査)(it really tried my patience), the doctor told me bout this very new term to me, Kyusei Nancho. Yah... fish fish was like
"???"
. He told me luckily I came early for treatment. The earlier I come, the higher the chance I'll get healed.
"Is it serious sensei?"
In Japan, people call doctor as 'sensei'.
"Not sure. Need to take your X-ray now."
It turned up I was taken 4 X-rays in one go. Ai yar~ I hope my brain cells wouldn't die a lot. First time in my life head got X-ray.
Then, he said
"How bout we try intravenous drip injection (Tenteki, 点滴) for 3 days first? Then see if the condition will be getting better?"
Hmm... that will be the 1st time in fish fish's life to hv drip injection then.
How high the changes of people of getting recovered?
"Not sure. For a fast stage treatment... 1/3 fully recovered, 1/3 with certain level left and 1/3 totally uncurable. But the faster u come, the higher chances to get healed"
He said.
"What is the cause?"
I asked again.
"A few... mainly due to virus infection or stress. U were in stress lately?"
He looked at me.
"Not really. Just that these few days were busy with work until late midnite."
I said. Maybe I did stress inside my body, just that I didn't realise it myself.
Must try to relax urself and hv a good rest, ok?
He said.
"Now u need a drip injection."
"Uurrgghh... how long will that take?"
I asked.
"1 hr."
"1 hr??"
My eyes big big. U see, I've been inside the hospital for 2 1/2 hrs. It happened that 1pm till 4pm got my senior PhD thesis presentation. And I must go.
"Sensei, can I postpone the drip injection? I need to rush to the other place."
I said.
Then he realised it must have been a tiring time for me for such a long time.
"Ah~ right. Should let you rest first. How bout you come back in the evening, then I ask soemone to do the dripping for you? Then tomorrow the 2nd time in the morning."
He said.
"That would be great. Thank you for the consideration. 6pm, can?"
"Ok. Odaijini (take care)."
"Thanks, I will. See you tomorrow."
The nurse was so kind.
"No need to worry bout the payment first. Go rush for ur meeting. We settle that later ok?"
"Thanks... really thanks."
Hospital in Japan made me feel comfortable actually.
So, rushed for train and ran to the presentation venue. Munched 2 Onigiri (rice ball) inside the train. After finish, rushed again to the hospital. One go and one back took me 3hrs.
Had a dinner. Then went to the hospital again.
The nurse took my blood. Examined my urine. Then started the drip injection.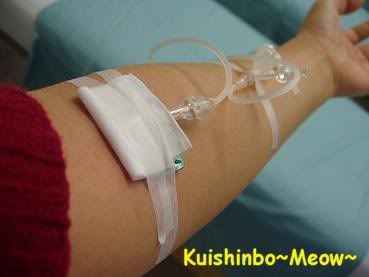 This was how fish fish's hand looked like at that time. (
mmulibra
... kekeke... fish fish not only bring camera inside washroom... but everywhere.) The nurse was so kind that she helped me to sit up for taking the pic. Hey... this is by a one hand fish product. Nice pic ler~ ;)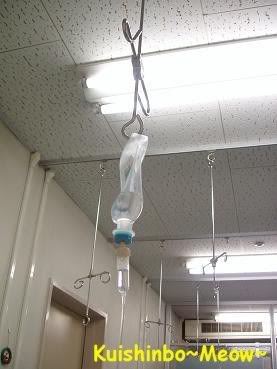 And I was on the bed 1hr to see this ceiling and bag the whole while. Super boring!!
What I worry the most...
"Be ready of the side effects of this solution."
The sensei warned me this morning.
"You'll get excited."
He added.
"Excited??"
"Yah... some people will eat like crazy becoz of the hormone inside... and might not be able to sleep at all at nite time. But dun worry... that is normal."
He said.
*Dun worry?? To eat like crazy during my diet season? And I can't even do heavy sport for these few days.* *Sigh* Ok... what to do... health is the most important.
Please god... help me to get well soon.
Now... how should I tell my mum? Hmmm...