Sweets Paradise 90 minutes!
Geee... it has been a while fish fish didn't do any post on food. So, today I'm goin to make my fingers work hard to make ur all hungry~ :P
Yesterday, I met up with another blogger,
Obachan
from Kochi. My first meeting with blogger was
~Angel~
. That time, we had a
great ramen in Tao Men
. This time, Obachan and me decided to have dessert buffet in
Sweets Paradise
, a very famous buffet shop in Osaka. It was 1260yen (RM47) only for 90 min. This was one of the greatest buffet I have ever had in Japan. Super recommended!!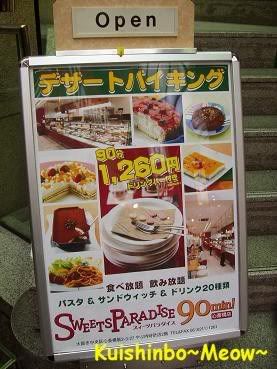 I went to write down the name first while waiting for Obachan. Luckily I did that, cause even with that, we waited for 40 min for our turn. See the pretty sign board? I dun think people can resist such a temptation. :P At least not for fish fish. Kekeke...
It has been many times I past thru this place, but never really got the chance to try it myself. So glad I had it yesterday.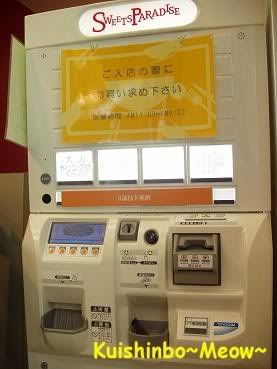 When it was our turn, we were told to buy our ticket from this machine. On the receipt, it was written clearly what time we need to get out from there. They even have a big clock for reminding you how much time was left for the battling. ;)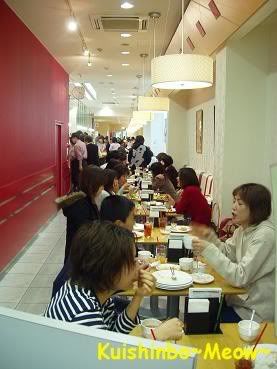 See the crowd? It was like this all the time. For sure, the ratio of female to male was high. But still, you'll be surprised to see what a good sweet tooth a guy can be too...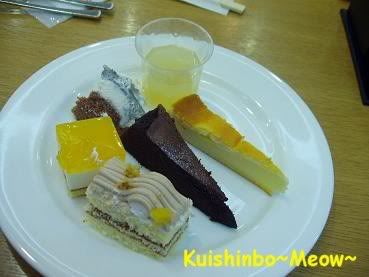 Fish Fish started with a plate of sweet things. Surprisingly, all the cakes were not too sweet, and not easily making one satiated. The petite size was just right for those who love to try many different flavours.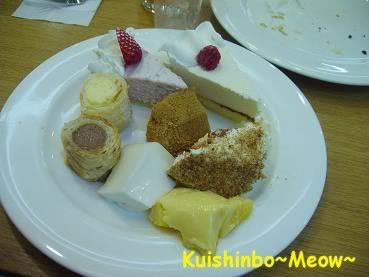 After I finish the whole 1st plate, I decided to go for another plate of sweet thing. :P Geee... When I ate this whole plate too... it was just the right time for fish fish to change the sweet taste into salty stuffs.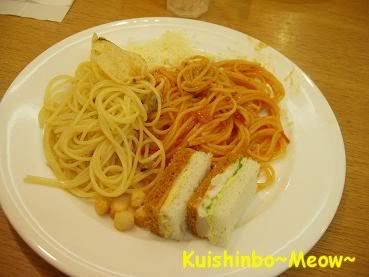 And so... here fish fish started with 2 types of spaghetti and 2 types of sandwiches. Oso a bit of crouton. I loved the sandwich. Very nice. The spaghetti was the thin type one, which was fish fish favorite.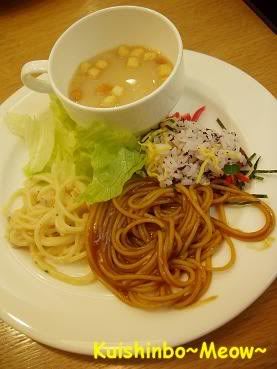 The 2nd plate of salty stuffs was another 2 types of spaghetti, cream sauce and curry sauce. I love~ the curry one. It was really good. Not the typical sweet type Japanese curry. Even though not spicy, it was good taste. For the 1st time too, fish fish experienced Chirashizushi (散らし寿司) (unrolled sushi) served in dessert buffet. Amazing!! And this one, was great. The umeshiso (plum with perilla) flavour was mixed to the right level.
You can have 2 types of soup too. Fish Fish only tried the corn soup. So so. For the salad, they served vege salad and potato salad.
After I finished these 4 plates, I did continue to get some more stuffs here and there. Dun really know how much I had for that heavy tea time... But I know A LOT! Dun even want to think bout the caloric bomb I buried inside my body. >.<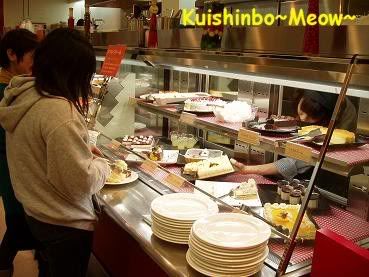 After a great meal, and I know I dun have to fight with time oledi, started to get my camera to click click here, click click there. Above pic: Layout of different types of sweets.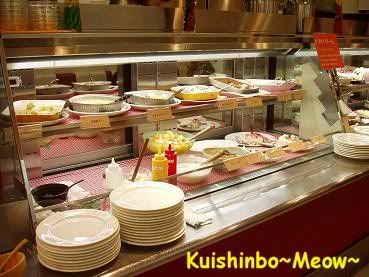 Different puddings, cakes and oso salads.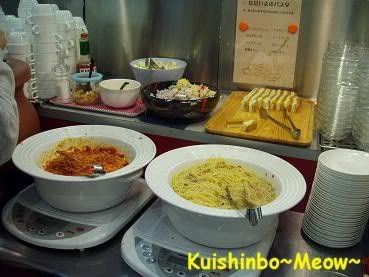 Section for salty food. They only served 2 types of spaghetti in one time. But everytime the spaghetti was out, then another 2 new types of spaghetti will be served. So for 90 min, fish fish managed to try 7 types of spaghetti. I would think the Western style spaghetti was more tasty than the Japanese style.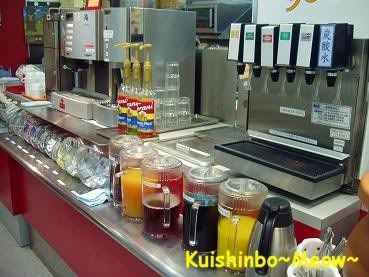 The place oso offered a good series of thirst quenchers. From juice to soft drink to hot drinks. Well, usually for buffet, fish fish mainly have plain water. But had one glass of grape fruit juice as well that day.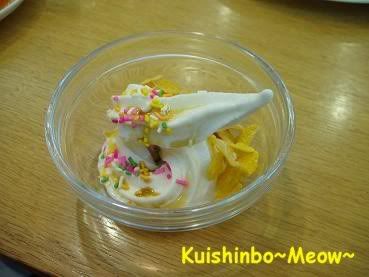 To end up my heavy tea time for that day, I had a bowl of fancy ice cream mixed up by myself. :P It was caramel sauce, black honey sauce with conflakes and colourful chips.
Yum~ Yum~
Burp!!
Glad I didn't take lunch... And I didn't take dinner as well after that. Of course... with such a loading of foods into my stomach. :P
Obachan and me went for 1 h karaoke after that. Kekeke... it did help in some sense to make our calories burn a bit... *only a bit~* I didn't dare to sing calories consuming songs that day, scare will hurt my ears. :P Most of the goodie oldies...
I was amazed by Obachan actually. She told me it was her 2nd time into karaoke... hard to believe. O_o She sings well. Can't believe to hear a complete nice singing from her on
Emil Chow
's song, named Rang Wo Huan Xi Rang Wo You (讓我歡喜讓我憂)... Well go!! Obachan~
Ok... Did I make you craving for sweets now? :P
Tata ;)