Umeda Sky Building (19 Dec)
Okay, today will be the last post for
Umeda Sky Building
(
梅田スカイビル
).
Patrick's blog!
Ehhem! Before I start to talk bout my own post today, I want to announce that my buddy downstair, Patrick has finally decided to join the blogger world. So happy! He is a very good photographer, nice writer as well. Go to
to travel is to live
, you will agree with fish fish. ;)
Seijin no Hi
Today is oso Seijin no Hi (成人の日). Coming-of-Age Day in Japan. Those who turned 20 will celebrate the ceremony of becoming an adult officially today. Meaning it will be legal for them to drink alcohol and smoke. Yap yap, it is different from Malaysia whereby ours are 21. Anyway, it is a public holidays here in Japan every year. The gals will wear on Furisode (振り袖, long-sleeved Kimono). Furisode is only eligible to be wore on unmarried gals.
Umeda Sky Building
:P Back to my main talk for today. Umeda Sky Building is one of the famous Observation Platform in Osaka. In fact, IMHO, fish fish think it was one of the best Tenbodai (展望台) I've visited. Hence, today I am goin to make a special report about it though I know nothing bout architecture. Kekeke...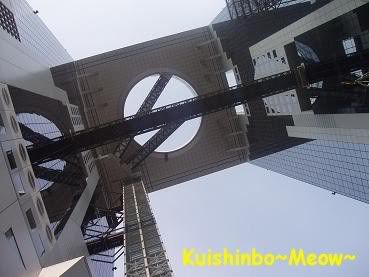 The building looked fabulous from down. I especially like the middle part design.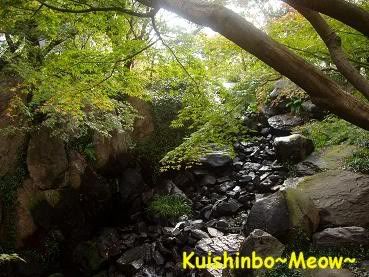 Before we went up to the platform, Sylvia n me decided to stroll around the artificial garden in the sky building. It was a good artificial one. Does this pic make you feel like you are actually inside a real nature?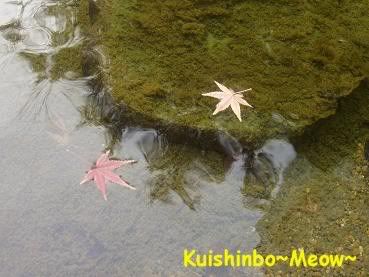 I like this 2 leaves floating on the pond. But somehow abit too sentimental for fish fish...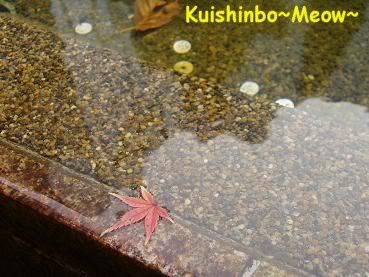 $_$... Heee... wouldn't the contrast of the leaf with the coins make it brighter? :P It is Japanese practice to throw money inside ponds, well, or anykind of container with some statues standing beside. For praying purpose. Think it has a deep connection with multi-religions towards nature. They believe every single thing like stone, wind... in this world have its own guiding god.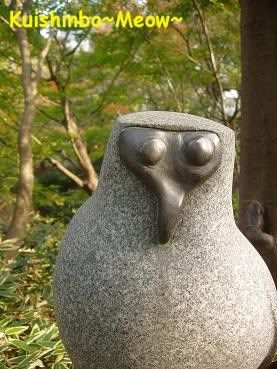 Heee... this bird statue looks like a guiding god for this garden. :P
It was a very nice garden to spend ur leisure time relaxingly with your love ones.
I managed to catch another good glimpse of the Umeda Sky Building vs Red Leaves. It was weird actually that one still can see such a pretty red leaves near the end of year.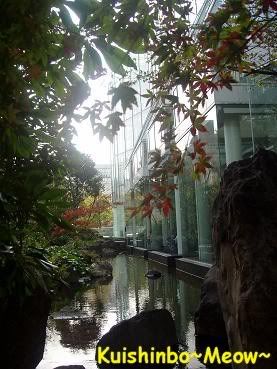 One of my favorite pic for that day. Not too concrete... trees, water and stones were making the image of the building became softer.
Yeah! There we off to the top. It was 700yen per person to the observation platform. On half way to the top, I was amazed to see the sky view of JR Osaka Station, one of the busiest station in Japan. See all the rails for the trains? I wonder how many of them actually. An enlightenment for fish fish to realise not an easy task at all to operate the train with a good punctuality for a complex train system like this. Cheers!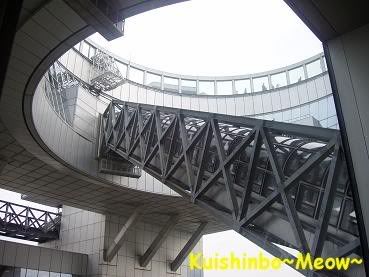 Ah~ I was getting near to my favorite part of the bulding.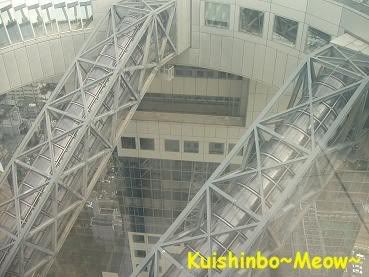 Here is another different angle to see it.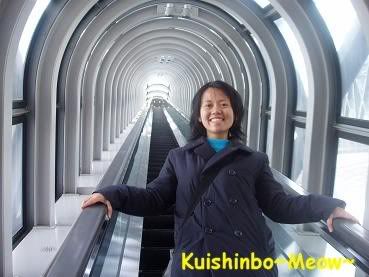 Dang Dang! Sylvia and it. ;) They were actually very long escalators. One up, and one down. For sure, I haven't seen this kind of long escalator in Malaysia though I've seen a few time in Japan.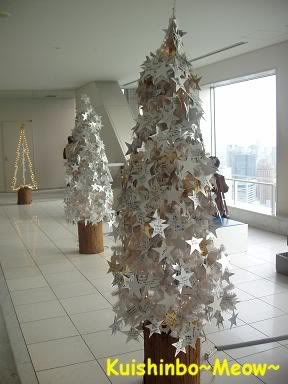 Finally we reached the reastaurant and souvenir shop of the observation platform. White Christmas trees were docorating the place.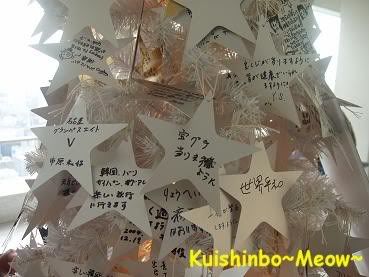 Hehe... take a closer look, u will realised how many resolutions were made by visitors. Two of the heatest wish they made... "Takarakuji Ataru" (宝くじ当たる, Win Lottery) and "Bae Young Jun..." (saw one even write "be BYJ's galfren). *sigh* Dun know wat to say... I think the one I like the most is "Sekai Heiwa" (世界平和, Peace for the World).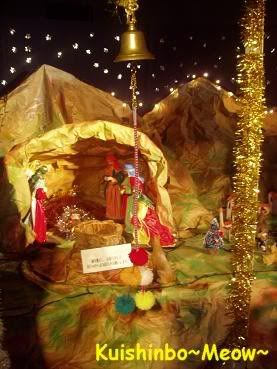 Heeee... want to know more bout how interesting Japanese practicing religious stuff?
Like this one... Jesus statue with a bell and 賽銭箱 (賽銭箱, offertary box) put in front. A modified version of Jinja (神社, Japanese Shrine).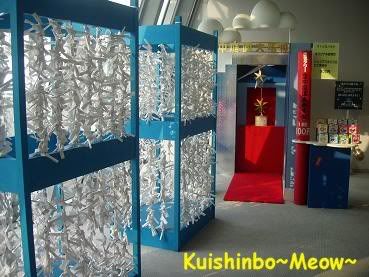 Or maybe a booth-style Japanese Shrine inside this obsevatory platform. On the right, you can see Omikuji (お神籤, written oracle) box, which you can buy one with 100yen. Then, if the oracle is a bad one, you can just tie it to the blue stands on the left. Yap yap... these tied Omikuji were bad one... which you don't bring back with you.
We then went to the top. The only open style observatory platform in Japan. It was a foggy day... Not a good time to take pic. So didn't take any on that day. I am goin back there someday to take the nite scene. Would be a pretty one.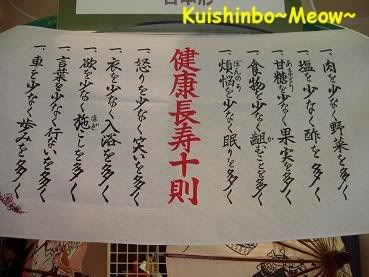 Looked around the souvenir shop before we went down. This one attracted fish fish. Want to share with you all here.
Translated as:
10 Rules for Healthy Longevity
Less meat, more vegetables. (Tick for fish fish)
Less salt, more vinegar. (Tick for fish fish)
Less sweets, more fruits. (No good, eat sweets equally the amount of fruits.) >.<
Less food, more chew. (:P Sometimes I remember, sometimes I forgot.)
Less worry, more sleep. (Tick for fish fish)
Less angry, more laugh. (Getting much better now, but still need improvement.)
Less cloth, more bath. (Uurrgghhh... not applicable to fish fish during winter) Cold~~~
Less want, more give. (Need improvement. Hmmm... too greedy.)
Less words, more actions. (:P Not easy for a talkative fish to correct this.)
Less car, more walk. (Tick for fish fish.)
Uh oh... Only 4/10 are ticks. Hmmm... not even reach the passing points. How to long life?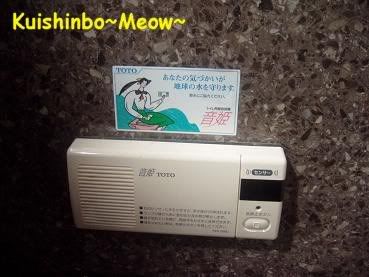 Before we said bye bye to the building, I visited the nature call booth. Wanted to introduce this young lovely lady to you. Otohime (音姫, Sound Princess). Half of the ladies' washrooms in Japan have this system inside. The Japanese ladies didn't like to disturb people with their nature call sound. So, they used up a lot of water unnecessarily. For avoiding that, they created this system. Once u push the button, the flushing water sound will come out for around 30 seconds for each push. Hmm... I wonder do they have this in the gents or not? Can any guy of u in Japan tell fish fish? I want to know.
Kekeke... Happy Monday! I'm off. ;)