CNY Eve (Feb 8, Pt 3)
No COFFEE~ No TEA~

:( I had a terrible imsonia yesterday, not becoz I got anything to worry. The main cause was because I had a bottle of tea in the evening. Ar~~ should hv endure with the thirst rather than giving myself a long sleepless nite. *regret*
CNY Eve Dinner
As long as I have my CNY celebration back home, I'll have 2 reunion feast everytime. :P The 2nd round was at my grandma's house in Serian. Went up with my mum and Bert Bert this year.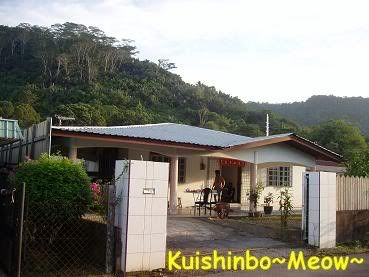 This is grandma house in 37th Mile, Serian. For normal days, my grandma, my eldest uncle and my second uncle whole family staying there.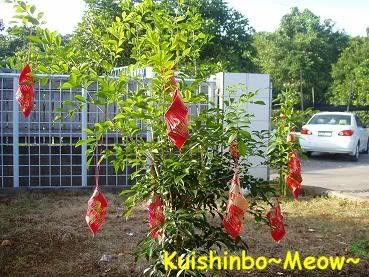 Ang Pows that made into lantern shape were decorating the plants. :)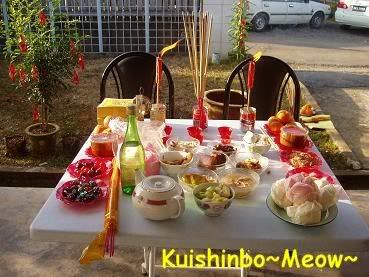 Before the reunion dinner, it is a practice of my grandma's house to pray first, and letting our past away grandpa and 3rd uncle to have their CNY Eve meal first. The 2 chairs were for them to sit down. :P
Then, it's our turn to have our dinner.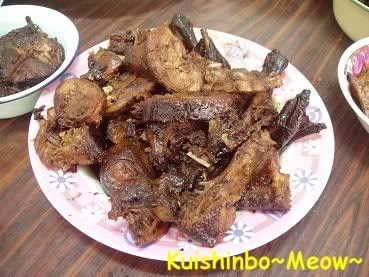 This was 5 spices duck. Mum didn't do this dish this year, but my youngest uncle cooked this dish. In fact, all the dishes that u guys seen in this post in my grandma's place were products from my youngest uncle hands. Kekeke... he never let his wife go into the kitchen for big season feast, he would prepare all the dishes by himself. With help of ingredient preparation by my uncles' wives.
"Ur uncle said my cooking taste too terrible, so just let him does all the work lor~"... my aunt said to me. Oh~ aren't she lucky or what? ;)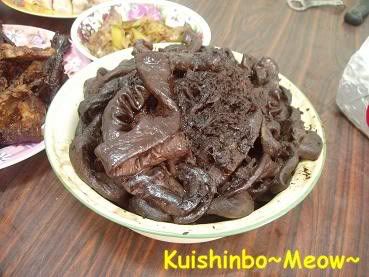 This is 5 spices pork intestine. It is a very complicated dish, as many process needed. Every year, uncle ordered almost 3kg of pork intestine just to make this dish. Cause he has to give to my mum and my auntie too. :P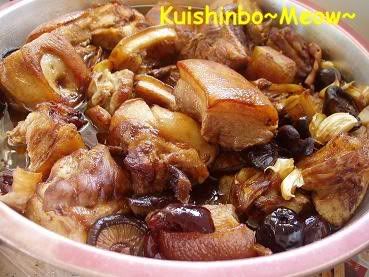 This is oso another every year must have dish in my grandma's place. It is soy sauce 3 layers pork chunks with mushroom and red date. Uncle owez put a lot of the mushroom and sweet date, specially for me. ;) This year colour looked much lighter, but the taste of the mushroom still as good.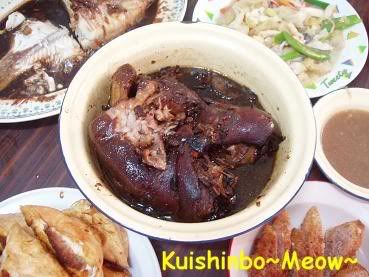 This was the dish he didn't feel satisfy at all for that evening. Stewed pork leg. It wasn't soft enough. He said it should be stewed for another 2 hrs for the right softness. See the smashed part of this pork leg, my uncle got so distracted with this dish that he just used the fork to test for the softness of the skin, before he shook his own head. kekeke...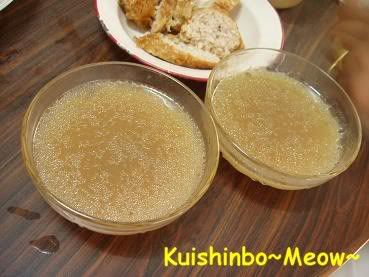 Ah~ this was the dish I couldn't forget the most for the last year reunion. So I said to uncle, "this year you must prepare that soup for me ar~".
He did. But I was disappointed. Instead of using 3 chickens to get the soup, this year he only used one. So, this sharkfin soup wasn't as good as last year.
"Uncle, how come the soup tastes very different this year? How many chicken you use?" fish fish asked after 1st scoop on the soup.
"One. Why? Different taste is it?" He looked at my expression he knew oledi.
"Kekeke... you want to hear the truth?"...
So, he got the answer. Well, I guess next year he wouldn't cut down the material. ;)
Now you know what a weird fish I am, I dun eat meat. But I drink soup that cook with chicken... I used to be able to take soup cooked with pork, beef or lamb too... but now not every type. Some are too strong smell for me... But for sure I wouldn't take any kind of meat themselves, as I would have terrible cirit birit (diarrhoea) then...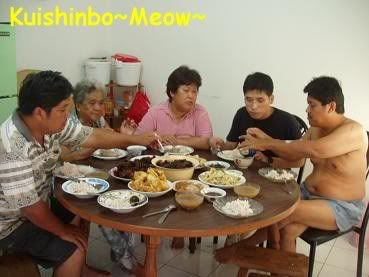 While my youngest uncle still busy finishing the last bit of cooking, others have sat down getting ready for a nice meal. There were actually still another few dish, but as they were same as what mum cooked, so I just skipped them.
Left to right : My second uncle, my grandma, my mummy, Bert Bert and my eldest uncle. My mummy looks like grandma or not? :P
After the dinner, I decided to have a stroll around the compound to sooth my bloating stomach. At the same time, took some pictures of the things around.
In my grandma backyard, you can see small size pomelo...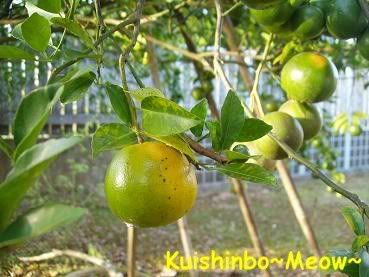 Local orange...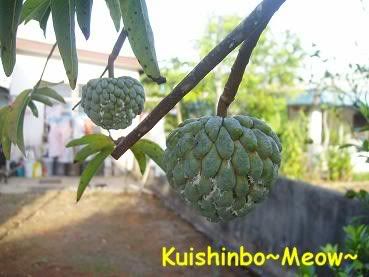 My favorite, Shi Jia Tou (as called by the Taiwanese, the buddha's head)... In Kuching, we called it Ling Kim in Hakka. I love this fruit. I'm goin to do a review about it in later post. ;)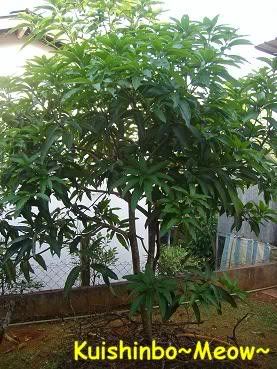 Mango tree!! This is a very sweet species. Too bad it's not the season for mango now. Ai yar~
Then, outside my grandma's house compound...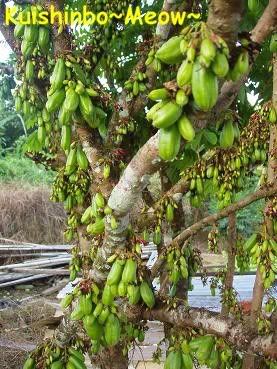 U can see a very densed tree of sour plum. I remembered I had this during my childhood with salt. It can really make you face changed once you put them into the mouth. *sour~*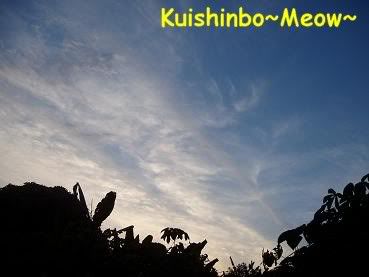 In a nice weather day, Serian sky is owez one of the attractive scene for fish fish... Something u wouldn't get in bustling cities.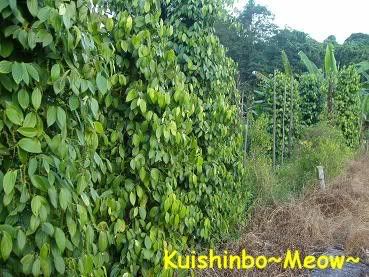 Sarawak is the biggest pepper producing state in Malaysia. Instead, we have a board call
Pepper Marketing Board
to do R&D on pepper. Besides the conventional black and white pepper, you would oso get black pepper sauce (very good for cooking steak), green pepper sauce, pepper sweet (both soft and hard), pepper perfume (using the pepper essense) or even a pepper tuak (I'm not sure if you can get the pepper tuak in the market, as it was under research stage when I was having my industrial training there). Ar~ must go back there next time to greet my HUGE HUGE Abang Shajat... he is a very friendly and nice guy, very funny to be with. Miss him actually.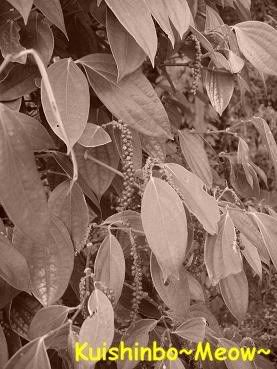 And finally... a sepia close up look at the pepper seed grown on the tree... to end fish fish CNY eve's post.
Tomorrow.... Kokoke is taking over the Monkey kingdom. ;)