1st day back in Kuching... Meow~ (Feb 5)
Helo~ everyone. It has been a whole week I wasn't able to do updating on my post. Well, my cousin caused my brother pc collapsed, and Kakak pc was too slow to do updating. So...
Decided to come into cyber cafe to do my updating instead. Kind of expensive, but dun care. It's valentine... Happy Valentine everyone... :) Well, fish fish remain single again this year. *sigh* The kuching street got stall selling roses everywhere now... Hmmm... these commercial tactics to scratch money, tak boleh tahan (cannot stand).
Ok, hope you enjoy the first posting bout Kuching from fish fish today.
Say tata to KK
Woke up early that morning to catch my flight back to meow meow town.
It was strange to see KK International Airport didn't have much seats for you to seat down and wait for the flights. Instead, it was like a corridor with quite a few shops at one side, and pitifully few chairs on the other side.
When it was omost time to board on the flight, you will see the corridor will be filled up with passengers waiting for boarding.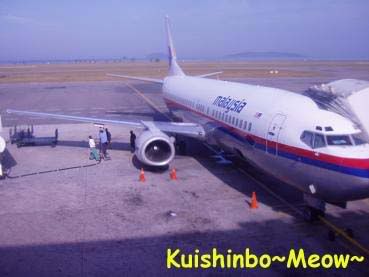 This was the flight that brought me to Kuching that day.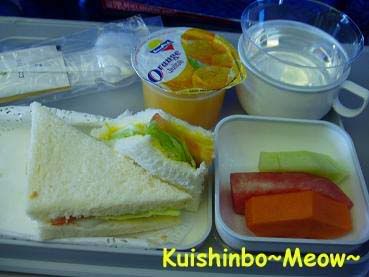 Hmm... the flight meal was very simple. Tasteless as well. But since I didn't take any breakfast, I hentam (swallowed) everything inside my stomach. It was strange though... considering MAS provide a moderate meal from KL to Kuching, but not from KK to Kuching.
Back to Kuching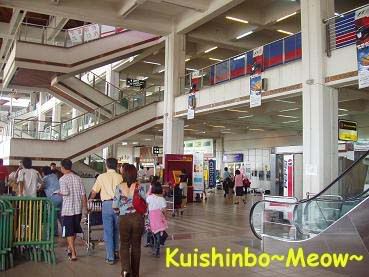 I reached Kuching International Airport 1 and 1/2 hrs later. This pic showed the old time looking of the airport.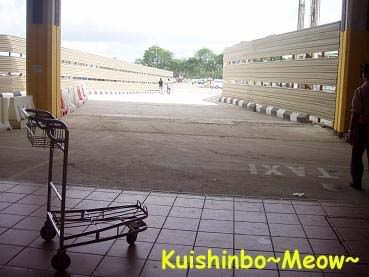 But in fact, a huge consruction is on to extend Kuching International Airport to make it into the 2nd largest airport in Malaysia. Hmm... ok, let see how long it will take.
The feeling was so good to be back to my home sweet home. The air owez feel fresher. Kekeke... I'm a 101% Kuchingian, ok... :P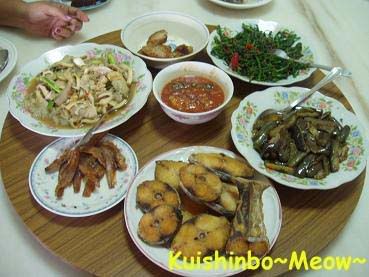 This was the welcome back lunch by my mum.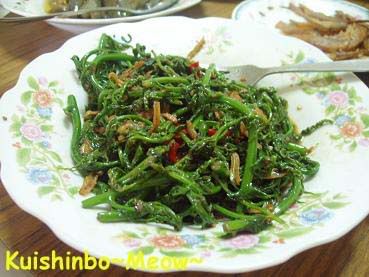 Among them, the old time favorite of mine... midin. I had so much of it. My mum cooked it with sambal style. I oso enjoy bidin cook with Foochow red wine and ginger. Midin is an authentic wild vegetable grow in Sarawak. U can go to
mum-mum eat eat
to read more about midin. She made a few posts on that. I've never seen this in West Malaysia actually. It used to be so cheap 10 years ago, but now, it has turned into one of the most famous local dish in Sarawak, including Kuching. So the share price oso goes up... Even some of the Singaporeans bought a whole box specially to bring back to Singapore. I remembered when I was young, I like to go into the swamp to get the midin and paku by myself. :P Until whole legs got so itchy... Have fish fish told u that she was a super wild kid when young? Kekeke...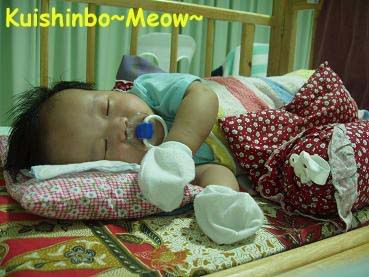 Of course... all to all... I was so eager to meet with my beloved new family member. The little cute monkey of ours... 'Anson'.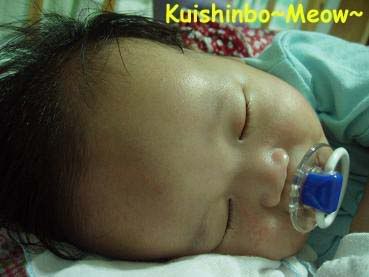 See how sweet he slept. He has very curly eye lashes like my Kakak. Heee... no need to perm his eye lashes in the future. People owez thought Kakak permed her eye lashes. She would reply... "Helo~ this is natural born one, ok?!"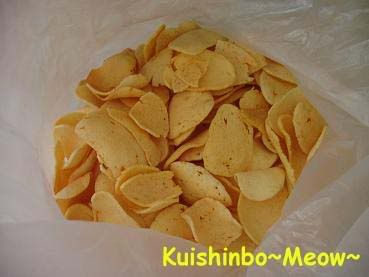 Mum was oledi busy with Chinese New Year preparation. That day, she prepared a very huge bag of keropok (cracker) for the celebration. This one was really nice. I just can't help myself but to keep munching on one after one, even though I know it was very heaty for me.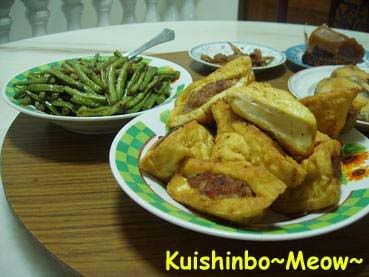 For dinner that nite, fish fish oso ate at home. Mum made my favorite deep fried Hakka Tofu... and oso kacang panjang (long bean) fry with ikan bilis. I missed kacang panjang soooo much... as I can't find this at all in Japan. In fact, most of the Japanese didn't even know what is kacang panjang. Hard to imagine what a great veggie they have missed.
I was a good gal for the 1st day back home. I just stayed at home to have a nice rest. Kekeke... I knew it cause mum didn't do any mumbling that day. :P
Enjoy your valentine today. Muak!!