2nd day in Kuching (Feb 6)
Hai~ Hai~ everyone,
Fish Fish back to Kyoto yesterday, and today back to lab life as usual again. Meaning that, my blog is going to be active as usual everday again. I came back with a total loss in my voice. Can't even cough properly. This is what you get if you try to stuck everything into your mouth in 2 weeks time. But no regret. :P For these coming weeks, I'm going to do a series reporting the foods and stuffs I have done in Kuching. Including the Chinese New Year series.
Old 3rd Mile Market
For my 2nd day back to Kuching, mum have dragged me to go to 3rd mile market with her. It has been an active area since my grandpa time. Today, it still as active as before, with a lot of modification in it.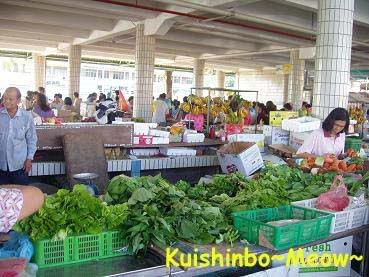 This fresh market in the area is my mum every week must go place. As you can see here, the front part of the ground floor is veggies, fruits, fishes and chicken session. The veggie session used to be on the 1st floor. They have moved down, according to my mum. Now, the 1st floor is the place for selling hawker stall foods.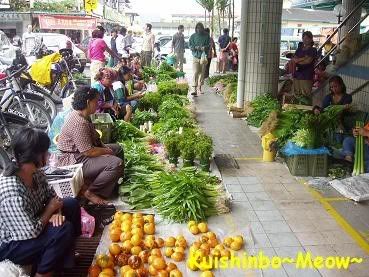 Outside, you can see many stalls selling fresh materials for indigenous foods. Mostly are vegetables.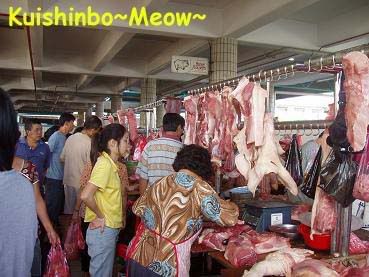 At the back part of the ground floor, you will see many stalls selling pork. Any kind. You name it, they got it. The owner of the stall that my mum owez buying from... is a very rich taukeh. He earn big house and mercedes from selling pork. He is not the only example, I know a lot of hawker stalls taukeh that do earn big house and expensive car from their stalls.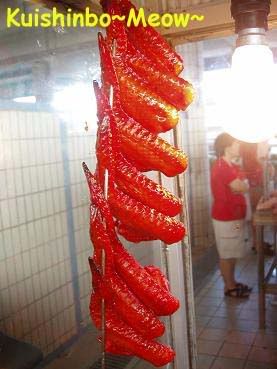 On one corner of the pork area, you will see one lady selling red chicken wings. See the pic? Well, it looks much red in the pic. In reality, it's not so red. Don't be scared by the red colour... You will know how good taste it is once you have a bite on it. This stall oso sell char siew and crispy pork block. During weekends, the stall sell off all her products very fast.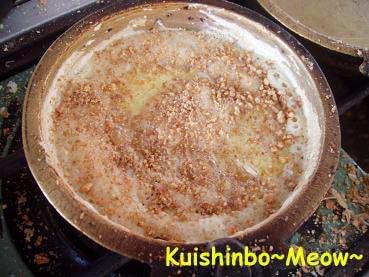 In the front part of the ground floor, u will find another lady selling apan balik. My old time favorite. The owner of this stall is my neighbour. She has been selling this for a few years. I was really lucky that day, as it was the last one left. Mum wanted to by a few oso dun have anymore. While I was waiting for my apan balik to be ready, a few customers came and went away disappointedly. Kekeke... They ask auntie,
"Why didn't u prepare more??"
She did indeed, very big bucket, but how would she know that day was such a good selling.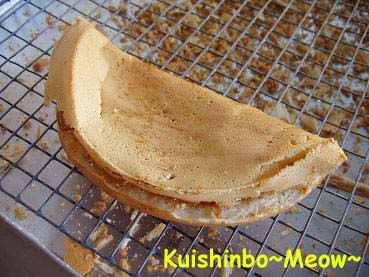 Dang Dang!! My special apan balik by auntie. It was a treat from her. She made it super thin with a lot of peanut and butter for me. She knows my taste. I ate it on the spot regardless of how heaty this can be. (Now you all know why I turned up to be a silent fish back in Kyoto). :P
The taste was fabulous as owez. With a thin and crunchy layer wrapping the melting filling. Once you bite on it, all the flavour will blend so well when you chew on them slowly. Mmmm~~ my saliva coming out now even by only thinking about it.
After my mum did her fresh foods shopping, we went to Kim You Li (金有利) coffee shop, for my favorite delicacy.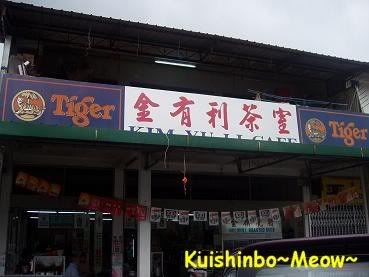 See the signboard of the coffee shop? This is a common look of coffee shops in Kuching. 2 sides of the coffee shop's name owez have beer advertisement. For this one,
Tiger beer
, is a very common beer consume by Kuching people.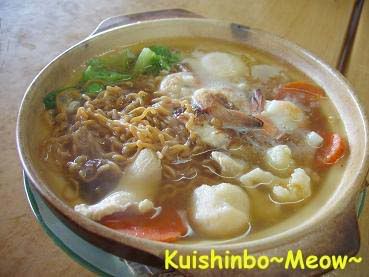 Bert bert (my little cousin) ordered a claypot noodle. I like the claypot noodle in this shop. Nicely done. The owner told us that the secret for this claypot was the noodle itself. She requires a good quality fried noodle supplier. Fish Fish oso like the soup, just to the right taste. Another good thing about claypot noodle is you can have a hot soup till the end.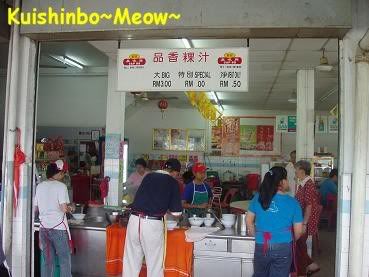 However, my main purpose to this coffee shop was for this stall. It is called Ping Xiang Kueh Chap (品香粿汁).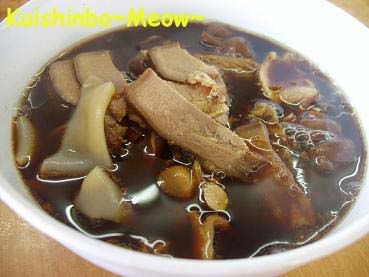 See this bowl of black soup with many different stuffs? This is called Kueh Chap. A local delicacy well known by Kuching people. It actually use pork meat and internal organs to cook the soup base. Instead of noodle or beehoon, kueh chap, a kind of flat white pasta made from rice was used. A good bowl of Kueh Chap is not easy to prepare, as it is a great deal of process to get rid off the pork internal smell. This stall has a good one, no smelly taste. But sometimes the soup can be a bit too salty for fish fish.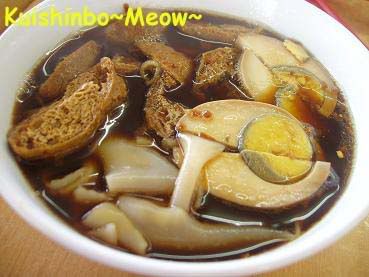 I owez ordered a meatless version. With a lot of deep fried tofu and boiled egg. It was a good one on that day, the saltiness was just to the right level. Ah~~ I really miss Kueh Chap so much... so you can imagine how enjoyable I was when eating this bowl of blackie. Chou shiawase~~ It was for RM3.50.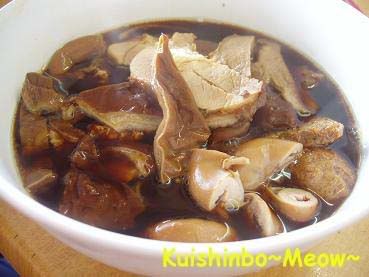 Mum ordered a special one with a lot of intestines. This one was for RM4.
Later, we went to Hong Yuan (宏遠) at Ellis Road to do some Chinese New Year shopping.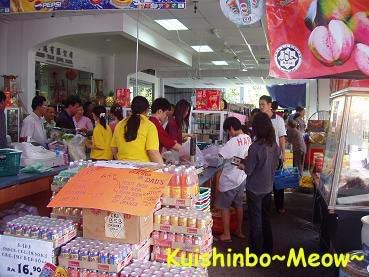 Usually, this shop deals only bulky selling. During CNY time, it will sell CNY stuffs to public. It is a hot spot for getting CNY stuffs.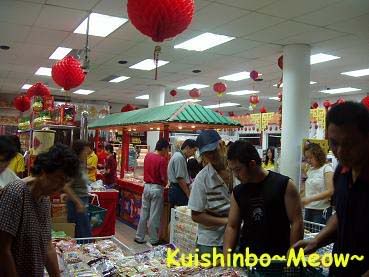 Inside the shop, it is decorated with CNY elements. We get 2 big bucket of stuffs from there.
Mum's cooking
That evening, mum cooked 2 of my favorite dishes as dinner.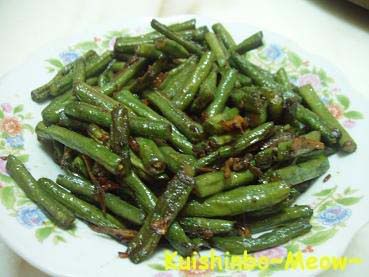 One was stir fry kacang panjang (long bean) with ikan bilis. I love long bean, been really thinking bout it so much in Japan. Can't find this at all here in Japan. The sweetness of this kacang panjang was just irresistable for fish fish.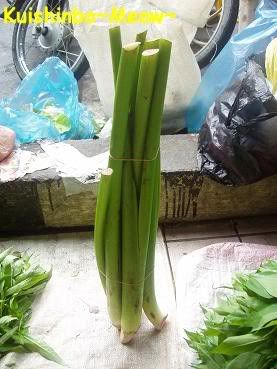 In the fresh market, mum oso bought 2 big bunches of sweet yum stem. One bunch like this only for RM1. Be aware, dun buy a wild one, as it will make your throat very itchy. Now... how many of you know what kind of yummy food it can turn into? Eddie was thinking this was feed for pigs, until he tried one himself. :P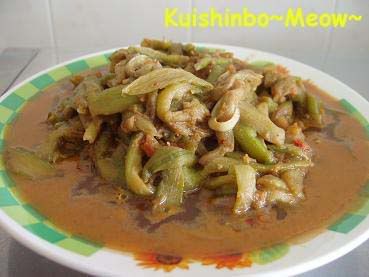 It turned up to be something like this. You dun need to add in msg nor sugar... the sweetness of this sweet yam stem is adequate to put people in doubt bout it sweetness. Fish Fish wish she can finish this big plate by herself... The stem itself was very soft. All the soupy gravy was from the stem itself. Mum didn't add water in it. It is like once you start, it is hard for you to stop...
Mum made 3 times of this dish for me during my stay in Kuching. Thanks mummy! You are the greatest!!