CNY Eve (Feb 8, Pt 1)
It was the busiest day before CNY for mum and me. Mum busy preparing, I busy accompanying, be her shopping bags carrying gal, together with Bert Bert. :P
We went to 3rd mile market to do final shopping for the things needed.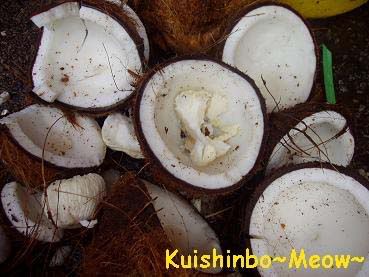 Mum bought a few grated coconut for santan (coconut milk) to cook curry. As for fish fish, the thing that attracted me alot from these old coconuts were something else. I got 2 nice one for free. :P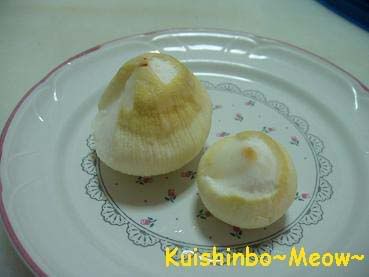 Kekeke... any idea oledi what is this? I'm not sure what to call in other languages, but in Hakka we call it Zai Pong (a spongy ball that you will get from the middle of old coconut). Back to the old days, grated coconut had to be prepared by our ownselves. When I was a kid, whenever my mum started to grate old coconut for the santan, I would stand beside so that I can be the one that have a taste of this yummilicious.
Bert Bert had never eaten this stuff. He didn't even know has such a thing. At first I wanted to give the small ball to him, but then, after I tried half of the small one, I decided to give him half of my bigger one too. Small one was a bit too young, tasteless except for the spongy texture. The bigger one was just to the right size for its sweetness, texture and water content. Ar~ it was such an enjoyable moment when I chewed slowly on this Zai Pong. However, not to get a too big one, as it would be too old and taste like oxidated oil stuff as well.
Hey! Ever tried Zai Pong? If not, maybe you should try at least once. ;)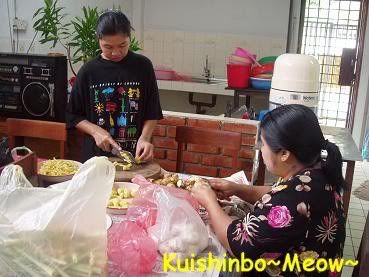 When we reached home, 2 of my mum's gals have started to prepare ingredients for cooking things for 1st day of CNY. They are the one who help to cook halal foods for us every year.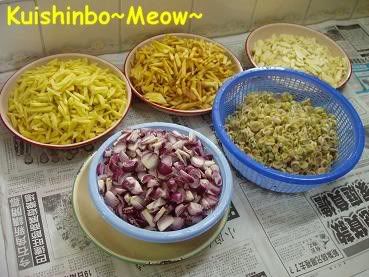 A nice Malay cooking can never lack of these things. Shallot (bawang merah), lemon grass (serai), ginger (halia), turmeric (kunyit) and garlic (bawang putih).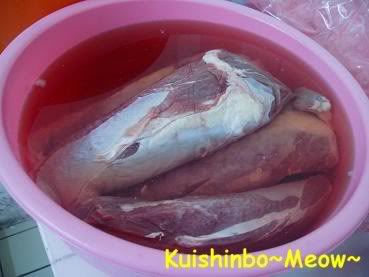 These were half of the beef that my mum bought yesterday. In Sarawak, the Malay usually would call beef 'daging' only rather than 'daging lembu', as beef are there very common daily meat beside chicken.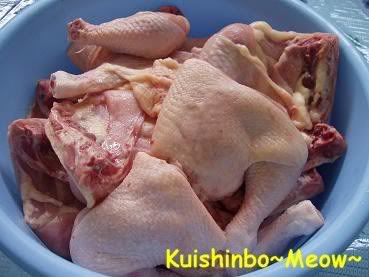 Mum oso bought 15kg of 'manok' (Sarawakian way of saying chicken instead of the normal saying 'ayam').
Under the 2 gals magic hands, these things turned into...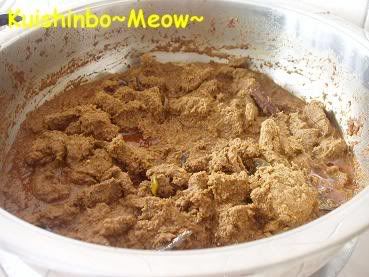 A drooling pot of curry beef.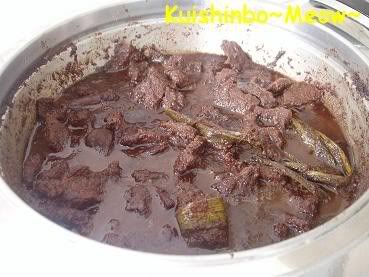 Irresistable daging masak kicap (beef cooked in sweetened soy sauce style)...
And golden chunks of fried manok that have marinated well with different kinds of spices.
Ah ha! While the adults busy preparing for tomolo...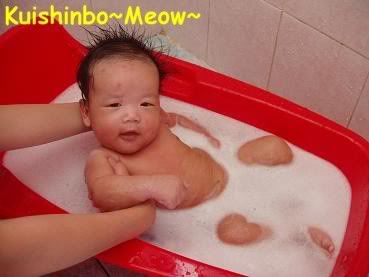 Our kiasu little monkey oso want to join the festival. See how he enjoyed his pom pom to 洗白白 (wash clean clean)... His bathing basin a bit small for him liao. Keep kicking his legs for the whole process...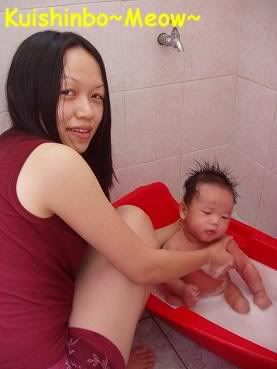 Arent's the mummy a sweet lady?
"Hello dear~ come, give me a nice 'cheese'. "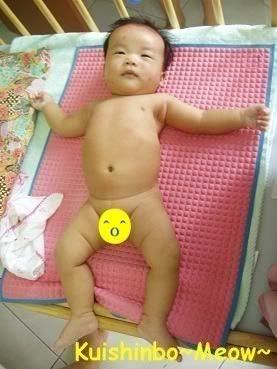 "Ah~ I'm feeling very refresing now. Kekeke... mummy, quick quick... my cloth ler? Me shy shy ar~"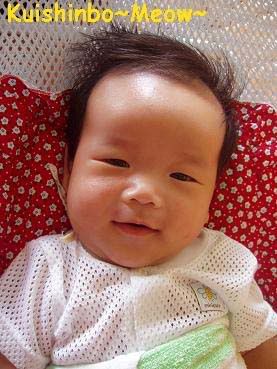 Now, all I have to do is to learn to smile as much as I can for tomorrow. How much Ang Pow do you think I would get for my 1st CNY then? ;)
Kekeke...