CNY Eve (Feb 8, Pt 2)
Since few years back, my family changed our tradition for having reunion dinner into reunion lunch, so that mum wouldn't have to be so hectic every CNY eve.
These are the foods mum have cooked for welcoming Rooster year.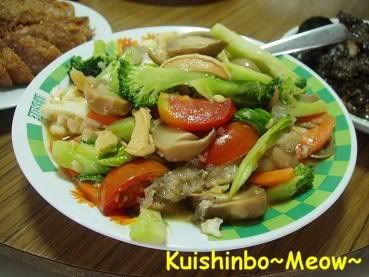 HUGE plates of mixed vege. I ate a lot of this. Yum Yum~~ Haven't enjoyed mum's mixed vege for a long time liao.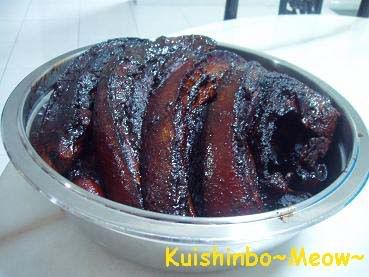 She oso made a big pot of 5 spices pork 2 days ago. Making this dish took up a whole day. Instead of the normal 5 spices duck, she prepared pork version this year.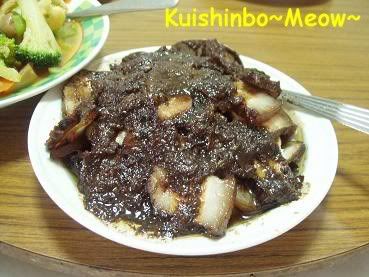 Sliced out one block to make into one big plate. I love the gravy of this dish. Very very nice... but I can't take the pork.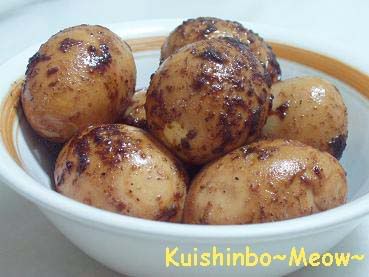 So mum specially made some 5 spices eggs for me. Oh~~~ I love this... Can just finish my whole plate of rice with these 2 eggs. ;) I'm missing it now...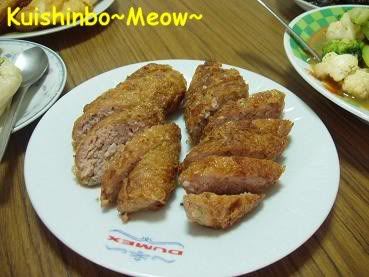 This was another dish mum prepared a few days ago. Meat loaf rolls... She made this every year too. Made many, but a lot giving here and there, left a few only for ourselves.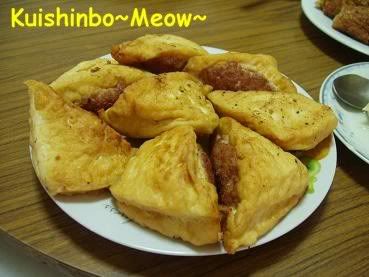 This is Niang To Fu (Tofu stuffed with meat), a famous dish from Hakka people. Mum sometimes like to mix salted fish inside, but not for that day... I enjoyed this so much too, that I ate 3 pieces in one go.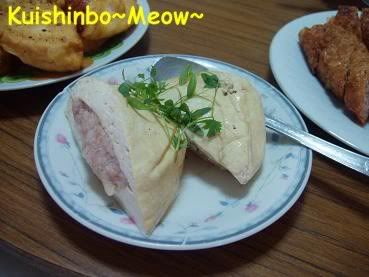 Kakak required mum to spare out 2 for steamed version. Arghh~~ bad Kakak... she knows I hate those green stuff on top, purposely put it. Yar~ she mannaged to get rid off me to grab one from her. Hmmm!!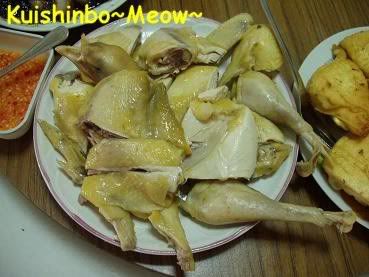 Mum was so artistic... arrange all the chopped chicken pieces into a whole piece again. Kekeke... I seldom see her doing this. She owez gets corn chicken ( meaning that chicken that runs on the ground, not fed in cage).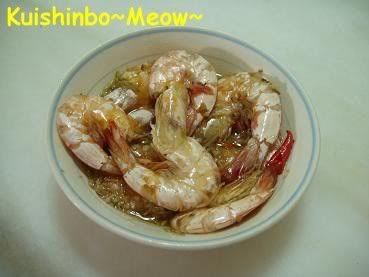 She added some garlic, ginger and Martell VSOP to make her version of drunken prawns.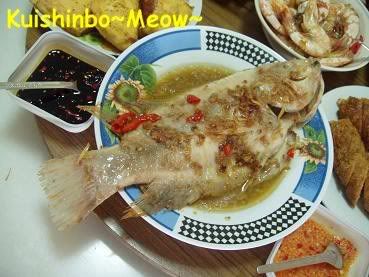 Mum makes very good steamed fish with Sui Mei (水梅, salted plum). Think she was using Fu Gui Yu (富貴魚). I didn't try this dish, so couldn't give any comment. However, for CNY eve, must have fish in the dishes to present Nian Nian You Yu (年年有魚), literally meaning got leftover every year.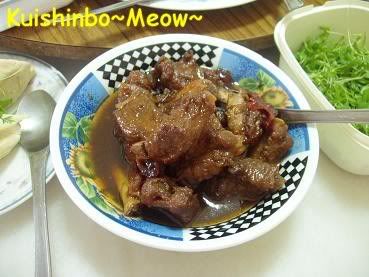 This was sweet and sour pork ribs. Another well-known dish of my mummy. She used dried chillies, sweet dates and assam flesh to make this dish. Often after people tried this dish, they fall in love with it, unless u dun take pork. Kekeke...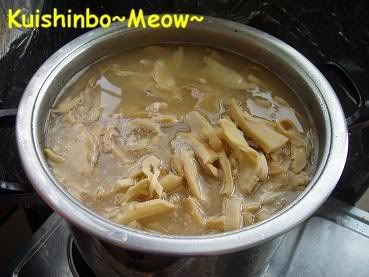 My family love soup. So, every CNY eve, mum cooks 2 HUGE pots of soup. One is this dried bamboo shoot soup with potk big bone... Very very sweet. If you let the soup overnite, it is even better.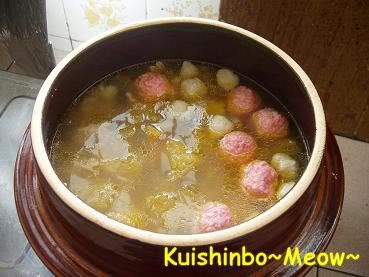 The 2nd one is fish bladder (thanks
doc
, i've been trying to dig this word) with chicken soup. She added fish and prawn balls as well as canned crab meat. Oso a can of black pouched mushroom. Though I couldn't eat most of the things inside, I equally enjoyed the soup and the mushroom.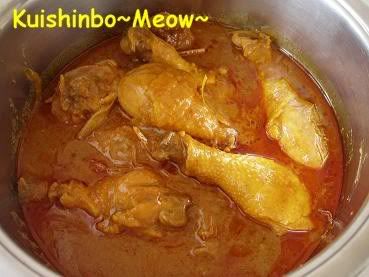 That evening, Lina's sister cooked a pot of drumstick curry for us too. So with this, we had 12 dishes for our Rooster Year eve lunch. Good figure. I remembered there was one year, mum was kind of scary, she made 18 dishes... dun really know why she needed to make so much? *sweating*
Anyway, muck!!!! Thanks mum for the great lunch.