CNY Eve's Eve (Feb 7, Pt 1)
Happy Chap Goh Mei!
Oh, today is the last day for CNY celebration. Fish Fish wish everyone Happy Chap Goh Mei~ For gals who are still remain single, u can throw orange inside the river for praying to get a boyfren on this day. I did once before... but I guess my orange been swallowed by a very HUGE fish. Kekeke...
Ok, here is my post starting to talk bout CNY celebration by fish fish on 2005. :P
Golden Arch Cafe
Went to eat breakfast with my daddy on the morning of CNY Eve's Eve. We went to 2 places earlier, close oledi for CNY celebration. Luckily the 3rd one still on, but that was the last day too before CNY. *abunai*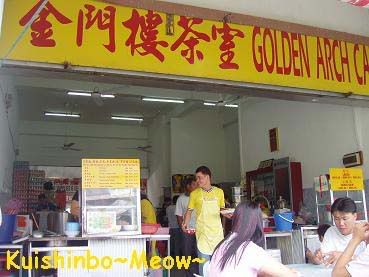 We went to Golden Arch Cafe (金門樓茶室), just beside the 3rd Mile roundabout. Here, they have 2 famous Sarawak Laksa stalls. One is in this Golden Arch Cafe. The another one is at the back of the Golden Arch building.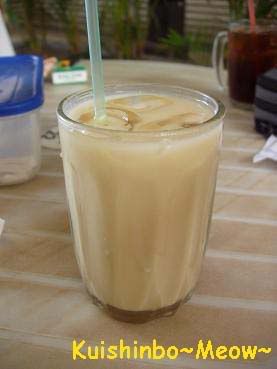 I ordered one Horlick C Peng (Horlick is a kind of malt drink, C means with milk and Peng means with ice) for quenching my thirst. Ar~ I miss this drink so much.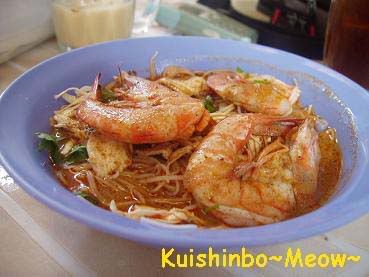 I ordered a bowl of Laksa Special for Bert Bert from the laksa stall in the Golden Arch Cafe. One bowl of this was RM5. Fish Fish personally prefer this stall than the back one, as the back one a bit too creamy for me. Well, it is just personal preference. Next time you can order both for a judgement by urself. :P Bert Bert was satisfied with this bowl of laksa. He said it was very good. ;) Laksa in Sarawak very different from the one in west Malaysia. Sarawak laksa more to a curry laksa using chicken and prawn as main material whereby the west Malaysia laksa is more like an assam laksa with fish as the main material. For sure, I'm a Sarawak Laksa person.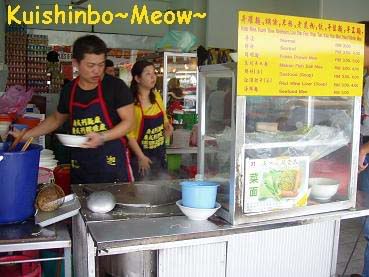 I owez have my kosong kolok mee (empty kolok noodle meaning just noodle and vege) in this stall. One bowl only for RM1.20. This owner knows my whole family as we are his very long time customers.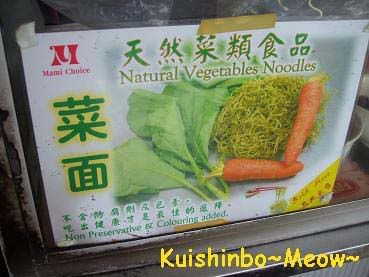 I saw this Natural Vegetables Noodles in front of his stall. And so, instead of my old time favorite kosong kueh tiaw soup, I decided to try this new type noodles.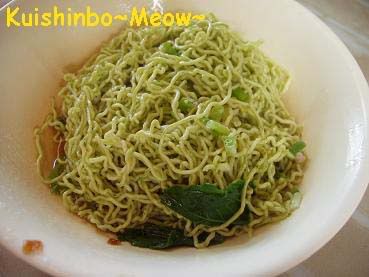 Heee... fish fish kosong vege kolok mee. The taste was not bad. But he somehow made the noodle a bit too andante for me this time. I told the owner later... He said next time I should let him know if the hardness not good enough. Kekeke... I will.
For those of you who are not familiar with Kuching's food... Kolok mee is a famous local delicacy in Sarawak. Different stalls have different way in doing it. But in Kuching, you can find many stalls selling good kolok me. Some even use red char siew oil to make the noodle looks red red. Too bad, I dun have one to show you all this time.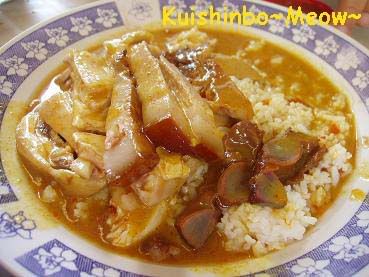 As for daddy, he ordered his favorite, mixed curry rice from the noodle stall too. Bert Bert said the moment he saw this pic, his saliva will start to drip oledi. Heeee... does this pic has the same effect on you??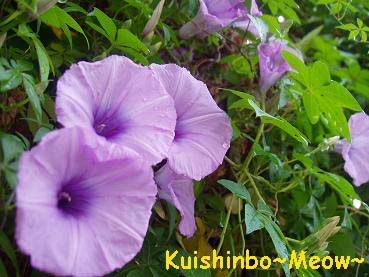 Outside the coffee shop, I spotted morning glory was blooming very prettily. Ar~~ it made fish fish heart felt more opened too.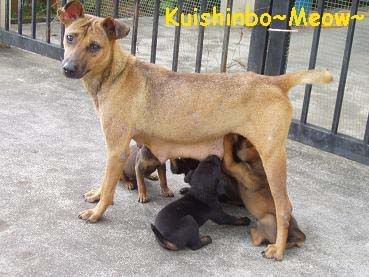 Later, I went home and went out with mum again. Mum went to a fren's house to gift her hand-made cake. This pic was her neighbour doggies. See... aren't these little puppies so adorable? The mummy looked at me like an alien. Maybe it was so cautious I might do some bad things on its sweeties. Kekeke...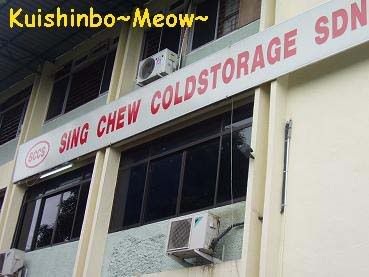 Then, I followed mum to Sing Chew Coldstorage in Hui Sing area for buying some beef imported from Australia and New Zealand.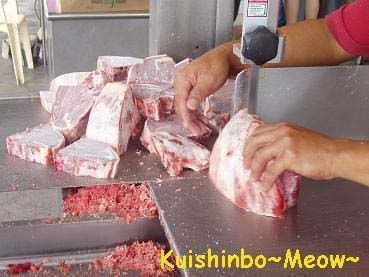 While mum busy buying her beef, fish fish busy taking pic of this beef cutting process. It was fun... to see how a very hard block of beef can be separated easily by using this machine. He has a very fast movement.
Mum turned up bought 15kg of beef for CNY cooking.
To be cont...