CNY Eve's Eve (Feb 7, Pt 2)
After lunch, Lina (my brother's wife) suddenly came home with 2 of my favorite yum yum. Her eldest sister gave it to us.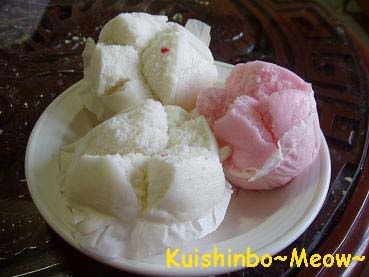 This, in Hakka, we call it Fat Pan (meaning "expanding bun"). I love this thing. It usually is formed into 2 colours, white and pink. Commonly, some Malaysian Chinese use it for worshipping gods or ancestors. Kekeke... and when I was young, I owez waited for my mum to finish the ceremony as fast so that after our ancestors have their meal, I can just get one, clean off the joss stick ash that drop on the surface and started to munch and munch on this slightly sweet, very fluffy and yet munchy bun.
I turned up to eat 2 that day even after my lunch. *yabai'''*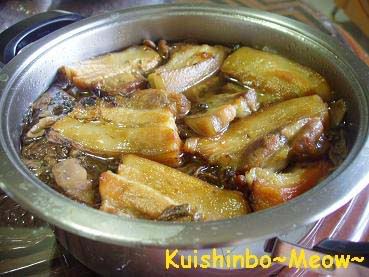 Lina oso brought back a very big pot of Mei Chai Zhu Rou (梅菜猪肉). Pork that cook in long hour with a kind of salted vege. This, was another regular favorite of mine when I was in Universiti Kebangsaan Malaysia (UKM). Inside UKM campus, you only mostly have halal food (I believe all the local uni only provide halal food), and they like to cook everything with santan, including green green veggie. So, frequently, like after having campus meals for a week, even by only hearing its name would make you wanted to vomit. This was the time when all the Chinese yummilicious would come to your mind.
Luckily, outside the UKM campus, there were 3 Chinese stalls selling economic rice. Economic in sense of money and time. If you are more rajin, u can go further to have another Chinese stall. For a 3 dishes plus 1 rice of economic rice pack, with RM2.20 per pack, at least 4 days per week I would asked for Mei Chai (the vege) without the Zhu Rou (the pork). :P If I chose to eat at the stall that further away, whereby you could top the amount of food by yourself, I even sometimes just have Mei Chai rice.
This is how I do. First, get the Mei Chai until it covers the whole rice. Then scoop the soup of the Mei Chai until the whole things drown inside the soup. Kekeke... my frens owez said, "Eh sakana, your plate is enough for the fish to swim oledi u know?" (Cheh! I'm oso a fish ler, need a lot of water.)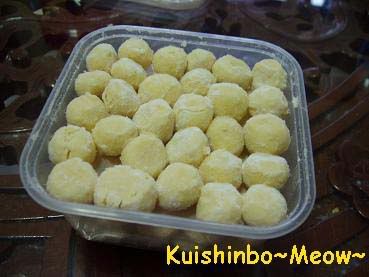 Mummy knows I love Kueh Momo very very much. Somehow, we didn't have it this year. So, she tried to get one from the market. Ar~~~ very disappointedly, this momo tasted lousy. After putting one ball into my mouth, I decided just to forget bout it. What more, our visiting to other houses this year seem like lack of momo too. Momo~ momo~~ I need you. I didn't have you this year, you know? *sob sob*
Meeting Min Fui
That evening, I went out with my longest time gal fren - Min Fui. We have been fren since primary one. She is now a primary teacher. Stupid fish, forgot to take her pic. A very sweet gal. Not like me, noisy noisy fish. Kekeke... amazing to think how she can be fren with me until now.
She wouldn't be celebrating CNY this year, as her father past away mid last year. She decided to go to Marudi to pass her CNY instead. She used to be a primary school teacher there until last year she finally succeeded to apply back to Kuching. Min Fui was goin to meet her frens in Marudi the next day, one of her fren decided to become a nun. So, I asked her out that nite for a dinner before her departure.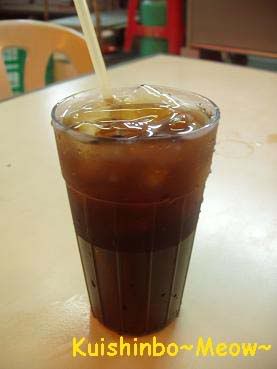 We went to Huang Shang Huang (皇上皇) coffee shop, which is nearby the new audi showroom around 3rd mile area. Both of us ordered ice peppermint melon tea.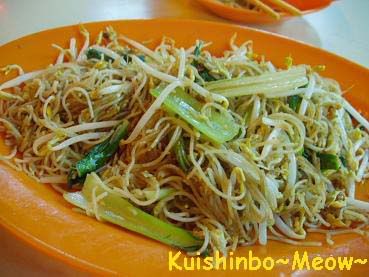 And I ordered one fried vegetarian beehoon for 2 people from Xiao Ping auntie's stall.
The 2 gals just sip sip peppermint, munch munch beehoon and blah blah on all sorts of things. Have been a long time I didn't gather with her like this. Our meetings for the past few years have owez been a very rush one. But now she is back to Kuching, I know next time if I go back to Kuching, where can I look for her oledi.
See you again next time dear~ Take care.