Kakak in Japan (Pt 18, Nov 6)
My sensei banned me from using my pc for internet. He lets me use apple for the time being. But then, apple is really not my cup of tea. Only made me losing my patient. Now, using my junior pc to upload today's post now. Must treat her a good meal once everything is settled.
After a good time in Kiyomizudera, we had our dinner in a kaiten sushi (conveying sushi) called Hakodate Ichiba (
函館市場
). One of my favorite restaurant in my area... can say fish fish is a regular customer there. :P
I've posted twice bout this place. Please go
here
and
here
for reading bout them and oso to know the price. Lazy to write again here. :P Today, goin to post the foods I've not yet shown before.
Actually, this post is a combination of 3 times visiting... 1st time for
Patrick's
bd. 2nd time for Kakak welcome lunch. 3rd time for Kakak request to go again. She loves~ this restaurant.
This was crab meat mix with mayonnaise.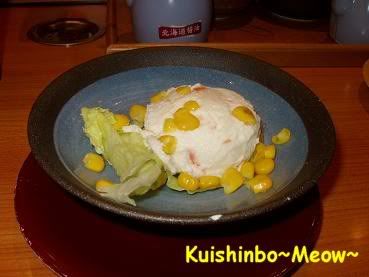 The restaurant has a very good taste potato salad. Hey, fish fish can make one good potato salad too. :P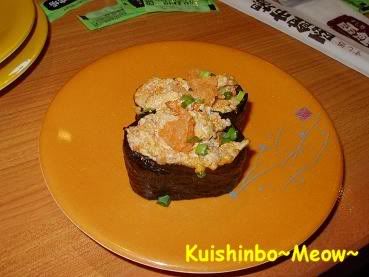 Patrick tried one liver mixed with mayonnaise. His expression was 'yark'... He said it was too smelly for him. :P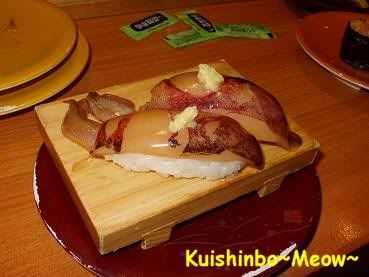 But he glad he made this choice. Raw squid. He said the squid was very fresh and sweet.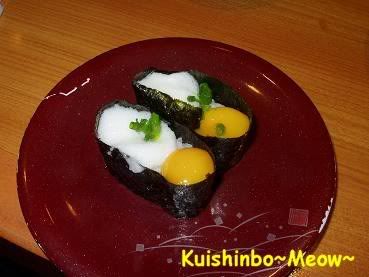 One of fish fish's favourite in this shop. Grated Japanese yam with raw quail's egg. Especially love the feeling of the melting egg and the slimy yam in my mouth blending slowly into something divine before I swallow it. Kekeke... (some of you might have probably 'eeewwww!' when reading this.) :P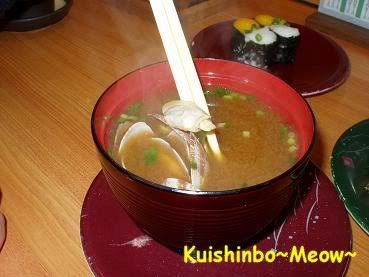 Most of the foods Kakak had for both time, I have posted in previous posts. But this, was a new one. It's asari clam soup. Kakak love it... so sweet as she said.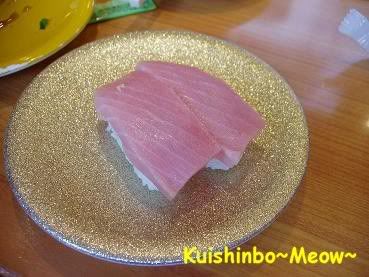 The most expensive dish Kakak had in this restaurant. It is called Jotoro (上トロ). The premium rank of fatty meat of tuna. One plate of this was 630yen (RM23). And with 2 bites, my Kakak finished all. When I asked her, nice or not? Her reaction was.. 'Meat'. *sigh* Once again I am confirmed she is not suitable to be a food commentor. Kekeke...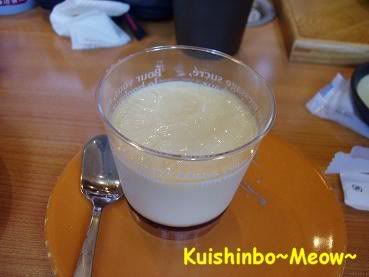 Ok, I've posted this once. But I think I needed to post this again... Cause Kakak wanted to go back the 2nd time to this shop again, main part was becoz of this pudding. Kakak loves it... fish fish loves it. So do Sylvia. :P Kakak even asked me if it was possible to Ta Pau (take away) back to Malaysia. o_O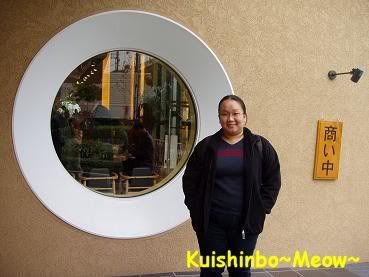 With a full full stomach, Kakak memoriable shot in front of the shop.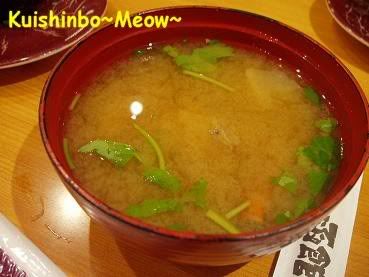 For the 2nd visit, Kakak finally able to order the crab miso soup that was sold out for the 1st time. She said this one was even better than the asari clam soup. She was surprised by the sweet taste of the crab.
Arrgghh~~ I am omost to the end of this series oledi. There will be another 2 more posts... Then will be a new series back in Kuching. What else... Chinese New Year!! Kekeke...