Kakak in Japan (Pt 19, Nov 7)
Lucky Day!
Today, must have been my lucky day. My pc back to normal... thanks to all the help from Yuen Li, KK... and the people in my lab, especially Hayashi sensei. Oso, my other problems seem like gone one by one. If this is the testing for me, yah... I guess it must have been a heavy one to have them all at one time before I go back to Kuching. *sigh* Really glad that they were all over. I even found my hat that I lost in the train today. One thing that I really amazed, the efficiency of Japanese system in handling problem. They found my hat after I did my 2-hr shopping for buying stuffs going back home. I know, tonite... I'm going to have a really sweet sleep. Now really need to pray hard that things getting well from now... and oso enjoy and eat all I can while in Kuching. :P *suddenly appetite comes*
Fish Fish promise once she gets back from Kuching... she will be a very very good student. Try to finish her final year as good as possible. This... she really promise... to herself.
Ok, back to my final 2nd post bout Kakak.
A morning in Uji...
It was the final day Kakak would have a whole day fun before she went back to Malaysia the next day. Liang Chuang (LC) was with us until evening time before she went back to Chiba.
1st half day, I showed them around Uji.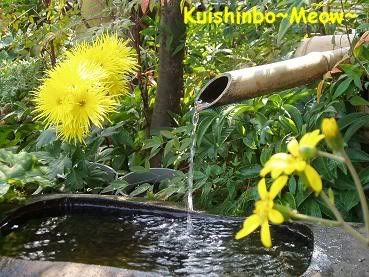 Autumn flowers... dun know why, I have a preference to yellow flowers. Heee...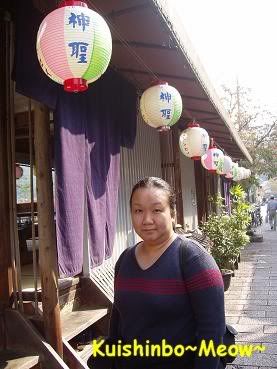 Kakak beside an open tea house. One can have good Uji tea and Kyoto sweets while enjoying the Uji River beautiful scene.
Sight of the still water of Uji River vs green trees.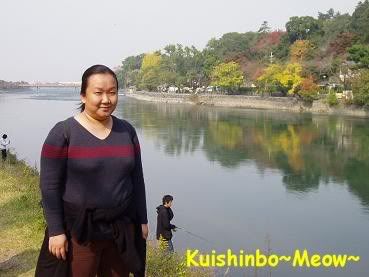 Kakak with pretty reflection of colourful trees in the Uji River.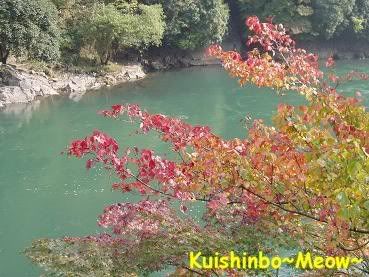 The Uji River actually is greenish blue. Everytime when I walked along this Uji River, it makes my mind very calm. Think about nothing. Watching the red leaves changing slowly everyday when I past thru Uji River, certainly is a very enjoyable thing. In fact, sometimes I get very shock to see how fast the leaves could turn red just in one nite.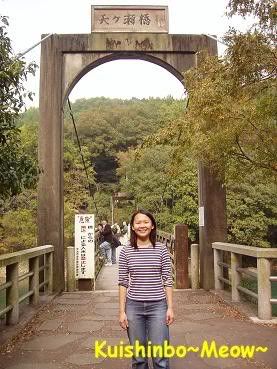 LC in front of the Amagase Bashi (天ヶ瀬橋). A very old bridge in Uji. Further upstream, there is a dam called Amagase Dam (
天ヶ瀬ダム
). One of my Japanese fren actually had his 1st kiss with his wife there. Kekeke...
Kakak n LC in the middle of this bridge. See the old man at the back? Hmm... I wonder what was he doing...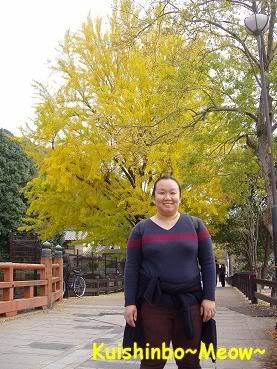 Behind Kakak, is the biggest gingko tree along Uji River. Every year, in its peak time, the leaves turn into really pretty golden yellow. The picture can't really express its real look.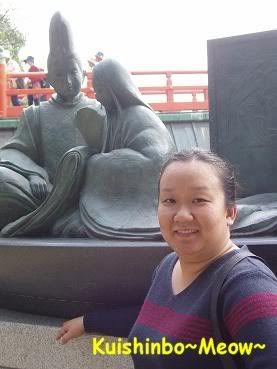 Kakak with the
Genji Monogatari
(
源氏物語
) statue. A very famous Japanese old time novel written by a lady writer called Murasaki Shikibu (紫式部).
We were supposed to finish Uji trip by 1hr... but we ended up extended for another 1hr.
We decided to have lunch in Uji before going to the next spot. As usual, I brought them to my favorite place, a place with 280years history... Itokyuemon (
伊藤久右衛門
) for a good maccha meal. I have posted bout this place
here
.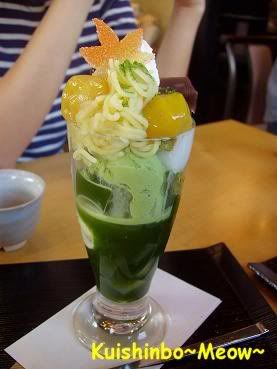 An autumn limited edition of maccha parfait came first. Yum Yum~ as usual. But with a better colour arrangement than the normal one.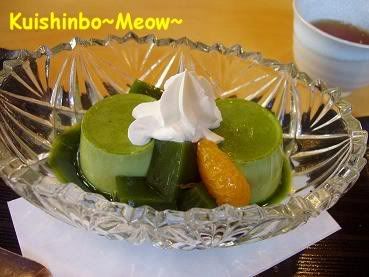 Oso, my favorite Bavarian cream. The texture is something similar to pudding... but not exactly the same. The maccha jelly of this shop oso one of my big favorite.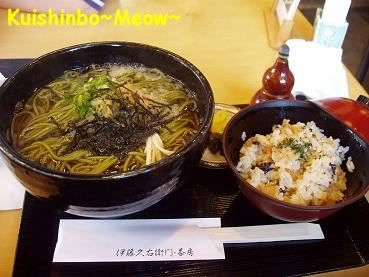 We oso ordered one set of soba and rice. It has maccha soba, kayaku gohan (かやくご飯) (mixed steam rice) and a small plate of tsukemono (漬物) (pickles).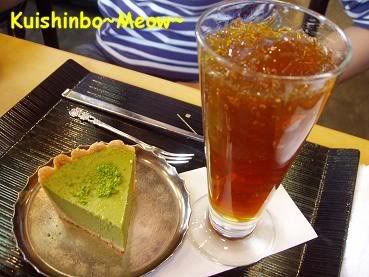 Lastly, a set of maccha cheese cake and tea jelly that I oso ordered when came with Yuko.
These 4 things, made the 3 gals full enough to have a much longer walk later.
This shop got very good comment from Kakak and LC.
"Fish Fish lucky you, staying in place that near many good eating places, nice view and fresh air."
LC said to me.
:P Not many shops lar~ but I'm satisfied with them. ;) The staffs even can recognite my face. *blush*
After the lunch, Kakak spent another 15 min busy buying many omiyage in this shop.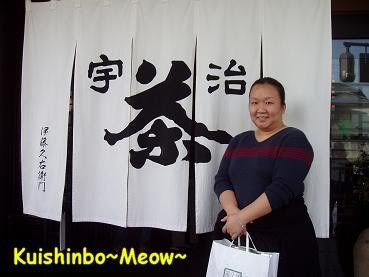 See... she got a full pack of tea products standing beside a nice noren of this shop.
"Hmm... this must take, to proof I've been here" Ok... another thing for her to show off to her char bor group again.
To be cont... *Last episode*