Kakak in Japan (Pt 20, Nov 7)
My final post for this series... Sorry for this very long series. Some of you might have got so bored oledi. :P Anyway, it was bye bye time soon for Kakak to Japan...
Arashiyama
Arashiyama (
嵐山
), one of the hot spot in Kyoto especially during autumn time. For a good time day, you actually need to spend the whole day. Last time, I
went there with Yuko
just for the most expensive warabi mochi. Crazy huh~
Our time was very constrained due to we spent too much time in Uji. :( Or should say we were too greedy in going 2 great places in one day. *sigh*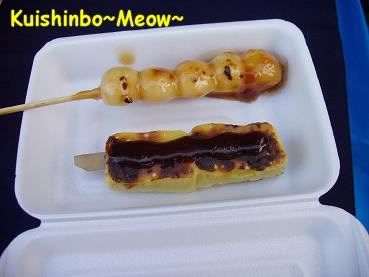 After walking for a while from the station, saw these 2 foods. My favorite. The top is midarashidango (みだらし団子), and bottom is dengaku fu (田楽麩) (gluten baked with miso paste). Hmm, the taste was just so so.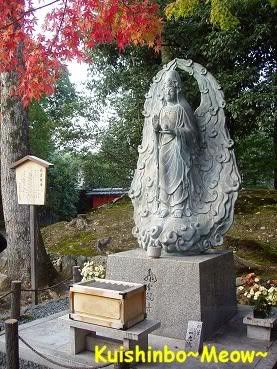 Then we reached Tenryuji (
天竜寺
) area. Saw this Buddha statue outside the temple.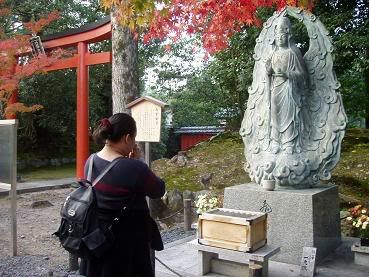 Kakak made her pray.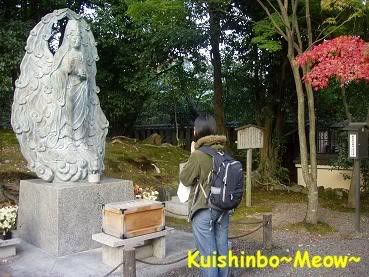 Then LC made her pray.
Fish Fish? Be the camera gal. ;)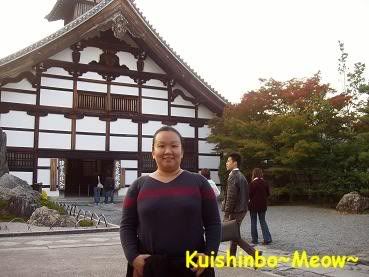 Kakak in front of this famous Tenryuji. The place is actually famous for its Japanese garden.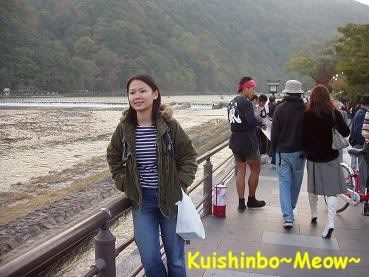 Then we rushed to the bridge area to have a brief look. Kekeke... LC be my Kakak model. Hey, my Kakak takes human portrait much better than me.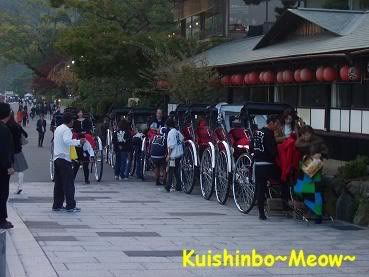 Opposite the road... many jinrikisha (人力車) (rickshaw) were lining up for getting customers. Hey... those are the strong man you know... too bad this fish too miskin (poor) to pay money to let them give me the service. *sigh*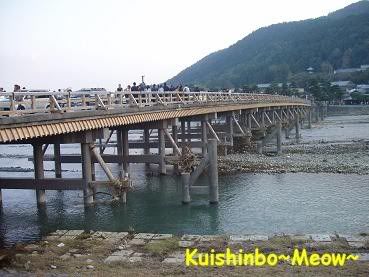 This is the famous Togetsukyo (
渡月橋
) in Arashiyama. Has been a long time there.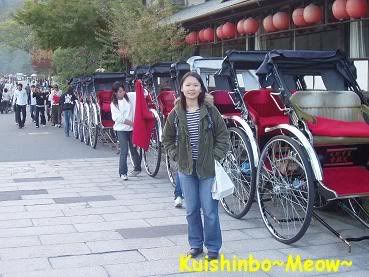 Before we walked on the bridge, the 2 gals were having a memory shot with the jinrikisha. Ai yar~ dumb fish fish... forgot to ask those strong men to stand besides Kakak and LC. But then, if I ask so, would they charge me... Hmmm...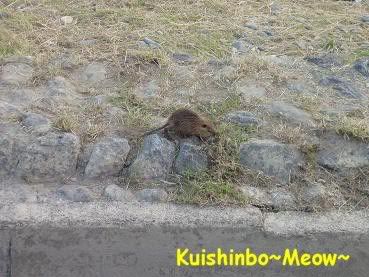 We saw a very big rodent under the bridge. Triple the size of a normal big mouse. Geee... I wonder what rodent it is. Curious to know...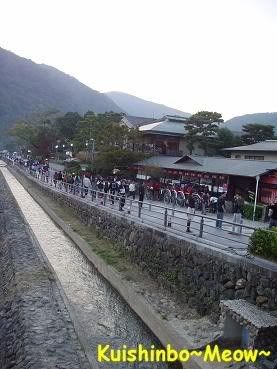 We only get to the first half of the bridge, as our time were getting really near to the limit oledi. A scene that we seen from the bridge.
Yeah~ LC 'V' and Kakak 'Bye' on the bridge. Yah~ my Kakak is getting near to her time to say bye bye to Japan too...
We then ran to the station to catch up the train just exactly the rite one for LC to be in time for her Shinkansen. My my... I never had my time so rush in Arashiyama. *hectic* But it was a very fun time with the 2 gals. :)
Dinner with Host Family
After bidding farewell to LC, Kakak n me then rush to take train to meet my Host Family for her farewell dinner. Kekeke... it was one of the best dinner she had in Japan. All home-made... ok... omost actually. :P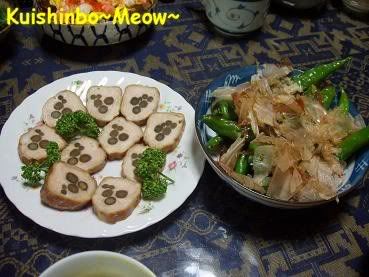 Okasan (way of saying mama in Japanese) bought this meat loft with gobo (burdock) (left) inside. Yah~ she made non-vegetarian stuffs for my Kakak. First time oso for fish fish to realise okasan very good in cooking meats. :P The right one was deep fried green chillies that marinate with soy sauce, and topping with bonita flakes.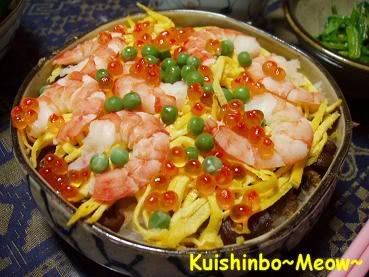 She made a very pretty and yummy chirashizushi (散らし寿司) for my Kakak. With prawn, ikura (salmon roe), egg, marinated mushroom and green pea. My Kakak enjoyed this a much... but it was too big portion for her. So she only ate half. The rest, she Ta Pau (pack away) back. :P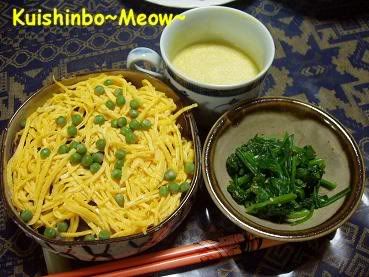 Okasan prepared a vegetarian version Chirashizushi for fish fish. It was very good taste too even without the meats. ;) I especially like the marinated mushroom. Okasan told me, that was actually the ingredient that took her half-day to prepare it. We oso had corn soup and boiled spinach marinate with soysauce and coarsed sesame powder. Lovely foods... all were good.
Fish Fish too... Ta Pau half of the rice.
Hey hey... that's not all...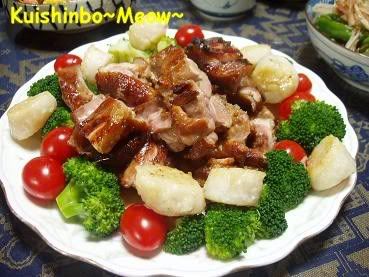 My Kakak No. 1 favorite of that nite. Okasan home made baked chicken. And oso sauted fresh scallop with butter. Ok... the brocolli and tomato not only for the decoration of the dish... but oso mainly becos for fish fish. I ate so much of the tomato. Sweet~~~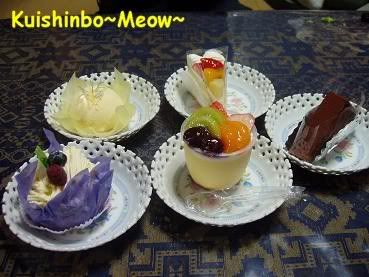 After a great dinner... We were still fed with these yummilicious cakes. I chose the white colour one. And Kakak chose the fruity pudding (in cup). Fish Fish glad she chose this one. It was a very great taste. It is neither cheese nor pudding... in fact... all of them tried this after fish fish couldn't make her conclusion wat cake was this. And guess wat? Neither of them figure out what was it. But all I can say, it was divine!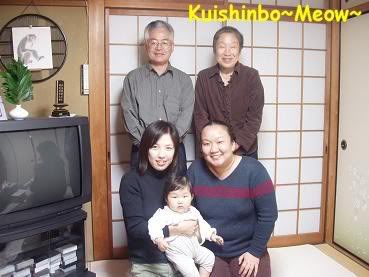 The last shot in my host family's place. Back : Otosan (Japanese way of greeting father) and Okasan. Front : Mayuko (their daughter), Haruna (their grand daughter) and Kakak.
Bye~ Bye~ Kakak~~~
Happy time past the fastest. It was time for Kakak to really say Sayonara to Japan. Sent her off to the bus station. The bus came punctually. Aarrggghhh~~ was hoping the bus came a bit late. She got on the bus. The luggages were inside the compartment.
Suddenly... when seeing her from the window of the bus... Out of control... my eyes were getting wet. I couldn't control it, it was something came from deep inside, though I tried very very hard. So I turned away from her. After I have conrolled it for a while, I turned back... Then I realised I made my Kakak cried too. Kekeke... silly gal... she owez got cried so easily when someone started it. :P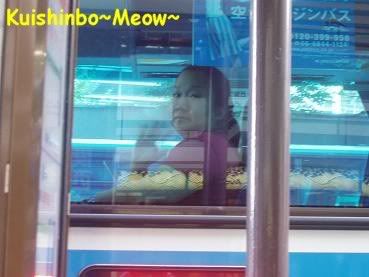 Her last bye bye from the bus... I watched the bus gone away... getting smaller and smaller... until it disappeared.
"Bye bye dear~"
I whispered.
Hey everyone... I actually finished my Kakak in Japan series as I promised to myself. Yah hoo!!! But I'm goin to start another series real soooon~~~ ;)