One day in Kota Kinabalu (Pt 1, Feb 4)
Omataseshimashita! Finally, Fish Fish 1st pics post from Malaysia. :P Report bout my 1 day trip in KK. ;) There will be 2 posts for this one. Then the following up will be all from Kuching. Ah ha!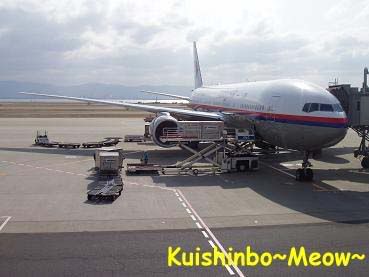 MH51, the flight that brought me from Osaka to Kota Kinabalu. Departed from Osaka 1130 on 4th Feb.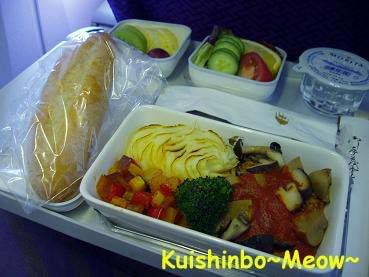 This was the vegetarian lunch that I had on the flight. Requested earlier for the food and the seat when I booked my ticket. Well, this was not a bad one. Especially like the tofu egg steak. Nicely done. Ok... I was hungry that time. :P
I love the entertainment system in this flight. It was the 1st time I experienced a personal entertainment system. Meaning that I have more than 10 movies to choose... I can watch any of them by doing pause, fast forwarding, rewinding blah blah blah... Not even to mention bout music entertainment. Oso got many games for you to play.
I watched 2 movies in the flight.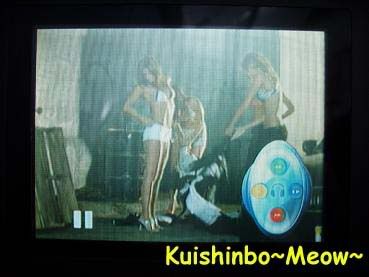 1st,
Taxi
from America. I've watched Taxi 1 and 2 from France, and I love both of them. This time, the American 'Taxi' were using hot chicks as main casts. I like the main actress... she was very cool~ And the 4 hot Brazillian bank robbers... Mmm~~ even gals would like to see figures like that. Kekeke... see the above pic for the proof. :P
The next one I watched was
Sky Captain and The World of Tomorrow
. This was another nice movies. Ok... I like action movies. Anything connected with speed or fiction can really thrill me.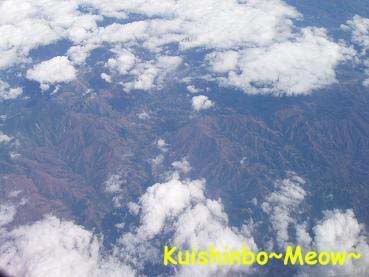 On the way, the flight flew thru the Philippines.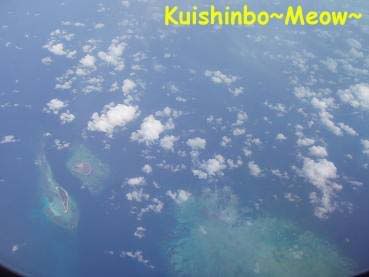 Then the blue lagoon islands around the Sabah... It was very pretty to see from the top. Hmm~~ how I wish I can go to one of them by myself that time. (Ok... I m a fish that can't swim... in fact, I was nearly drown 3 times when I was young... but still I love beautiful and clean sea...)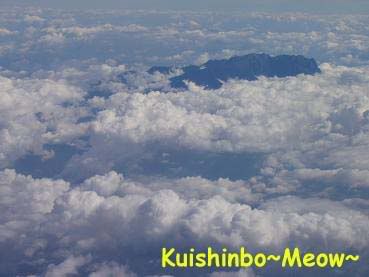 Finally... the captain told us
Mount Kinabalu
was on the left. Man~~ so glad I was on the left side that time. It was amazing to see Mount Kinabalu for the first time... I have owez wanted to climb up to the top. After seeing it with my own eyes, I told myself, I'm going to do that when I graduated.
Reached KK International Airport around 1600. My cousin, Andy came to fetch me. He rented a car for one day. A small Kancil with manual gear. One day for RM60. I drove the car... he be my direction guide.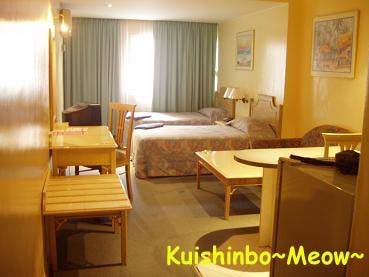 We found an apartment style hotel called Hotel Promenade. For a twin bed, with kitchen and bathroom... it was RM78. Reasonable prize. Just tat a bit old. But good enough to have a comfortable sleep.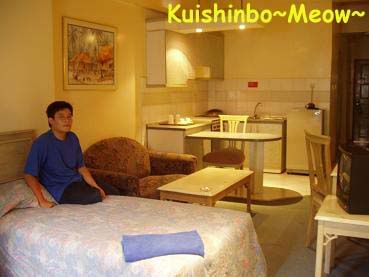 See the kitchen? We didn't use it actually. The left side guy is my cousin, Andy. A very quiet and shy boy.
After we had a short break, Andy brought me to a Philippino Market.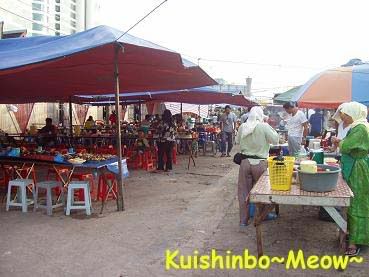 The market has a lot of stalls selling seafoods.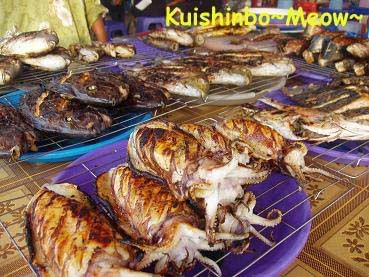 These were the ready to choose choices. Kekeke... I became the focus when I started to click my cam button here and there. But all very coorperative... They even asked me to take some of the pics on the food of their stalls. :P I must have been treated like an alien there. *blush*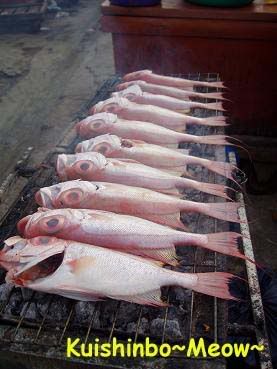 Grilling fresh fish...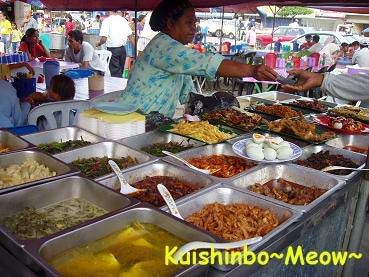 Oso, many people were busy buying 'economic rice' for dinner.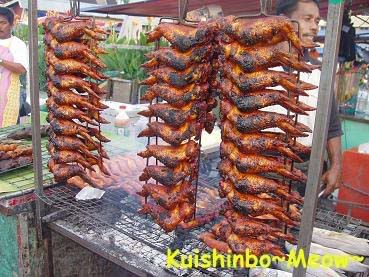 It seemed like a common trend to sell grilled chicken wings like this in KK. Uurrgghh~ a bit too burnt, don't you all think so?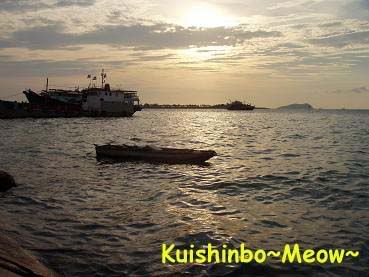 This market was just beside the sea. The sunset scene was not bad from here.
It was fun to see the market. But it was a bit too dirty and smelly... I didn't buy anything from the market due to hygiene conciousness.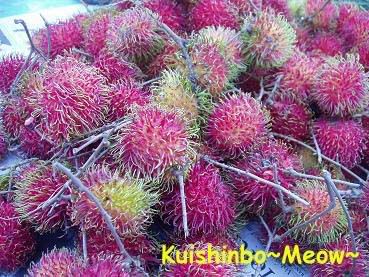 Except this rambutan.
Andy bought 1kg for me. Only for RM2. The owner let me choose the one that I wanted. :P But I only had 1 rambutan only... no time to eat. The other... I let Andy eat them slowly. Sorry ar~ Andy... really wanted to eat, but then can't have too many... too heaty.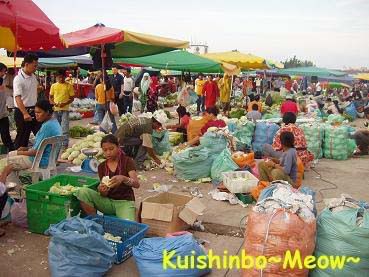 The market was actually have a lot of cheap vegetables and fruits to buy. Visiting this place actually remind me of Sunday Market so much. Must do one post for that when my stay in Kuching then.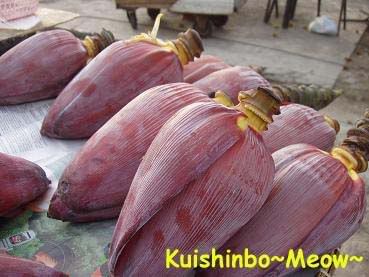 One interesting thing I found selling here was the banana buds. Never seen in Kuching with so many and big one at one go. Even for Andy, it was the first time he saw it in KK. I've never eaten banana flowers actually, wonder how would it taste.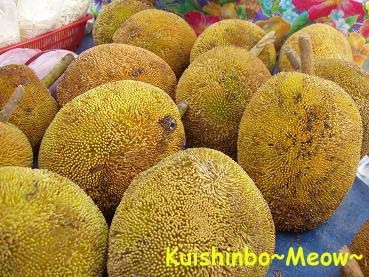 These are called the terap by the local. I'm not sure what do we call it in English. A very sweet yellowish or whitish fruit inside. But very heaty too if you eat a lot.
We then headed to
Universiti Malaysia Sabah
(UMS), the place where Andy is studying now.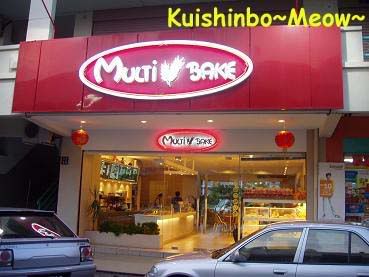 He introduced me this chained bakery shop called Multi Bake. He likes this bakery shop. Got a lot of branched in KK. I tried a few things from there. A treat by Andy. The garlic bread was good. But somehow I felt thirsty after the bread. I guess UMSers should be very familiar with this shop. :)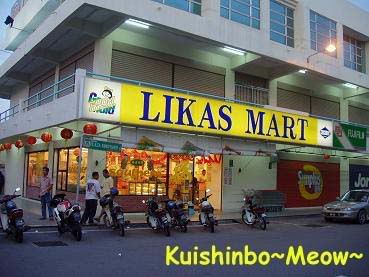 Andy bought a big bottle of water for me then from this place. Another common chained supermarket in KK, called Likas Mart. This one was just beside the Multi Back. Andy told me this Likas Mart is just something like Everise in Kuching.
Tomorrow... I'm going to bring you all to see the nite time UMS.
Meanwhile, hope you enjoyed the first post from Malaysia.
Tata~