Another Earthquake Stroke Indonesia!
*grrrrrrr...*
I'm so frustrated with blogger.com today. Having a difficulty with it. My typing for this post just gone with the wind. >:( &%$#@
Ok, will have to retype. Gonna make it shorter.
I have been wondering when the Kantou (関東) area earthquake going to come, especially in Tokyo. Have been learning things about earthquake from TV documentaries... Yes, it has been a hit topic in Japan recently on how to predict earthquake, what should ones do when earthquake happens and what would happen to Tokyo if earthquake happens.
"Mummy, earthquake might happen in Tokyo anytime from now... scary to think bout it."
I said that to my mum on Sunday.
Unexpectedly, this morning, the earthquake news that shocked me first was a
8.7 magnitude earthquake in Northern Sumatra
. Please go to
Jeffooi's blog
for more links for further readings.
How to predict an earthquake? I learnt 3 simple ways... from the TV.
1. Earthquake Clouds (EQC)
Earthquake Prediction Homepage
is a good site to learn about what is EQC, explaining
the theory and model
, as well as
predicting earthquake from images and photos of clouds
.
Below are the EQCs that were observed during a few past earthquakes.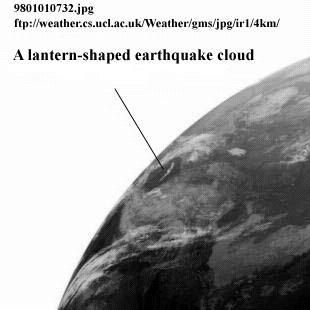 Example 1 : Afghanistan earthquake in 1 Jan 1998. (
source
)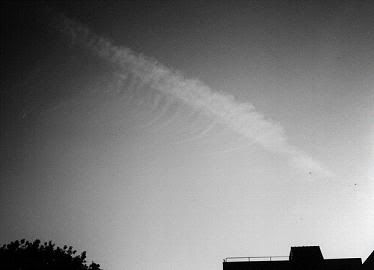 Example 2 : Northern California earthquake in 31 Aug 1994. (
source
)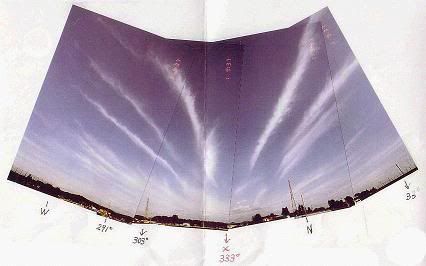 Example 3 : Niigata earthquake in 7 Sept 2004, this EQC was observed in 1 Sept 2004, after calculation, predicted the seismic centre would be in Niigata. (
source
)
2. Animals
If you spotted your pets abnormally acted violently, trying to escape from house, didn't follow your command at all... Please suspect something is going wrong with the earth. Your pers can feel it very strongly. Even the fish in your tank, might get together in big crowd, and only swim in a certain direction.
Wild birds and fishes will give unusual signs too. In fact, in Chiba, the fishermen has been reporting to the media that rare fishes have been going into their net effortlessly since these few months, including some very deepsea fish.
In fact, the average circle of big earthquake in Kantou area is 127 year. It has been past 151 years since the last one, and still, the very tensed pushing to each other plates were not moving yet. The longer the plates stay, the more terrible the earthquake will be.
3. Radio Wave
Remote control of your TV or radio suddenly out of service without reasons. The freezer giving out unusual noise. Your electrical appliances on automatically even when the switch was off (can be observed for area that is located 4-50km from the seismic centre).
Or even, when the hands of your clock moving in an irregular tempo, suddenly stop, suddenly speed up.
So, start to enjoy looking up the sky more from now. Appreciate the nature around you. You never know if one day you will notice the unusual changing in them... giving you a great hint.
:)