CNY 1st Day (Feb 9 )
Before 12 midnite, my neighbourhood started to be really merry with firecracker and firework.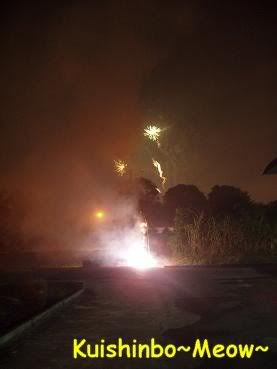 Then, we joined in the line. Pilik palak!!! Pong!!! PONG!!!! Yeah!! Rooster conquered the year 2005.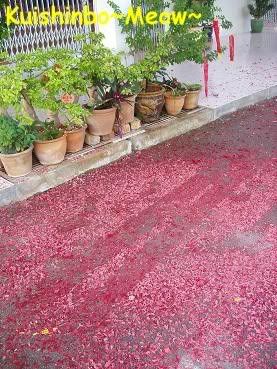 The next day, red red floor to greet everyone. ;)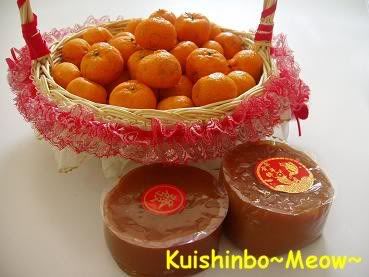 Mum bought small sweet orange for decoration this year. It was actually the first time I encountered such small cute oranges. The Nian Gao (Sticky sweet rice cake) oso another must to be decorated item at home.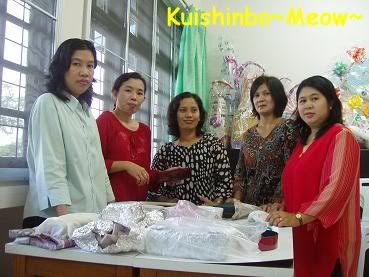 My mum's gals came around 8 am to start the preparation for open house.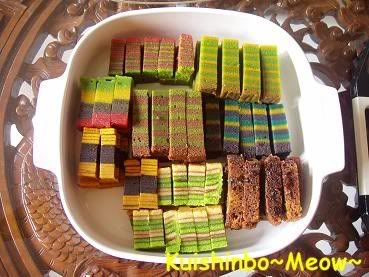 Every year, each of them would make one colourful yummy cake for my mum. So, my mum dun have to buy any nice steamed cake like this. She got them for free. I love their cake... moist and nice. But might be too sweet for some people. See the least colourful brown cake? Mum makes it every year... though not as colourful, but the taste was good. :)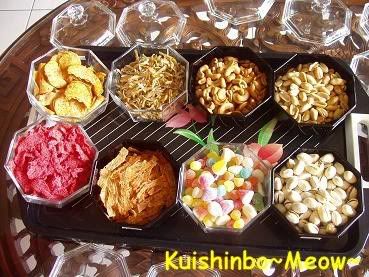 These are parts of the tit-bits for goin with soft drink or alcoholic stuffs while having a good time chatting with each other. See the colourful arrangement? Chinese like bright colour for CNY... symbol of good luck, prosperity... blah blah blah... The ikan bilis and cashew nuts were prepared by my mum. Yummy!!! I have so much of the cashew. Even Ta Pao back to Japan. :P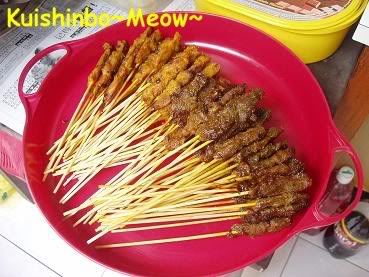 Besides
the beef and chicken
the gals' prepared last nite... Mum oso ordered beef and chicken satay.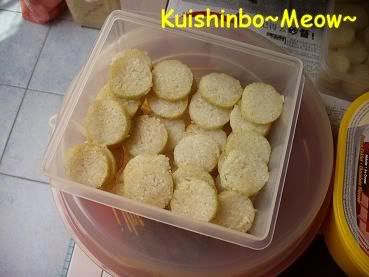 And nice Zhu Tong Fan (竹筒飯) (rice that cooked in bamboo, I forgot what it is called in English oledi).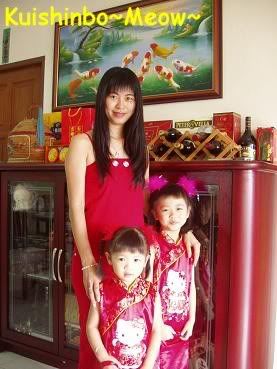 That morning, the first visitor to our house were Helen (my mum's god-daughter who is my sister good fren. Both of them born on same year, month and day). She got really good figure, even after she got 2 sweet gals... Xuan (the elder) and Rou (the younger). Still got many admirers wooing her. Whole family red red~
Most of the people started to come around noon for lunch time. :P Here are some of the cute pics of the children that came...
Shu Lin, Auntie Kim Lan's daughter. She was not yet 3yo, but super smart. What surprised me more, is her natural born styling... Hmmm, a potential model to-be. Nobody taught her how to post, it was just like...
"Shu Lin, Jie Jie want to take your pics..."
Without second word, she would just munch on her food as usual and started to give you different post.
1st post...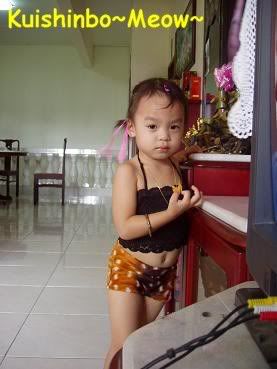 2nd post...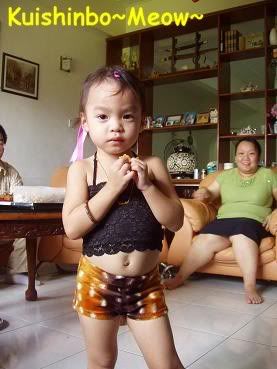 3rd post.
Now, tell me, which one do you like? She positioned her legs just the way the models do.... OMG!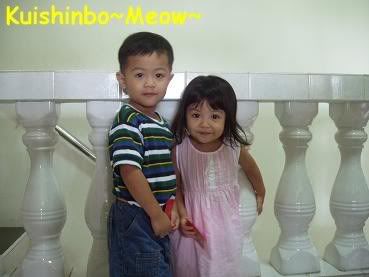 These 2 cute brother and sister are my mum ex-gal's children. Lovely kids~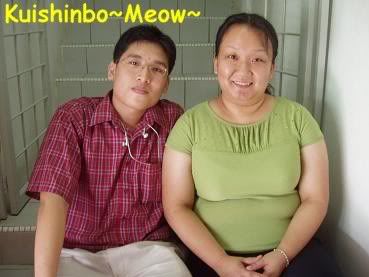 Of course, mana boleh left our my Kakak (right) and Bert Bert (my cousin). Some of my gal frens say Bert Bert are handsome young boy. :P But he got very distracted with his pimples those few days. Heee.... (Sorry ar~ Bert... show your pimpered face here. :P)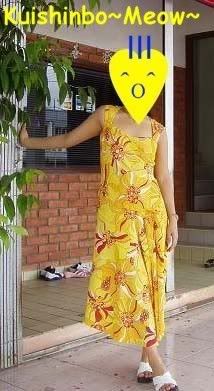 Er~~ Fish Fish desu. The feminine side of me. Usually, I'll just wear pants and t-shirt. Easy for me to move around. See... I'm not thin as the doll rite? :P My 1st day CNY dress. Ai yar~ wonder how many times I will wear it for normal days...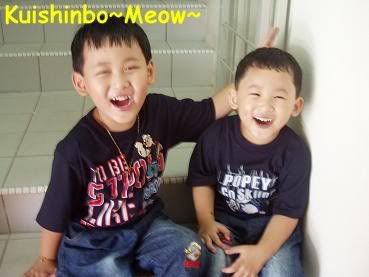 My 2 cousins. Danny (left) and Damon (right). I was having a good time taking their pics. Too bad they moved too much, too difficult to take a good one... But I do like this blur pic, they look so sweet with the laugh. ;)
Would you make a mistake for these 2 shoes?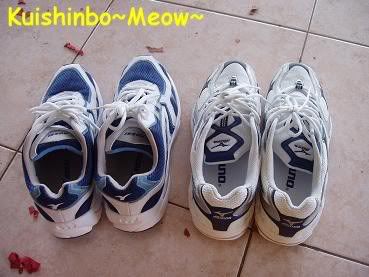 Here was an incident for 1st day CNY. My cousin lost his shoes in our house (Mizuno, right). Cousin got panic... all we saw was only a pair of sport shoes there, but it was Rossi (left). Then somehow Lina's thought it might be J (my mum's fren's son) made a mistake...
Fish Fish :
" Nah~ impossible... He is too big to make such a mistake..."
Mum called her fren...
Mum :
"Hello... your sons wear what shoes?"
Weird question...
Fren:"Dunno the name, start with R..."
Mum:" Can check or not with him now? Someone wore wrong shoes away, we didn't know who..."
Later, fren called back...
Fren:"OMG! He wore a M shoes..."
Fish Fish :"..."
In the world, do have such a Woo Long person. *sigh*
Tell me, would you make a mistake like this?
Brother's CNY Ang Pow
"Bei, how come this year I got no Ang Pow yet ar? Strange hor~"
Cheh! No shame, my brother still ask his wife why he didn't get Ang Pow this year. He calls his wife Bei, short form of Bao Bei, meaning baby.
"People give to Cheng Cheng liao mar~"
Lina answered, trying to tahan not laughing. Cheng Cheng is Anson nick name.
"..."
My brother quite shock to hear that. Silly!
"Hmmm.... nvm, still got grandma's one... "
*dreaming*
"No more liao~ Grandma asked Er Jie to give to Cheng Cheng liao. Say, give son no need give father wor~"
Lina told my brother according to what I've told her. Er Jie is me.
"... ..."
Oops! The last bubble of hope gone!
Later when Lina told Kakak and me....
"HAHAHHAHAHAHHAHHHAHA!!!!!!"
We just couldn't stop laughing...
Oh!! Wasn't it a very lovely CNY?