CNY 2nd Day (Feb 10)
Today I'm going to continue back my CNY post. :P Sorry for the delay again. Been browsing at
Michael
's blog just now. Haaaa... seem like
spoilt rich kids
doing silly stuff pissed him off again. Been quite some time I didn't go to
his photoblog
, delighted me to see a very nice joss stick pic there. For those who have been following my posts, you would know fish fish has a kind of passionate to take candle and joss stick pics in temples. Heeee... Michael's pics actually have a warm element inside, not like his sarcastic writing. But fish fish enjoy both... How bout you? :P
Geee... somehow after reading his blog, I got my mood back for blogging my own again.
Here you go...
Kuching's cinema got weird rule. You can only buy the ticket on that day, not one day earlier. I didn't like to cramp with crowds for buying ticket. So, that morning, dragged Bert Bert to be an early bird. :P
Aarrgghh~~ how nice. So empty. Got my ticket in 2 minutes. We bought 5 tickets for
Racing Stripes
. Actually we were hesitating it with
Constantine
. But finally we decided to have a good laugh first. The gal at the ticket counter was so nice... I asked Ang Pow packs from her (my mum's collecting that), and she actually gave me 2 extra sets. What more gave me a very sweet smile.
"You are my first customer today..."
She told me.
Lovely day to start~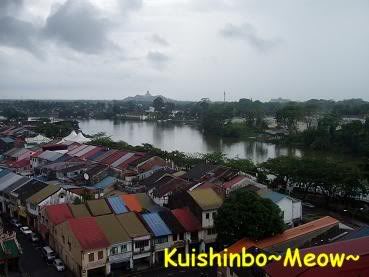 Then, I went outside Star Cineplex to take a few pics on Kuching city scenery. The
Main Bazaar
old shophouses in the pasar area. In Kuching, people call the downtown as Pasar. Frequently you will hear people saying "Ki pasar", meaning go to the downtown, or "Ki sua teng", meaning go to the outskirts. Pasar in Malay actually mean market. And Sua Teng in hokkien means Up to the hill. I dun really know the reason, but it has been like this for a long time.
Far far behind, across the Sarawak River and
Waterfront
, up in the top hill is
DBKU
(Kuching North City Hall). There is another city hall in Kuching, calls
MBKS
(Kuching South City Hall). Among all the cities in Malaysia, only Kuching has 2 city halls, due to the amount of residents and the width of the land. For your info, in DBKU, we have a
Malay Mayor
, whereby in MBKS, is a
Chinese Mayor
. :P For cats lover, please dun miss the
Cat Museum
in DBKU, it is FOC.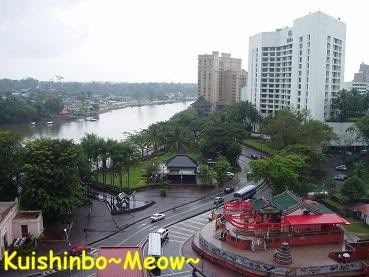 This is Kuching city in another angle. The
Tua Pek Gong Temple
, has been the oldest Chinese temple in Sarawak. It makes a good contrast with the modern hotels and condos around that area.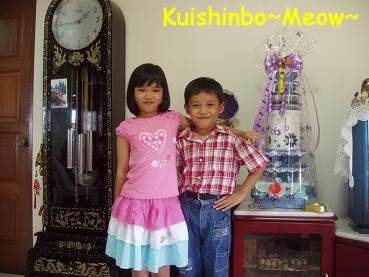 Later, my 2nd uncle whole family came to our house. These are my 2 lovely cousins. Ting and Seng. Ting is a very sweet gal, every time when she sees me, she will smile with a very shy way. Kekeke... Can't believe she is oledi Primary 5, fast~ Dear~ u better dun smile in that way with boys, they might fall into you. Kekeke...
Then, I decided to go to my old time fren house to kacau him. Sheau Kang, has been my classmate since primary one till form 6. Now, people calling him Dr. Lo in the General Hospital in Kuching. And fish fish, still crawling with her study. *sigh* He is one of the only 2 boys in my class that speak Sin An Hakka with me. Usually, I only speak Mandarin with my frens. I remembered whenever I started to speak Sin An with him, my frens will gaze at us amazingly... like looking at 2 aliens speaking somekind of unknown language.
This is becoz in Kuching, Hopo Hakka is more common than Sin An Hakka. Usually at home, I speak Sin An with my daddy, Kakak and brother... while with my mum, we have to speak in Hopo. Weird huh~ But it's fun actually. Kekeke... Actually mum is not a Hopo neither Sin An, she is a Taipu. But since she grown up in a Hopo village, she has been speaking Hopo since young. Hmmm... how I wish she can speak Taipu too.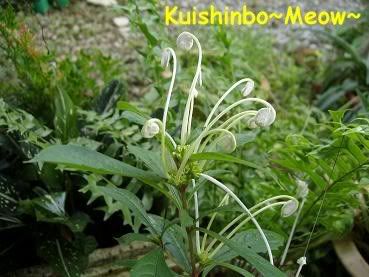 This one.... a pretty pot of unknown plant in Sheau Kang's mum garden. She got tanned a lot becoz of this garden. Still as pretty as before. So do her garden. Well go auntie~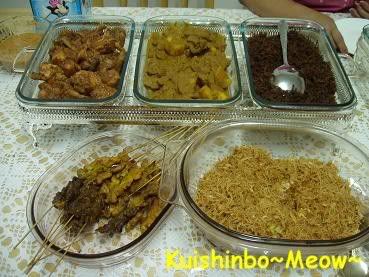 After that, I rushed back home to join mum for house visiting. Mum, Bert Bert and me had a good feast in Uncle Kee's place, he was holding an open house on the 2nd day. Auntie Kee didn't do any cooking by her own this year, but she asked her neighbour to do for her. Wow!! Her neighbour is another great cook. As you can seen here, I couldn't take most of the thing, but I enjoyed the Bihoon Goreng soooo much (bottom right). But Bert Bert was telling me the other dishes were equally good.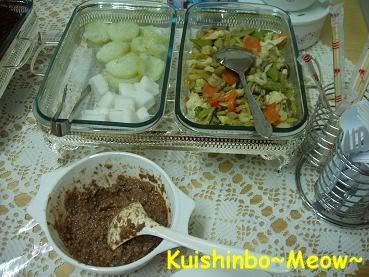 Aarrrgghh~~ I love this satay sauce (bottom). Oso the mix vege (top right). The left were lemang (now I recall the name) and ketupat. I like lemang (greenish), but not ketupat.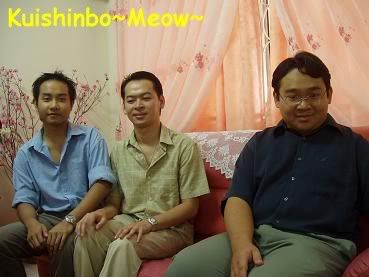 Apart from the food, what surprised me more was I bumped into a fren that I haven't seen for 9 years since I finished my Form 6. Nyan Chin (middle), a fren I know since I learnt Japanese in Kuching. Didn't know he is oso a good fren of my cousin (right). It was really nice to see him again. Nyan Chin is now Dr. Liew, working in KL. (Heee... he's been telling me this was his dream, glad he reached it). Hmmm... time flies. The little boy that used to buy me chocolate whenever he went for travelling, now turned into a man that has a pair of life- saving hands. :)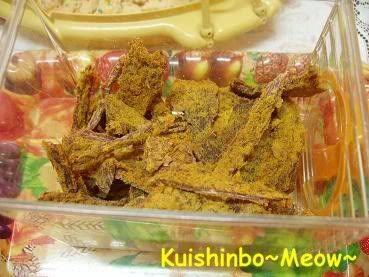 In Uncle Kee's place, they owez have some very nice CNY food... Like this Niu Rou Gan (beef jerky). Fish Fish didn't eat, the comment was from other people. :P
We then went to meet up with my another 2 cousins for the movie. Racing Stripes was great. We really had a good laugh. The flies inside were so cute and bumpy. Their break dance were cool~
I thought I would be able to watch Constantine in later days, too bad, I didn't have the time. aaarrgghhh~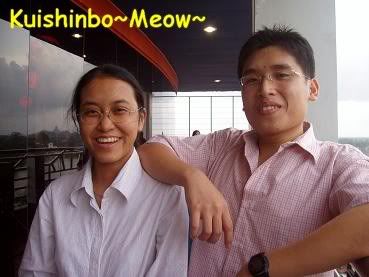 Heeee... Wa Wa (left), my father's side cousin and Bert Bert (right), my mother's side cousin were the 2 that I spoilt the most among my cousins (I got plenty of them). The 2 of them just different in height by 0.5cm and 1 year by age. It was really fun to see how these 2 arguing with each other when they get together. Bert Bert intentionally tipped up his toes to look taller. Kekeke... Oops, I told people your real height liao. :P
That evening,
Da Ge
sms me to go for Tiramisu. He made one. I couldn't take Tiramisu as I am sentitive towards caffeine. But I brought Bert Bert there, as he never had one before.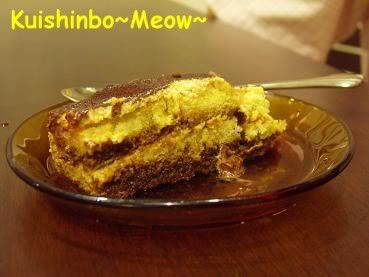 The tiramisu. Da Ge used too much coffee. Made the whole cake too bitter. Heeee... Da Ge promised to make Panna Cotta for me later... :P
We met with the new member of Wong's house. Nikki.... she was such an adorable.
Kekeke... Say hi to Nikki~ My my, going to be a lovely attraction when it grows up.
Bert Bert been playing fun with his fren, he told his fren he gets a gf in Kuching. Heeee... so, he is collecting a series of photos with gals to let his fren guesses who is the real one. *pity fren*
Besides the pic with Wa Wa...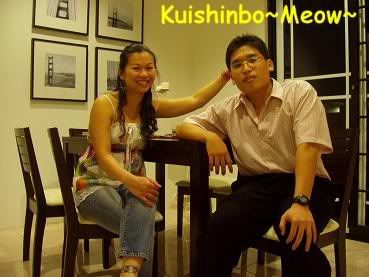 He oso got one with Doreen aka blackwidow. Doreen is super active in sport. Karate black belt~ *envy* The time is too short to know Doreen in person better. Hey dear~ hope we can have more time if I really go to US then. :P Teach me a few steps to defend myself in emergency ah~ Kekeke...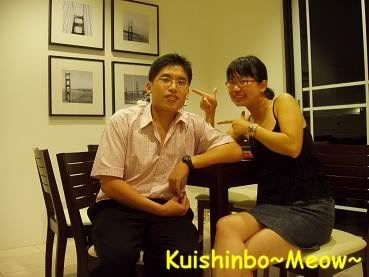 Oso another pic with Ann aka yellow ant. (Sorry Ann~ didn't wait until you give me a yes. Your reply was late. Must be having a good time in KL huh~). Ann is very good in photographing. I love the pics she takes. See the four pics behind them? They were by her. Bert Bert adores Ann very much. He keeps looking at this pic many times cause he likes this pose of Ann... Shhh... dun tell him I wrote this here. :P
My 2nd day of CNY, it ended up with a tired nite.