CNY 3rd Day (Feb 11)
:( Was hoping for snow yesterday, none. Saw in tv today Tokyo got heavy snow even in March. Phenomenon hasn't been seen for 7 years. Geeee... those snow~ *jeles*
:P Been lagging a lot for my expired posts. Bad gal~
CNY 3rd day morning
Today be a good good gal followed my Kakak for house visiting. Went with my Gan Jie Jie (god-sister) too. The 1st house we went, was my Kakak and Gan Jie Jie (both of them were in the same class before) secondary school mate's place. David's house.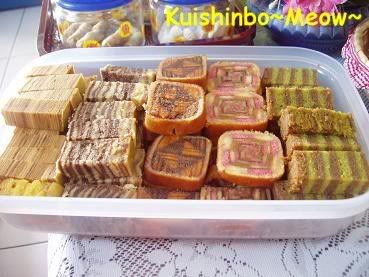 While they were busy chatting bout work, marriage... and kids lar~
Fish Fish was busy makan makan, taking food pics and listened to their chit-chat. :P See the cakes, how could you ask me to resist these pretty looking yummilicious? I tried one for every type... Frankly speaking, the looks better than the taste. Shhh...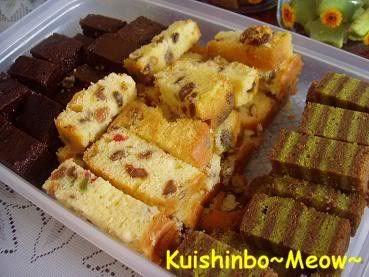 Another tray... couldn't try as much oledi after the 1st tray. By recommendation, I tried the chocolate cake. Hehe... look the least attractive, but taste the best.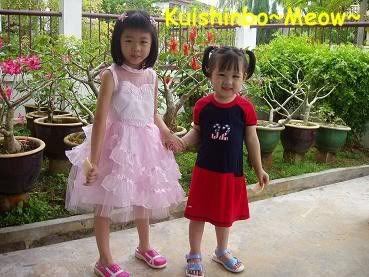 After that, since it was meant to be my Kakak's gang gathering, I might as well have fun with the kids. Xuan (left) and Hui (right) were very coorperative, they let me snapped here and there, with the condition, they have a look at all the pics I took. Easy~ :P
Two cuties huh~ ;)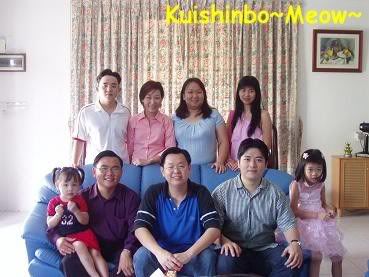 Meet the gathering gang.
Stand (left to right) : Kok Leng's hubby, Kok Leng (Hui's mummy), my Kakak and Gan Jie Jie (Xuan's mummy).
Sit (left to right) : Hui, Shun Min (just become a daddy), David (wife is pregnant), Kheng Wee and Xuan.
Kheng Wee identity kind of complicated. He was my class mate in primary school. And my Kakak classmate in junior high. He skipped transition... Somehow dun know why, without any reason, my Kakak classmates started to tease me with Kheng Wee in senior high. But nothing ever happened between us. In fact, I dun even remembered I talk more than 10 sentences to him in one year. Despite this, everytime when I past thru their class, those guys will cried... "Kheng Wee!! Kheng Wee!!"... BISING bloks...
Wow!! Didn't expect I would meet him again after 10 years. He is now doing trading in Penang... still single. Eh~ any Penang gal interested in him? :P
Later, we went to my Kakak 2nd boss house. Kakak didn't bring me to the 1st boss house this year. She said 2nd boss is a vegetarian, I would have more makan there. Kekeke... no problem, as long as got makan for me to enjoy. :P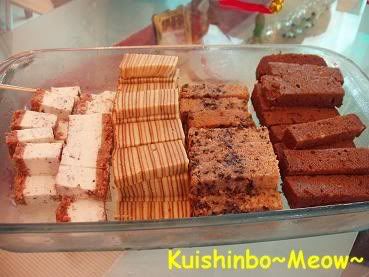 We got a tray of very nice cakes. Lovely cheese cake that was in the right richness, layered cake that was not too sweet and quite soft, unique brown cake with black sesame mixed inside and healthy prune cake that good for ladies. Hmm... wonder where did he get all these? Must ask my Kakak to check for that next time. ;)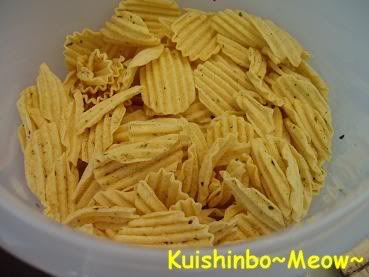 Besides the cake... I love the crackers we had too. Didn't eat that in other houses. This was potato chips. Look normal, but tasted marvellous. I can't help but keep munching on this. Yabai!!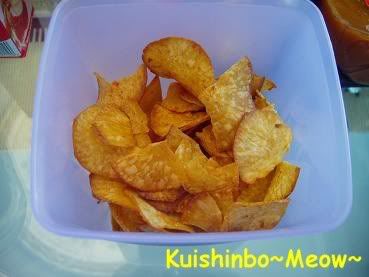 Another irresistable crunchy chips... made from tapioca (cassava). It is really very crunchy, at yet not hard at all. With the sweet and spicy taste, one can easily get addicted to it. Hey hey, next time I know which house I want to follow my Kakak to go liao.
Unfortunately, we were supposed to go for the buffet lunch, but somehow the catering were late for more than 1 hr... and we got other things to do after that, so went away without any vegetarian buffet... *sob sob*
CNY 3rd day after noon
Made a date with Joon Vui and Sheau Kang to my primary school teachers' houses. Too bad, we could only went to one of them. The other teacher was not at home. So in our teacher house, Lee Hung and her just-married hubby came to join us. Will post a pic of the couple next time. :P
Aiyar~ forgot to take the gathering pic. So, only one food pic for this house.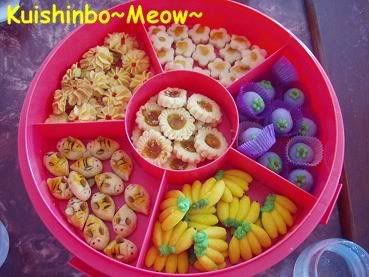 The must-oso-have things for CNY... assorted cookies~. Some cookies look quite plain but delicious, some looks very cute but quite plain... In my house, you normally wouldn't find cookies. Mum knows I am fetish towards cookies, so she keeps all the nice cookies for me, especially pineapple tarts. I'm a pineapple cookies monster. Kyak kyak kyak!!
The one in this teacher house? Fancy and yummy... See the banana and mangosteen?? Kekeke... wonder what's the taste? They were actually butter cookies. Oishii~~~
Later, rushed back home to meet my another gang of fren, that I get to know when I was teaching in SMK Lumba Kuda.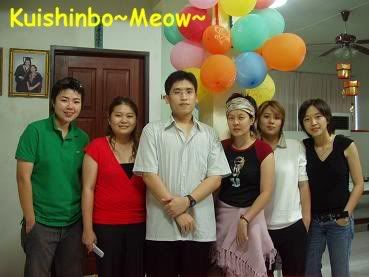 Kekeke... all the flowers were surrounding Bert Bert... Hey Bert~ U looked nervous ler~ :P
Left to right : Aya, Betty, Bert Bert, Shu Hua, Siew Tiat and Khee Ing.
Among them, Bert Bert have known KI for quite some time.
"Jie Jie... KI cuts her hair no nice liao... She looks much cute in her long hair."
Kekeke... that I quite agree.
Then, it was the 1st time Bert Bert encountered Aya...
"Jie Jie... Aya very stylish~ She looks even more good looking than some guys..."
:P Another undeniable quotation from him.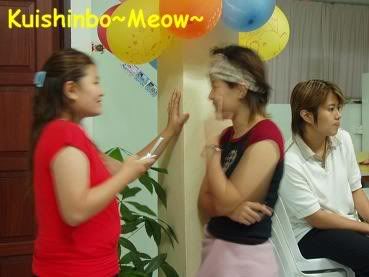 Betty, are you doing somekind of big business with Shu Wah ar?
Oi~ ST, why you looked so bored beside them? :P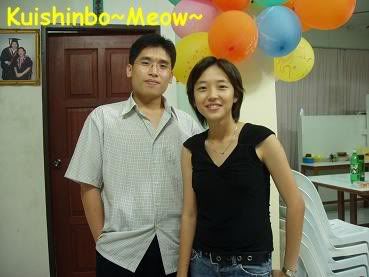 Another collection of Bert Bert for his gf series. With KI.
I mentioned before KI looks alike with
Kam
(my Korean's fren). Even the other do agree with me too... Actually I knew KI and Betty the earliest... cause I taught KI's sister before and I was the basketball club teacher. (No! I dun know how to play basketball, which I quite regretted. If I have played basketball in my school time, I wouldn't be this short now. *sigh*).
CNY 3rd day evening
It was the best part for that day in term of foods. Mum, Bert Bert and me went to Uncle Chan's place for some unique party. All cooked by Auntie Kim Lan (
Shu Lin
's mum), my mum very close fren for many years oledi.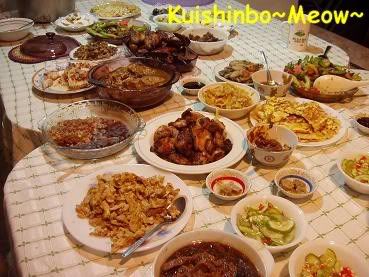 See all the dishes she cooked?? Any idea of what kind of buffet party was this oledi??
The answer...
.
.
.
.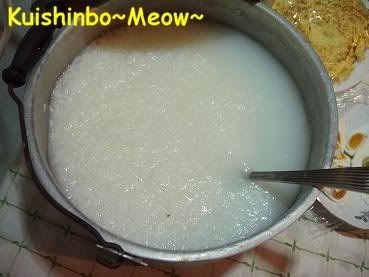 Dang Dang~~ Porridge!!
Heee... yap, it was actually a porridge party. An annual activity in Uncle Chan's house. Auntie Kim Lan was telling me since CNY foods were mostly heavy, so she decided to have some mild foods to sooth the digestive system. Which I think is a brilliant idea. I enjoyed the meal so much, as much as the 1st time I was there. I know next year I am gonna to miss this. :(
This was the 1st time Bert Bert had this kind of party, he was delighted.
"Geee... Jie Jie, I really like this party. It is very different from the usual."
This again, I agreed.
Uncle Chan offered me a glass of red wine. Weird combi with porridge. But couldn't reject an offer from a man like him. :P Kekeke...
Thanks Uncle Chan and Auntie Kim Lan, for the great nite.
Anyone wanna follow me next time to have a try?? ;)