CNY 5th Day (Feb 13)
I love spring. Yesterday and today, the weather has been really good, warm like early April. :) Ah~ if it's a weekends time, how good~ But seem like this weekends going to be rainy and cold... :( Owez like this, when the weather good, u work... and when you have the time, weather no good.
Last nite, a special show was ranking the 47 prefectures in Japan for many types of category. In a nutshell, people from
Oita prefecture
(
大分県
), are ranked as the best people in Japan. Guess which prefecture's people ranked the worst?
Osaka prefecture
(
大阪府
)!!
Osaka people rank World No. 1 for walking speed.
Ranked Japan No. 1 for number of love hotels and cases of purse-snatching. The other No. 1, I couldn't recall oledi.
However, is Osaka that terrible?? Well, it depends how you see it...
But, I can tell you, Osaka is one of the city in Japan that produce a lot of successful businessmen... and comedians.
Here... you will hear Kansai ben (Kansai dialect) frequently... which your Japanese language teacher didn't teach you in the class.
Instead of sumimasen, you will hear the obasan say 'Sumahen~' when you spare a sit for them to sit in the train.
Instead of the Tokyo 'sa... sa... sa...' as their ending... Osaka people like to use 'ya... ya... ya...'
Hehe... too much to tell here the difference between Kantou and Kansai area... but if you ask me, I'm a gaijin (foreigner) in Kansai definitely. ;)
Ok, enough for the trivia. Back to my past post. :P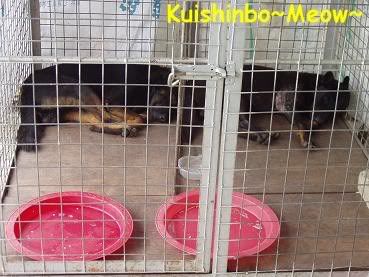 That morning, went to have breakfast with mum and Bert Bert. While getting my car, saw this interesting scene. My 2 doggies slept in exactly the same pattern. Kekeke... proof they have the same mama.
Grandma Hand Made Noodle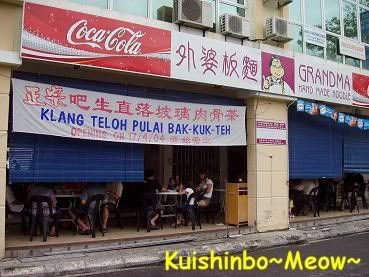 Mum brought me to this Grandma Hand Made Noodle (外婆板麺) for Klang style Bak Kut Teh. From the banner, seem like it was from an area called Teloh Pulai. Many people were eating there when we reached.
The owner saw me taking pictures. She has a short chat with me. She told me some of the customers came becoz they saw on the net bout the intro on this shop. I tried to look for the site that did this, disappointedly, I couldn't find it. Hmmm...
Anyway, here is fish fish version of review...
As a recommendation by the owner, we ordered this drink. I can't really remember the name of this drink, inside got a few ingredients... But if you tell them want their 招牌飲料, I think you will get this. Well, I've tried a bit of it... something like a Go Bi Teng (5 flavour soup, a famous hawker drink in Kuching), but more bitter. Not really my cup of tea.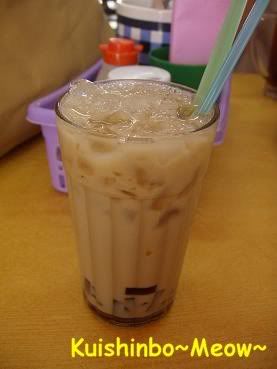 As for me, I ordered soybean with grass jelly inside. I haven't had this for a long long time. It was one of my favorite back to the time I was staying in Kajang. Omost every Thursday, I would drive all the way to Setapak, just to go to the Thursday pasar malam with my Kakak. Aarrgghh~~~ pasar malam... another thing back in Malaysia that I miss a lot. I didn't make to go to any this time during CNY.
The blending of the milky soymilk and cooling jellygrass is owez something I couldn't resist.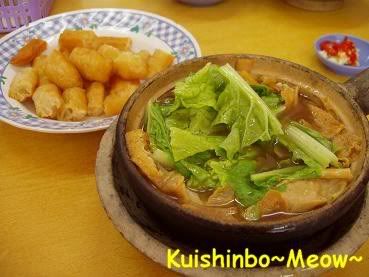 I ordered one non-meat version of Bak Kut Teh for myself. Mum and Bert Bert shared one normal Bak Kut Teh (sorry, forgot to take pic for this, too busy eating). Well, the Bak Kut Teh taste was different from the normal taste I owez get in Kuching. It was more alike to the chicken Bak Kut Teh that I had in Kajang before. Compare to the super dark watery soup of the Kuching Bak Kut Teh... this soup version was brownish colour and thicker feeling.
Not the best I have tried. But was good if you go for something healthy and mild. I guess the meat version one would taste different with this non-meat version of mine.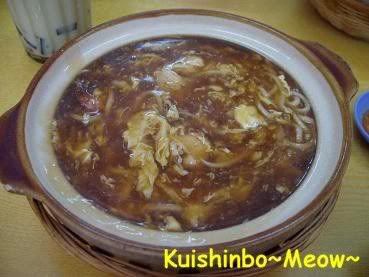 We oso ordered one Lo Mee. Errr... quite disappointed with this one. The gravy was too thick... quite tasteless for me. I prefer to have more black vinegar... I still prefer my all time favorite stall for the Lo Mee... too bad, I didn't have any chance to go this time.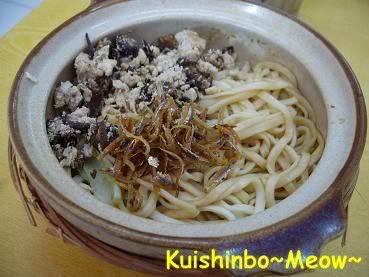 Pan Mee (板麺), a very famous local delicacy in West Malaysia, but not in Kuching. However, recently, Kuching people oso started to have chance to taste this noodle due to more West Malaysian foods were introduced to this meow meow land.
We tried a kolok version for the Pan Mee.
My comment? Was another disappointment. It wasn't what I have expected.
The noodle was not munchy enough. And the ingredients was just so so...
Well, I am quite strict with good Pan Mee... as when I was a student in UKM, I've been driving around just for a good Pan Mee... I would drive for 2 hrs, just for a good bowl of noodle. Crazy huh~ My taste bud was spoilt oledi... so normal taste Pan Mee wouldn't give me a satisfaction at all.
I even learnt how to make Pan Mee. :P Yap, fish fish know how to cook one, but too lazy.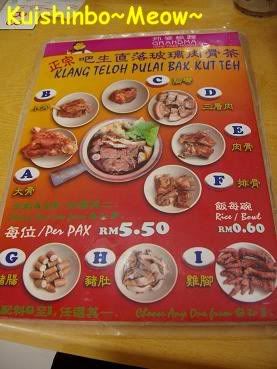 The menu for Bak Kut Teh... u can make ur order in ala carte... require them to add in things you like.
Overall, I would give Grandma Hand Made Noodle a good mark for their service... But would just say the food was just so so... However, the Bak Kut Teh worth a try if you want to look for something different from Kuching taste. :)
Memories Grand Cafe
Later that afternoon, I went out alone to meet KI and Aya, as Aya would go to China for a trip the next day. We gathered in Memories Grand Cafe.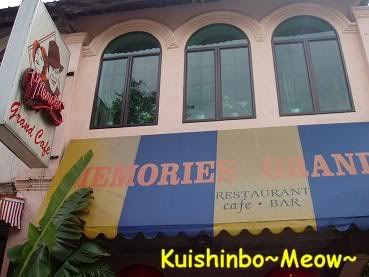 The outlook of the cafe. Few years back, Memories was not sited here... It was inside the Riverbank Suite... I like the Memories of that time. Would just go there for its Black Forest Ice Cream.
But today, that Memories have long gone. So do my old time favorite Black Forest. I've tasted the Black Forest in this Memories, it just tasted different. If I can choose, I rather pay a few more ringgit to get back my old time Black Forest. Kanashii~~~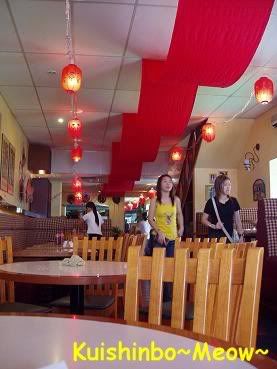 Inner look of the cafe itself. Not many people during the lunch time. Hmmm... maybe still CNY? It is a good place for slow chatting with frens though. The menu added many dishes compared to the old time pub-cum-cafe. I've tried a couple of them 2 years ago, not really to my favor.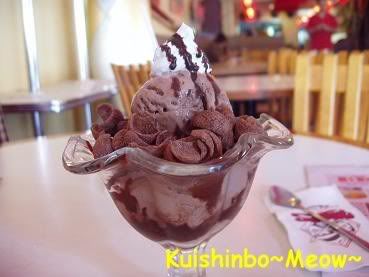 Somehow, I wanted to have something cold that day. So, I ordered Chocolate Crunch. It was for RM5.50. Love the blending of the crunchy bits and melty cream in my mouth. Yum yum~~~ A very good aftermeal dessert. But I made it my before meal appertizer before I went home to have a late lunch. :P
So, I just chat chat with KI, Aya while waiting for Jennifer. I left a short while after Jennifer came. Arrgghhh~~~ even forgot to give Aya a goodbye hug before I gone. Forgetful fish! I guess the next time we are able to meet would be after I graduate.
Had a really great meal later at home. Mum cooked again my favorite
sweet yam stem
. I had a big plate of rice with that though it was not the best one, as the yam stem we bought that day was a bit too old.
I promised to let Da Ge tried the yam stem... So buzz him. He was lepak around shopping centre. When I went to his house to fetch him, he climbed his gate like a monkey... Kekeke... seem like nobody was at home that time, and he didn't have any key. Geee... fish fish came the right time to bring you away huh... ;)
Man~ it was not an easy task to find a good place to let
Da Ge
eat the yam stem. Eventually, we stopped in
Sugarbun
in Kenyalang Park...
Both of us wanted to try something after reading
sixthseal review
on that.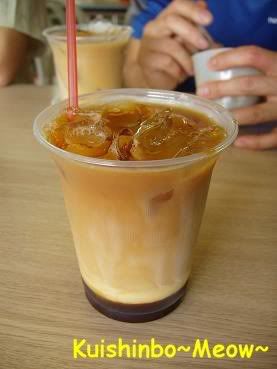 Dang Dang!! Premium 3 layer tea. Well, it looks sweet by the thickness of the syrup layer in the bottom. However, after blended 3 of them... This tea was actually quite nice. A good thirst quencher for a hot day. The gula melaka tasted good. I owez prefer dark sugar if compared to the common sugar.
In case any of you dun know what the hell Sugarbun is, like KFC and McDonald, it was a well-known chained fast food outlet in Sarawak especially... It started as an ice cream parlour in 1979 in Kuching, then in 1981, its 1st full fledged outlet opened in 1981. Then slowly, it is expanded to other cities in Sarawak, then to Brunei and West Malaysia.
Back to my school time, Sugarbun has owez been my favorite, for its fish fillet. They used to offer one of the best fish fillet burger I've ever had... nothing that McDonald could compare. However, I'm not sure if the old time nice taste still remain the same today... as I noticed a lot of the menu in Sugarbun have changed... into something more Asian-oriented fast food. You can even get nasi lemak and claypot dishes from there today. Well, a good attempt to fit the local choices though. Sugarbun, a place with a lot of my old time memories there.
Should have tried the Sugarbun nasi lemak... (now I recall I didn't eat any nasi lemak this time back home... such a waste~).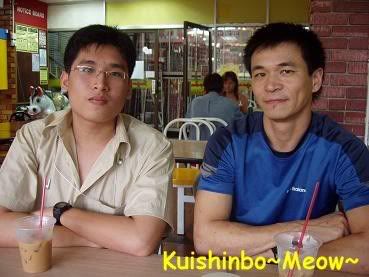 Bert Bert (left) and Da Ge (right)... The just goin to get wise kiddy and the wise cooking engineer. :P Who would you vote for? ;)
S... I know you are going to vote for the right. Kekeke... (Who is S?? Shhhh... my naisho). :P