Flowers~
Another weekends... 1st weekends of March... According to the weather forecast, this evening going to snow, 50% possibility. Aarrghh... hope the forecast is right. :P Miss snow actually. But very weird this year, even March still got snow. The earth is complaining... Seem like Sakura blooming goin to be delayed.
Anyway, since the school is empty today, and the weather kind of good outside, I grabbed my camera and go to hunt for flowers around.
Did get some nice one. ;) So, no food today, but if you are a flower lover, I hope you will enjoy this. :)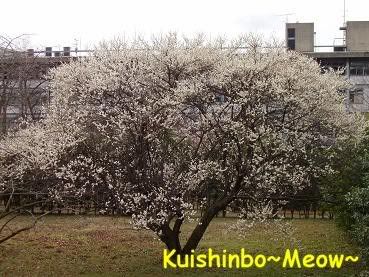 The big white ume (plum) tree in my school compound. It is in full blossom now. It's a bit late this year for the full blooming. Ume as well as sakura, belong to the family Rosaceae.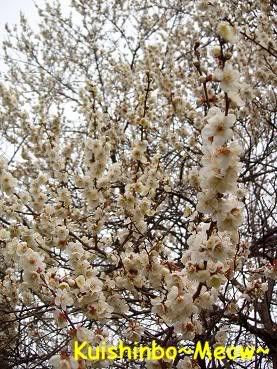 Ume flowers grow in dense on each stalk of the ume tree. A light fragrance came along with the windblow.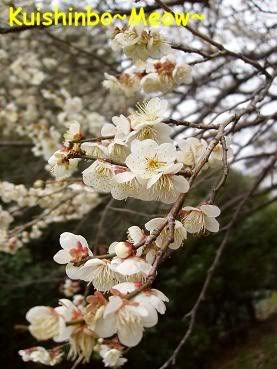 Another close up look at the flowers. Ume flower actually a bit look like Sakura, but bloom in much longer time compare to Sakura. It is only after strict cold winter day then the flower will bloom. The colder the winter it gone thru, the prettier the blossom gets. Just like a Chinese idiom 不經一番寒徹骨,那得梅花撲鼻香...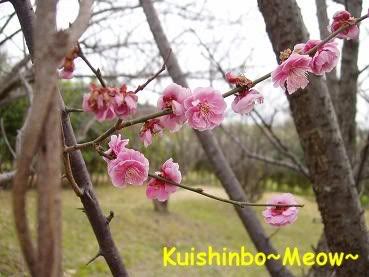 Besides white ume, we oso have pink ume. Unfortunately, the one in my school compound either the flowers starting to wither or still in buds stage. Tried to find very hard for a good one, but this was the best I could get with my height. :P
Aarrgghhh... have been doing a lot of Sakurami (watching sakura) since these years, but never really did any Umemi (kekeke, fish fish own term, meaning watching ume). Thinking of doing one in Kitano Tenmangu (
北野天満宮
) as it is one of the most famous in Kyoto. Got around 50 species with 2000 trees in the Ume Garden (
梅苑
).The garden will be opened until mid of March.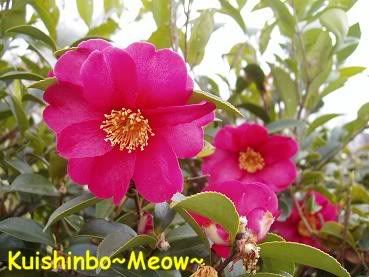 This flower is called Tsubaki (椿) (
Camellia Japonica
), bloom in early spring while its related species, Sazanka (山茶花) (
Camellia Sasanqua
) flowers in fall. Both originally from Japan. You can
go to this site
for a good info on the flower.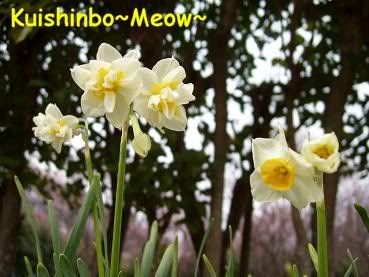 Also, I caught a glimpse on these pretty little flowers. They are called
Narcissus
(pdf file with very detailed intro). In Japan, it is called Suisen (水仙). I like this flower, even though it is not big, but it gives a kind of beauty that I couldn't resist.
Well, that's only a few of the flowers in Japan that you will commonly seen in the early spring. Hope I will be able to show some nice mid-spring colours then. ;)