Freeze-Dried Durian
*sigh* I feel so relax now. After what had happened.
Yesterday nite, I figured out I put the wrong colouring into my solution, so even if my samples can be dissolved, I would not be able to continue my work. What worse, not more stock solution left. That means, I will have to prepare the solution too.
Got so angry with myself of the stupid mistake I done... I went home cooked myself a HUGE bowl of Kimchi Zousui (キムチ雑炊), finished all while enjoying a weekends movie on TV...
Gangs of New York
. Then... Zzzzzzz....
So this morning, with a long nice sleep, and a home-made proper breakfast... I came to the lab to redo my work. But... things didn't turn out as I have scheduled. If you ask me what I hate the most bout doing lab work... PREPARING SOLUTION!.... I... HATE... IT! Especially today, for the 1st time in my life, I prepared the same solution for 3 times due to my first 2 failures. So, I wasted 6 hrs just for this stupid solution, with a very high concentration of urea and the pH adjustment in non-buffer zone. Until I got no mood to eat... I didn't sit for that 6 hrs... just look at the pH metre, like I was having some kind of battle with it while I adjust my pH drop by drop.
PHEW!! You bet how happy I was when I finally made the 3rd preparation a success.
Anyway, I somehow started to feel very hungry after that. So, what did I eat? Nothing on my desk that time, except a few freeze-dried Thai durian pieces purposely leftover by me. I gulped the whole thing. Man~~~ it was sooo good that time.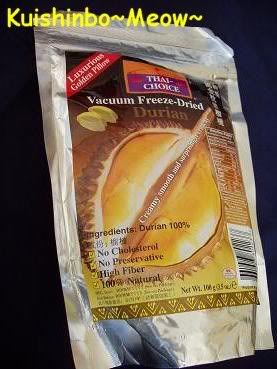 This was a courtesy of
Eddie
, a nice food gift from him when I met him in Kuching last time. I brought it back to Japan... and couldn't take it until one month later due to my sore throat.
The ingredient was very simple : 100% Durian.
Actually I saw this in his blog, and was interested how it would taste. Surprisingly, didn't expect he would get one for me.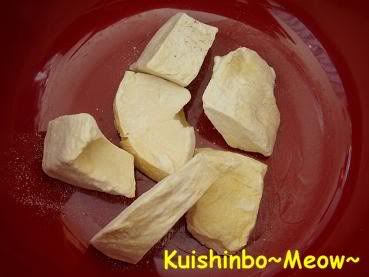 Here is how the freeze-dried durian looks like. As this is the Golden Pillow (name of the durian) from Thailand, the flesh was much thicker than the Malaysian durians. Durian smell was much milder though.
Once I opened the package, the durian smell just went into my nostrils.
First bite on it, OMG... DURIAN!! Yap, except that the texture was very crunchy... the taste, the smell... all closely resemble to a fresh one. It was actually my first time on a freeze-dried version. I would say this was quite good to cure you homesickness for durian. I would call it Thick Durian Chips. Kekeke...
Eddie actually soaked into water before to make it hydrated, and according to him, it went back to the fresh durian.
So, fish fish imitated his act... by using WARM water... The result? The few pieces durian turned into something very.... Errr.... I dun think you want me to say here. :P
Anyway... domo arigatou... Da Ge, that was a good one. :)
Oh, I'm goin home now... cook a good dinner. Wanna watch a special documentary on TV bout what would happen if the next earthquake attacks Japan. Then? Come back to the lab to work again as a midnite bird.
Tata~