Ipoh Curry Fish Head (Feb 16)
That evening, I sent Kakak to attend her fren's sister wedding dinner. Then, went to meet up with
Eddie
and
Ann
. Later, Winston came to meet us up too. Four of us headed to makan makan.
Ipoh Curry Fish Head... the place that we went. It was at the Jalan Keretapi near the end of 3rd mile roundabout. The shop was a few shops away from Bank simpanan Nasional. The owners came from Penang... they started this business a few years ago. Back to that time, they weren't even own a shop yet, they were running the business at the corridor outside the shops during nite time, when all the other shops were closed. And today, they finally made it into a proper shop like this.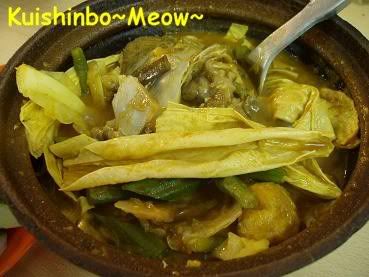 We ordered curry fish head, small size. Usually when I came with my mum, mum will remind them to use fish head only. So that nite, I automatically reminded them on that... without thinking the fish head flesh might be too lack for 3 adults. Sorry arrrgghhh... Eddie, Ann and Winston. Silly fish!
I like this pot of curry, though the bean piece owez not cooked soft enough. This time, I forgot to ask them put more veggies, so the veggies volume were not as generous as usual. *sigh*
When mum lazy to cook, she would just give a call to this shop...
"Taukeh ar~ I'm who who who... I want to order this, this and this. Come to get it 1 hr later."
So, by the time I go and fetch the food... everything ready for me liao~ But must remember one thing, when u do order like this, remember to bring ur own container to bring back the curry... They dun have the container for that. A big one better!!
Another thing, beside this curry fish head, they got very nice curry lamb too... Usually it will need 1 hr for preparing, so if you want the curry lamb, make sure u booked earlier before you go.
I missed this curry so much... It was quite different from the curry in Kuching. According to Eddie, they must have added some kind of corn starch to give the thickness to the soup.
Hey, wanna an Ipoh curry, come here then. :)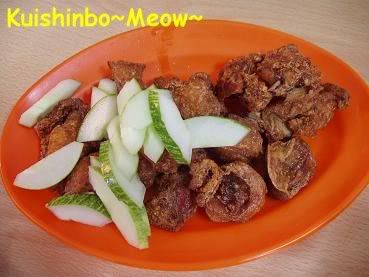 We oso ordered deep fried chicken. My brother's favorite. He never miss this whenever he comes. Oso, the deep fried mutton very nice too.
*Ok, the comments were by mum and brother, not sure how true it is*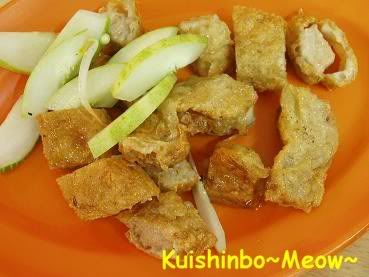 3rd dish, was this Penang Lor Bak. Least favorite of my mum. She told me the flavour didn't penetrate into the whole things well. So, usually she wouldn't order this dish. But I did notice most of the customers do like to order this. Different people different taste buds. Eddie was saying this menu was so so.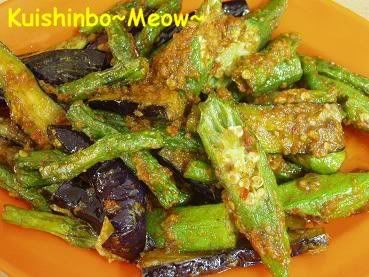 The last dish we had that day, was this sambal mixed vege. First, the owner deep frying all the vege for around 30 seconds before they went into the stir fry process with the sambal. So, this was actually a very oily dish. But somehow, I am hooked to its spiciness, which I enjoy eating it with the plain white rice. Well, this will be a No No dish for those who don't take spicy food. You might gulp down 3 glasses of water then.
Here, they don't offer many types of drink. Either a cooked barley drink or sour lime with plum powder juice. Eddie and Ann had the barley, while Winston and me had the sour lime. Shiok! Refreshing!! Well, I love~ sour stuff, remember? :P
With 4 dishes, rice and drinks... We only paid a total of RM40 only. CHEAP!!
Before we went away, I took some more pics.
"Moi~ u take picture for what ar?"
The taukeh was curious.
"Help you do advertisement. FOC!"
I said.
"Iisshhh!! Didn't tell me earlier, or else this meal will be on me.""Cheh! Taukeh, I oledi paid liao then u said. Too late ler~""Ok, next time you come, on my treat.""Heeee... thanks. Will keep that in mind."
:P... well, will I ask him to treat? Nope, but I would love if he would add some more veggies inside the curry next time. Kekeke... Thanks for the offering anyway.
Later that nite, found out my Kakak went home oledi without giving me a call. Mum went up to Serian. Bert Bert didn't with me, good, no kids with us. Kekeke... So?
I went to pub with them for 2nd round. Well, the guys had beer... Ann and me had skyjuice... at one of the pub inside Riverbank Suite. Forgot the name liao. But as it was a normal weekday... nice and quite. Enjoyable time. Past a nice time chit-chatting. I haven't had this for a long time. Oso, learnt a few things from the guys that nite. :P Shhhhhh...