Isabelle's Bird Day Dinner (Feb 15)
STPM 2005 result was out yesterday. Just know this morning that my 2 cousins, Jerry (Bert Bert's elder brother) and Bert Bert have a safe pass on that. Congrats dear~
Now, they need to apply for entering local uni. For those of you who just got your STPM results... congrats! Whether the results were as expected, better or worse... you can't change them. The most important thing now is to apply for a course that you want. Choose wisely. Go to this
Ke Xi Ji Fen
, it provides good information for all the courses introduction of 9 local national universities, and the
last year STPM score result of Chinese to enter each course
(pdf file).
Good luck!
Bad Dinner
My CNY 7th day, I would say it was the worst day for me during my stay in Kuching. :P Had a conflict with mum... so didn't go to anywhere for the whole day, except evening went to my little cousin Isabelle's 1 yo bd celebration.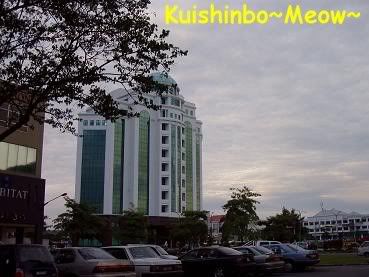 On the way, stopped in centre park area to let Lina (my brother's wife) to buy 4D. While waiting, I remained silent, didn't talk to my mum... Bored, so took this pic. Hey, those of you that are away from Kuching, still remember this building? :P
We had the dinner at Tsui Hua Lau (翠華楼) restaurant. Uncle held the dinner in buffet style. I would say the worst buffet I have had... in term of taste, food amount and service. Especially my auntie, she got so pissed off too.
So, wouldn't be much word for the food, just pictures.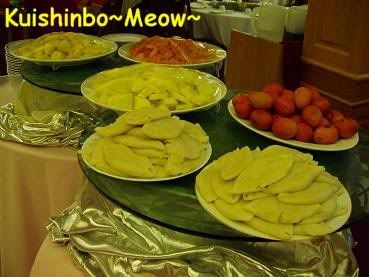 These were the extra things uncle prepared besides the dishes from the restaurant. The Chai Kueh (radish cake), red eggs, ketupat (steamed rice cube is coconut leaves) and fruits.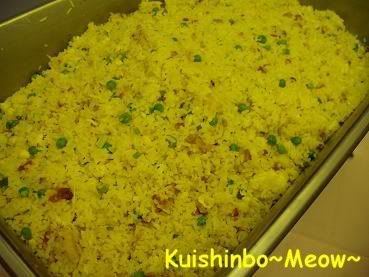 Foods that prepared by the restaurant included... Fried rice. Bad taste...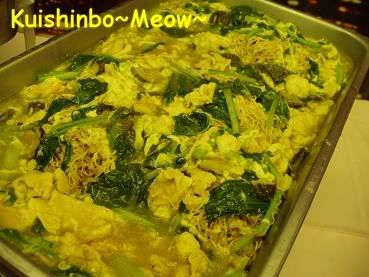 Cantonese style noodle. Maybe the best among all the dishes, though it was justso so.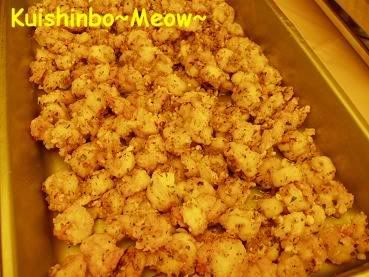 Prawn... pitifully stingy portion for 50 people. The prawn oledi gone before even 1/2 of the people get their turn to scoop it.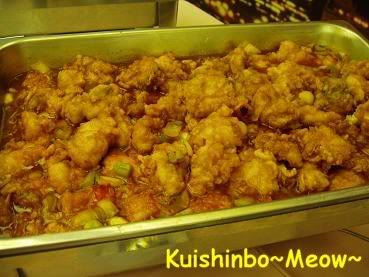 Sweet and sour pork.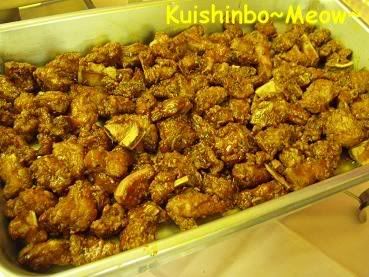 Another version of sweet and sour pork ribs.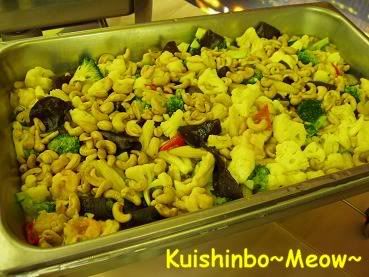 Mix vege. Look not bad, but the taste didn't go into the vege at all.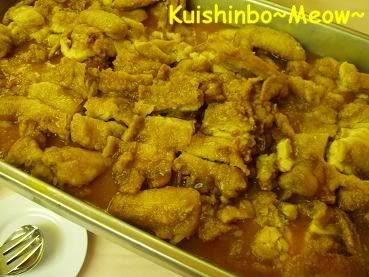 Sweet n sour chicken. Mum was complaining the chicken was so terribly done.
I wonder why everything 'sweet and sour'??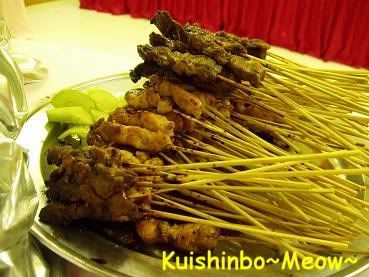 Maybe the best food of the nite, brought by my auntie... The satay...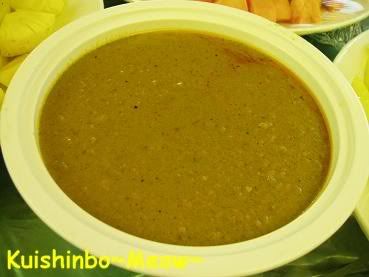 And peanut sauce for satay. Well, at least I enjoyed this sauce.
This was fish fish's plate. Kekeke... I miss red egg so much ever since I read
Julia's post about it
, that I took it as my first choice.
Well, most of the things in this plate taste no good, but I'm the type that if I take that much, I will finish them all regardless its bad taste. So... dumped everything into my stomach. One more thing, I was hungry... Kekeke...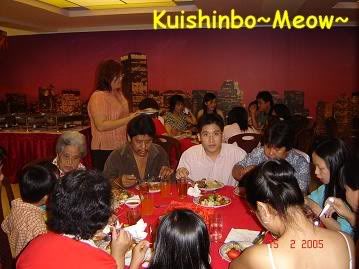 While we were busy eating... Bert Bert was so camera concious... *iish* Ai yor~ boy... eat first...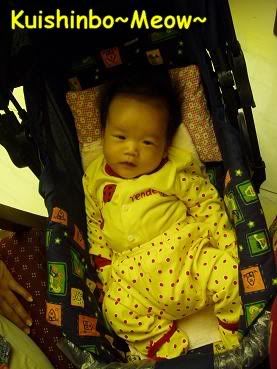 This was the first party Anson joined. See his new baby car? He really enjoyed this new toy of his. Mum bought it in a hurried with my Kakak the day before the party. :P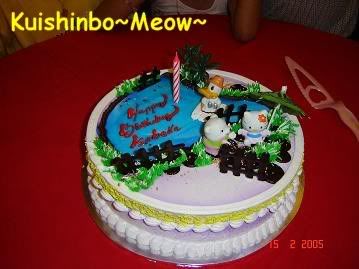 The main event of that nite, which might be the only enjoyment of Isabelle for that nite, is the cake cutting ceremony. Cute dolls on the cake huh~ ;)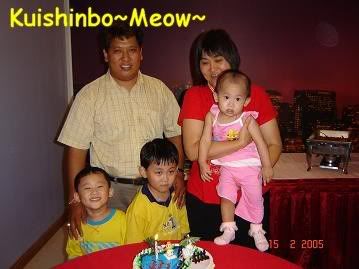 Uncle whole family. Belle looks adorable with her pink clothes that nite. She has a very long body... Only 1 yo, but oledi got 80cm. Hmm... might be the tallest at home in the future. :P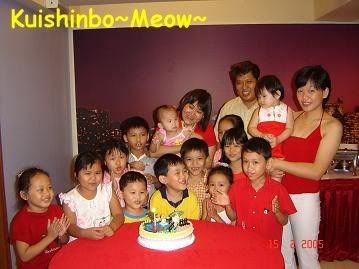 Then, all the kids just squeezed in for singing the bd song loud loud... All are my cousins and nephews and nieces (just a small part of them). See the sexy red shirt gal? My cousin... guess what? She is having her second pregnant now... Ai yor~ hot mum...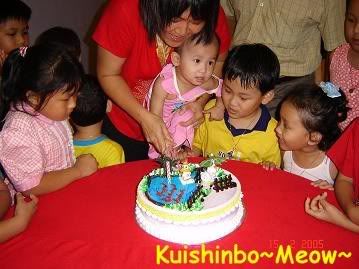 "Yay! Belle cut the cake." After the candle was mistakenly blown off by her eldest brother, Danny. Kekeke...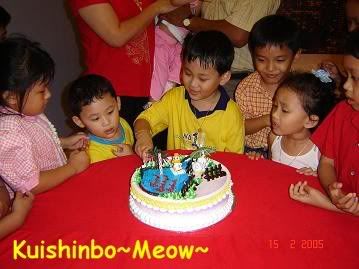 "Wait mummy... my turn, my turn..." Danny grabbed over the knife.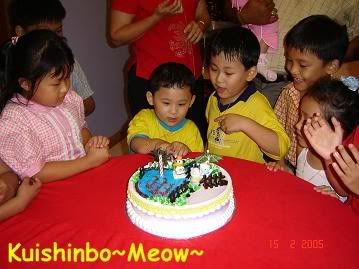 "Mmmm~~~ I want too!!!" Muahaha!! Where can left out Damon (Belle 2nd elder brother)?
Ok... all the three have their share of the cake. Peaceful ending.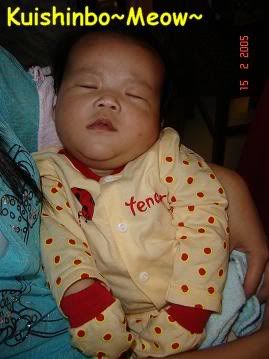 Regardless the noisy environment... Our little Anson just treated it as a lullaby song. See how sweet he slept? Now I believed what Lina told me before...
"Er Jie, you know? Anson slept the whole time when everyone came for his full month celebration. And only wake up once everyone gone."

Overall, the comments for the taste of the food was lousy. For 50 people, each of the dish was just one tray like that without any refill. What more, the service was really terrible! Only 2 ladies was available to serve the 5 tables!! We have to even pour the water by ourself. What worse, there even wasn't any drinks in the empty jugs!!
Hard to believe how they can give this kind of service after their so call nice renovation of the restaurant.
So, if you are thinking of making buffet party in this restaurant... THINK TWICE!!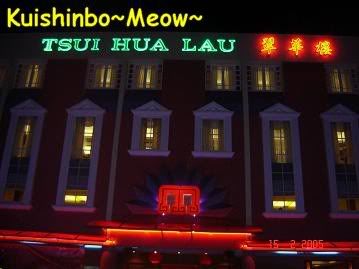 Btw... dun you think the outlook of this restaurant look a bit like Red Lantern area? But I think it looks more like a love hotel in Japan. :P
Think this is my 1st time make such a bad comment on the place I've eaten!