Kubah National Park (Feb 18, Pt 1)
We had a great time climbing up in
Kubah National Park
.
Eddie
had posted about the trip, while fish fish is just going to do it now. :P Please go there to have a
vote for his pictures competition
with
his little sis
. A thing he likes to do in his blog. ;) This time, the competition title is "Blackwidow~". Woooo~~~
Kekeke... I hope the series changed your view that fish fish not only just know how to makan, makan n makan. :P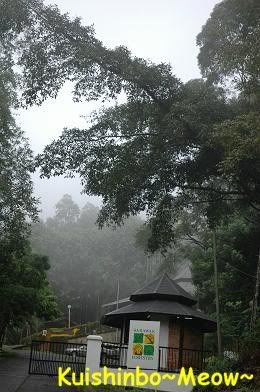 Pic by Ann.
The entrance gate into this 2230 hectares place. Misty morning.
It was gazetted in 1989 and only opened to the public in 1995. However, fish fish first visit to this place was 1991. ;) That time, it was still very under maintenance. And yes, I remember I failed my first walk to the top that time. :( *sob sob*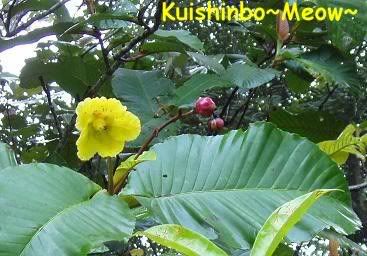 This yellow flower tree is a very easily to be spotted plant in a rain tropical forest. This kind of HUGE leaves trees are something hard to be seen in 4 seasons country like Japan.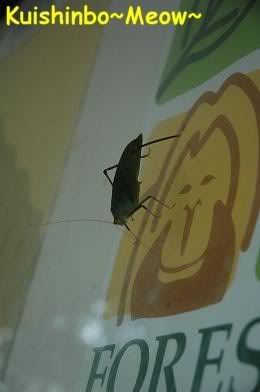 Pic by Ann.
A nice insect was there to welcome us when we went to buy entrance tickets. Eddie paid for us. Arigatou~ It has changed price. It used to be RM3 per head, regardless of what kind of visitor u are. And now, since 2 years ago, the system has changed... It is RM10 per normal adult, whereby RM5 per student. I told the person incharge we got 2 students, he believed me, without even wanted us to show our identity to proof. :) In fact, I'm telling the truth. ;)
This orchid was planted nearby the ticket counter. However, you will see a wild version on the way you go uphill.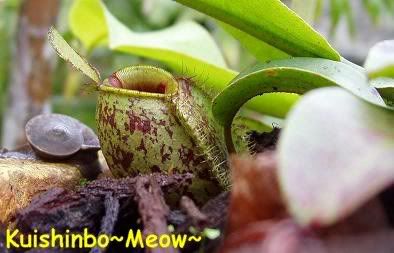 Another planted wild plant beside the orchid. A type of pitcher plant. This species is called
Nephenthes ampullaria
. The link explains
"Nepenthes ampullaria has very typical, coccoidal pitchers with a size of about 4 inches ( 10 cm). Also very typical (and unusual for pitcher plants) is the narrow lid, which doesn't protect the pitcher. There are many varieties in colouration - from all green over striped or spotted pitchers until complete red pitchers."

Quoted from the link too...
"Also interesting is the food - only a small part are insects. The great part of food are things they dropped down into the pitchers - small animals, excrements, old leaves and flowers, ..."

It was a very common pitcher plant that can be observed inside this park. However, I couldn't see any
Nepenthes mirabilis
which said can oso be spotted in this park. I think it was because we didn't go into the jungle track this time.
A link for this species
.
Instead, we used normal tar track, as I didn't know the park has developed jungle tracks for trekking too. I only realised this when we finished going down. *grrrrrr....* Oh well~ am going to do the real trekking next time, staying overnite there... and enjoy the peaceful nite in this Borneo nature.
The above pic was one of my favorite pic that day... I like the feeling the pic was giving... it was as though Eddie was going into a mysterious misty "jungle".
Yeah!! Our journey started.
Pondok Pelai, one of the 15 small huts that were built for hikers to have a short break when you feel tired. Well, Eddie and me didn't use any of them, as it was really quite a low 'mountain'. I was told before that mountain is 2000m plus, and I've climbed a few times, but never really care to confirm bout the height. Only that day then I realised it was only 2900++ feets. Duh~ metres and feets MAKE a HUGE different. Baka fish!
Ann and Bert Bert stopped quite a lot in the Pondoks. Eddie was saying
"Duh~ 2 city cats..."
So Eddie and me didn't wait for them. I like to hike with Eddie, seem like he loves nature as much as I do. He has a good observation in hidden natures. Thanks to him, I got to enjoy seeing some of the thing that I wouldn't be able to notice by myself.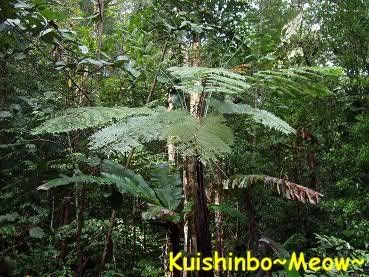 It is a gifted place with rare ferns here and there. Like this giant fern tree, even taller than a banana tree.
This one, even bigger than Bert Bert...
Oso, some alien-look ferns, as named by Eddie. This kind of fern very unique, instead of grow from the root for each fern... It spreads like a 2-way fork. From each tip of the fork, another new 2-way fork will grow. Like spreading a very complicated network.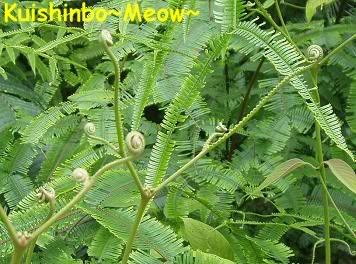 This is the shoot of this alien fern. Look like an antenna from some outerspace creatures? Kekeke...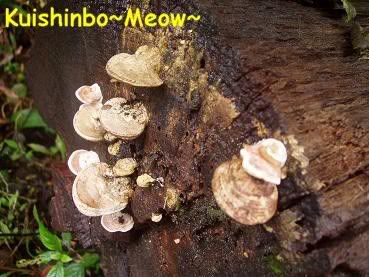 Beside ferns, you can enjoy the scene of wild mushroom shooting up here and there, especially after nice rainy days. This mushroom likes to grow on dead tree trunk.
Whereby this cute little mushroom prefer too grow on the ground. I like this one more. Soooo adorable~
I was deeply attracted by this smooth white hard tree trunk... It can grow until very high. I was very curious why the trunk can be this smooth and white... and yet, very hard...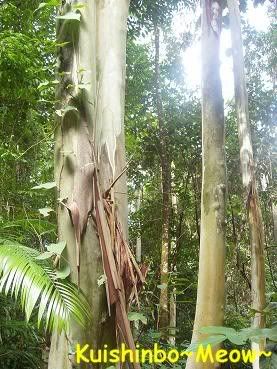 My doubt was solved when I saw this. Yes, the tree itself actually peel off its outer green skin, to become something white and smooth.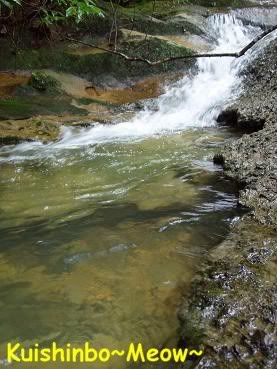 You could hear nice sound of water flowing downhill. The water itself was damn cold. I splashed a bit on my face... Man~ sure it awaken me till my inner bone. Cool~ so refreshing.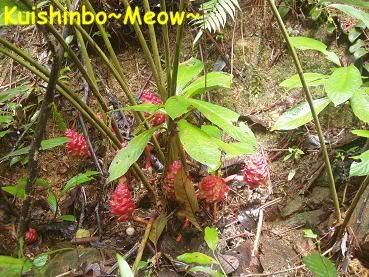 This is a type of wild ginger. There are many varieties of wild ginger. Some of the wild ginger shoots are commonly consumed as a nice indigenous dish. However, the strong smell of wild ginger just back fish fish off. My mummy enjoy them though. We have been staying a few years in an aborigine village, so mum learnt a lot from them on way of living. That's why mum oso a very good cook for indigenous cuisines. ;) Lucky fish~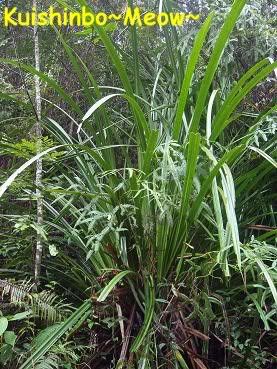 I believe this is a type of wild pandan (screwpine) leaves. It didn't has the fragrance that is common for edible pandan leaves. And it is much more prickly that a domestic type.
Local people like to use this type of leaves to produce different type of weaving product, such as mats, baskets and containers.
We spotted this wild banana. 2 differents I spotted bout it if compared to a cultivated version. The banana bud was round and short. And the banana was more curve. Too bad, can't try on this one.
However, I personally like a wild banana. It has seeds inside, and the balance of sourness to sweetness is stronger.
I'm
a jungle gal
, so I love wild things. I'm crazy about any type of plants, as long as it is not poisonous. Ah~ I miss wild fruits now. >_<
To be cont... Pt 2.