Lok Garden (Feb 17 & 18)
Update :
Eddie's post on Fairy Cave and Lok Garden
has been updated, please go to enjoy his different way of viewing and writing. ;)
On 17 Feb evening...
On the way back from
Fairy Cave trip
, we were stucked in the middle of the road, for almost 2 hrs. *iish* One lorry so coincidencely had accident in the middle of the bridge during peak-traffic time. Wasn't I 'lucky'? I was really anxious, and kept losing my patient... coz my mind kept thinking what would my mum grumble then.
Finally, we reached home safely. Yeah~ I did tell my mum where I've been, and as predicted...
Mum :
"What?? U went to Fairy Cave? Hmm... so tomolo no going to climb the mountain oledi ar~"
I knew she was going to say this.
Fish Fish :
"Errr... we are still going."
Mum face turned into different colour liao...
"Errr... cave and mountain different things you know? Mum~"
Mum :
"I dun see any different. All see same thing. You come back for holidays, suppose to stay good good at home, not go here go there like a tourist."
-_-" Old saying again~
Fish Fish :
"I promise, after tomolo climbing, I stay at home good good. Ok?"
Mum remained silent...
Fish Fish :
"Mummy! You hungry?? Come, me bring you go out makan."
Kekeke... i changed the topic abruptly.
Mum :
"Dun want. Ate oledi."
Fish Fish :
"Errr... me go out eat, can? To Lok Garden..."
Mum remained silent. So I took it as a 'yes'. :P
On 18 Feb evening...
After went to do moutain climbing, which I will post for tomolo... on the way back, mum called Gilbert, as I didn't realise she call me a few times. But I know must be something unpleasant.
Gilbert :
"Auntie ar? Yes?"
Mum :
"jshadkjhfkevb..."
Gilbert :
"Yah~ on way back. Soon reach home. Ok... ok... ok..."
All I could hear was Bert Bert 'ok' only, after mum talked and talked.
*iish* Gilbert smile was so cunning after he hang up the phone. *cold sweat*
Fish Fish :
"Bert~ mum said what?"
Gilbert :
" Nothing. She asked me tired or not?"
Fish Fish :
"Bert~ DUN LIE... Say wat Yi Yi have said."
Gilbert :
"She wants me to ask Jie Jie, you come back to be a tourist is it?"
Fish Fish :
"..."
*die liao*
Reached home.
Fish Fish :
"Mummy~ I'm back~"
Kekeke... pretend I know nothing.
Mummy :
"Going to go out where again tonite?"
Fish Fish :
"Go out again? No lar... tonite accompany mummy mar, as promised."
Mummy :
"I'm going out with Kim Lan auntie for dinner later on, in Lok Garden. You went last nite oledi, no need go again lar har~"
Fish Fish :
"o_O I want! No problem, go yesterday, can go again one mar today. Eat different things."
*wipe sweat* Situation safe.
So, from the 2 situations, I end up in...
Lok Garden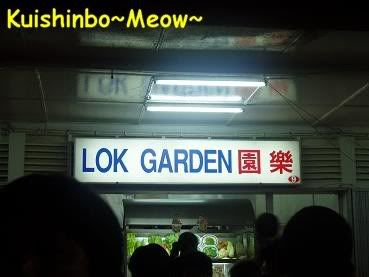 Lok Garden (楽園), a hawker style restaurant in Batu Lintang. Our family are his long term customers... since I was still a small kid.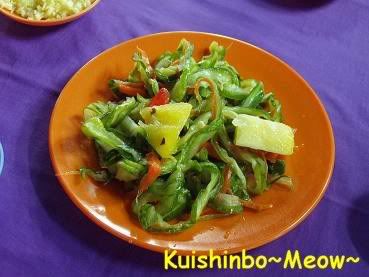 For both nites, we had a nice plate of pickled vege. My favorite... sour sweet... and crunchy. Very nice appertizer for having a nice dinner. Mum never miss this out whenever she comes.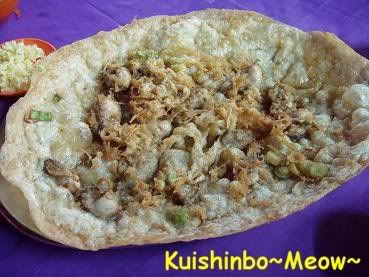 Top of my favorite in this stall... Ou Jian (osyter pancake). This one was the one being ordered when came with
Eddie
,
Ann
and Bert Bert. Forgot to ask for a big one, so u can see it was pretty small.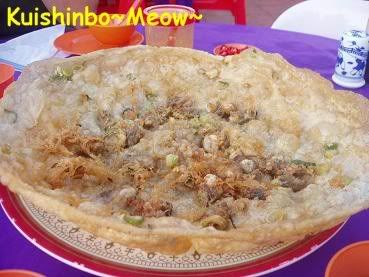 So, when came with mum and Kim Lan auntie, ah ha~ I specially ordered for a L size one. Wooo~ so excited when see this big big golden crispy pancake came.
Compare to the one I had in
Doreen's bd
, I am definitely a fan of this one. Much crispy... it was like having some kind of cracker... Especially love to dip with home-made chili sauce of Lok Garden. And yar~ my way of eating it is with bare hands, no spoon no fork. So that you can finger licking good later.
However, the consecutive 2 days of having this very high calories deep frying pancake, did make me feel very enough for it. :P
Ok, below were the few dishes ordered for first nite...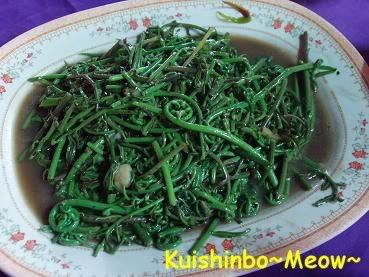 A nice plate of midin cooked with ginger and Foochow red wine. On of my favorite Sarawak edible ferns. Another common way of cooking is with belachan. I ate so much of this with white rice. Yum Yum~ Wild vegetables in Sarawak just has the ummph I want for. ;)
So, never never miss out these wild things when you come to Sarawak, ok?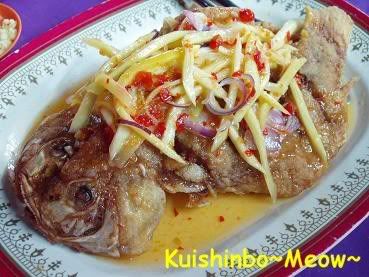 Eddie ordered a sweet sour mango fish. Got 2 choices, a whole fish of Fu Gui (富貴魚) or Shi Ban (石斑) fish fillet. Eddie chose Fu Gui... But he wasn't satisfied with the fish...
Later, I told mum. Mum said, Eddie should order for the Shi Ban, the fillet would taste better. Oops, maybe next time I should ask mum before go to a familiar place to eat. I know nothing bout which meat or seafood is good mar~
For both nites, we ordered a nice bowl of Hai Seng Tang (
sea cucumber
soup). Another favorite of mine. Mum owez scoop only the top part for me to avoid unnecessary stuff in my bowl. :P I like the sea cucumber soup in this stall... so nice to gulp the whole thing while it still hot.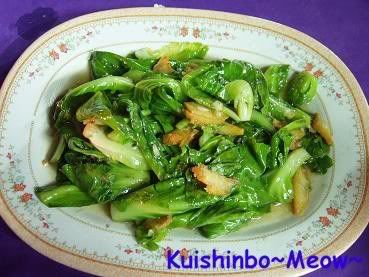 Ann wanna a plate of Kailan (芥蘭) stir fry with deep fried salted fish. Has been quite a long time I didn't eat any Kailan, couldn't find it in Japan. Good to eat while hot, however, like most of the Chinese vegetable dishes in Kuching that offer outside, oily~ Even mum cook vege oso quite oily... According to her, vege needs more oil to make it delicious. She owez wants to pengsan when she see me do my vege preparation by only boiling. Yah~ i know it wouldn't be as tasty, but much more healthy!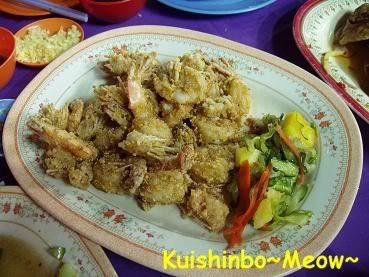 I know the prawn in this stall good. So recommended Eddie to try one. But I made a mistake... only after mum told me, then I know I should have recommended Eddie to try the simple prawn stir fry with salt. Anyway, we ordered this butter prawn, which I was quite disappointed... the butter crunch was not generous enough and not done in a good crispiness as it was supposed to be. Hmmm... ok, should have reminded the taukeh earlier.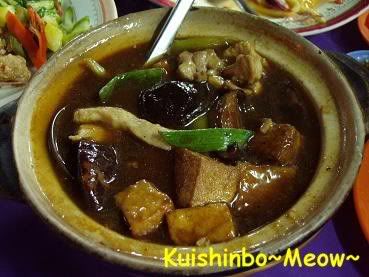 Finally, I wanted a claypot tofu. I'm actually a big fan of any tofu dishes, can even eat raw tofu just like that. However, the three were not so keen on this one... Eddie was saying the tofu outer layer too soft, not crunchy. Heee... so turned up the whole plate omost finish by fish fish. Glutton!
The 1st nite, we paid RM75 for the food. Think becoz we ordered fish and prawn. It was a treat by Eddie. Gochisosama deshita! (Actually this place is supercheap, if compared with other restaurants... So, from what I experienced, I judge the meal that day more expensive.)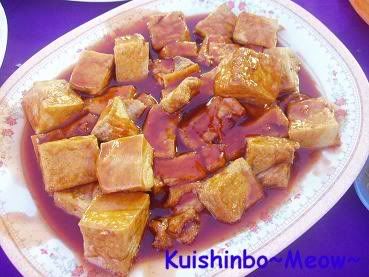 Then, the next day, learnt from the mistake I made the nite before, I ordered for another type of tofu dish. The taukeh didn't has this dish in his menu actually, it was fish fish special ordered. Sweet and sour deep fried tofu.
:P Better than the last nite one. Bert Bert like this one better. However, fish fish was still not satisfied. I kept thinking why. After the dinner, I get the idea... To have my great tofu taste. Next time I will just ask the taukeh to give me deep fried tofu, then, I'll just eat with the home-made chili sauce. Think it will be the best way to eat it then. Kekeke... I'm excited to go home next time to ask for this dish liao~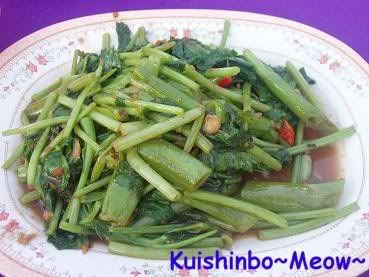 Mum ordered one belachan kangkung for me. She knows I love this dish. Good taste as usual. U bet I enjoyed it so much with plain taste white rice.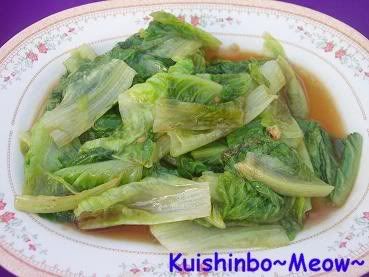 Then, auntie Kim Lan wanna tried a plate of You Chai (sorry, dun know what the English or Malay name). It was stir fried simple with garlic. This half cooked vege was good, when you bite it, the crunchy sound in your mouth sure make your appetite turned better.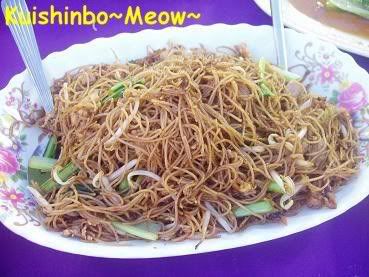 Somehow, I kind of missing beehoon. Dun want to get regret of not having enough of this when in Japan again. So, here was this fried beehoon. Err... the taste was alright. Nothing impressive. Not bad neither. I have to add a lot of the home-made chili to make it more tasty. Now... the chili sauce stir fried beehoon was Great! :P
The 2nd nite was a treat by mum. Only RM50. Burp! Thanks mum~
Wonderful nites!