Makan Makan Search (Feb 17)
It's 21 March today, a public holiday for replacement of Shunbun no Hi (春分の日, Vernal Equinox Day). However, today I'll be a really good gal to come to the lab to work, when everyone having their holidays. Got a lot of work to do. But before that, I decided to update my blog.
Now, why am I such a good gal today? Cause I've been having too much fun in the weekends. First, on Saturday, had a great time with my dear Japanese fren, Yuriko for a good lunch. Then, yesterday, went makan makan and fun fun with Sylvia and Miyuki. I'll talk about that in later days. ;)
Ok... coming back to my makan makan search, for the 13th day in Kuching.
The nite before that morning, Eliz offered to drive me to the MAS office to deal with my ticket the next day. I was so touched, as she actually asked permission from her boss for a few hours holiday just to be my 'ai yar' driver that morning. (Sorry ar dear~ I did reveal your lovely name here partially. Jangan marah yah~ sayang~ :P Cause dun like to greet my fren 'aru onna'). Now, you all might be wonder, who is Eliz? A fren of mine in Kuching. Very quiet and good gal. Not noisy and crazy as fish fish. *shame shame* What I envy the most about her, is an amazingly pretty waterfall-like curly hair. In fact, she doesn't do much treatment on her hair, she just let it like that. *envy until heart itch itch* And to tell you the truth, I'm falling in love with the hair. Kekeke...
Hehe... wanna see her picture? Sorry, request would not be fulfilled. :P
Anyway, after dealing my thing. We went to search for breakfast. I told her before I wanna eat Foochow delicacy, Zao Chai Fen Gan (曹菜粉乾), and she got info from her frens that the one in Benson Cafe is good. Too bad, it was closed on that day.
So, she brought me to another coffee shop for that. Which was oso her first time there.
Lao Li Coffee Shop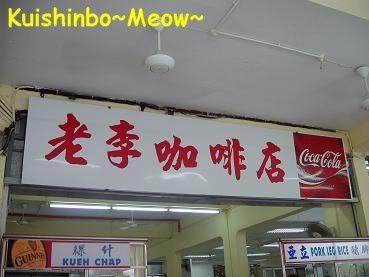 老李珈琲店, Lao Li Coffee shop. Dun really know how to explain the location. I'm not good in telling road name. Sorry yar~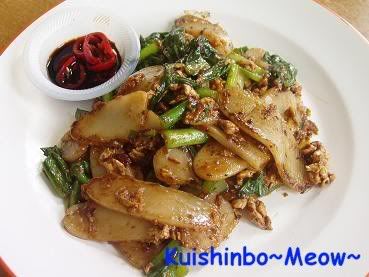 Well, we had 白粿乾炒 (Fried Bai Guo). Bai Guo is actually a kind of eastern style pasta made from rice flour. This was actually the first time I tried it. The taste was not bad, something similar to Fried Kueh Tiaw. However, thicker pasta. It was kind of sticky and chewy in my mouth. However, later when I packed home for Bert Bert... he told me this was just so so. His mum, my auntie could make one of the best. Bert Bert was saying the Bai Guo have been over-soaked, causing the nice munchy texture ruptured. Hmmm... ok, now Dear auntie~ I have one more dish to add to my want-you-to-cook next time I go Sibu. Must cook for me ar~ (Bert! Tell your mummy that.)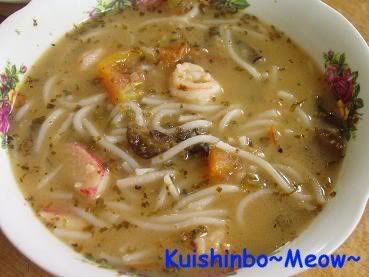 This is the Zao Chai Fen Gan, the noodle is made from rice flour too. Actually it is more like a thick beehoon. The version in this shop very different from the one I've tried in Miri and Sibu few years back. I would only say this one was very so so. Not sour enough, the Zao Chai too stingy.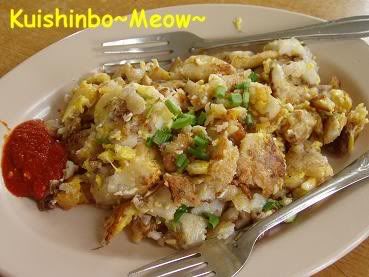 The local call this Char Kueh. Fried taro cake. I ordered for a salty version one from the next door stall. Usually I like it to be done very crispy. However, due to my sore throat, I had a much milder version this time. Among the 3, I think I like this plate the most. The taro cake was soft enough, and the flavour was good. Only that, it didn't has the pleasant crunchy mouthfeel. Oh well... have to endure for my health ler~ (Oops... sore throat still eat fried things... so this is what fish fish call health concious? Geee...)
Thanks dear. Enjoyed your accompaniment for that morning. Too bad we didn't get much time to be together. Promise you next time I will specially make a date with you... kekeke... How bout we go for a horror movie?? :P
That day noon, I somehow have a wild idea in my mind, I just felt like doing some real sweating.
"Bert, we go to cave today!"
Out of no where, I told Bert Bert.
"Cave? Jie Jie, you sure? How to tell auntie then?"
The biggest problem.
"Hmmm... great! Good Q! ... Well, we go first. After come back, I'll confess with her. Dun worry, I'll take all the responsibility. You wanna go or not?"

Would you think Bert Bert answer was a NO? Kekeke... definitely not.
Then, I asked
Eddie
and
Ann
to join us. Well, you bet they were as free as us, so another not No answer.
Great!! Here we go~~~
Panna Cotta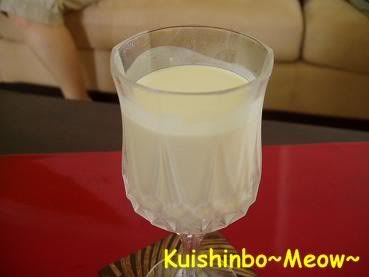 First, went to their house to fetch them. Bert Bert had one Eddie made Panna Cotta. An Italian dessert, literally means "cooked cream". He made it two days before, I had one oledi the day before. Compare to the versions in Japan, this version was different. Very creamy I would say, if you love rich creamy milk taste, you will like it. I personally enjoyed it... however, can't take much, as it would make me feel satiated. But, I did finish the whole glass by myself. ;) (Eddie Kor Kor~ I want CB too ler~)
And before we were heading to the cave, we actually went to a hawker centre to have our lunch.
Song Kheng Hai Centre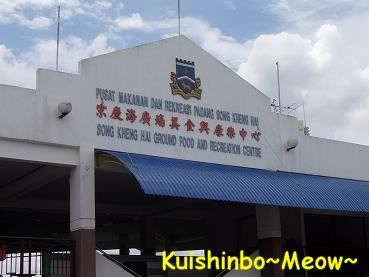 Song Kheng Hai Ground Food and Recreation Centre. One of my favortie hawker centres in Kuching.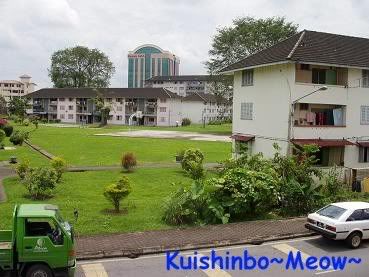 It is located next to this 七層楼 (7-storeys apartment) area, behind Padungan road.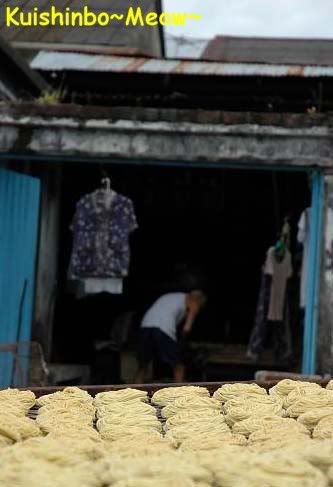 Pic by Ann.
While searching for a parking space, saw this noodle drying process was going on. Know where did they put the noodle trays? On the parking spaces. Last time, it was only occupying 1 parking space, then 2 spaces... This time, it turned into using 3 parking spaces...
So, the business is expanding huh~ But then,
"Dear owner off the noodles, don't you think occupy the parking spaces like this a bit too much??"
And I wonder if the DBKU do charge them the "parking fee" or not.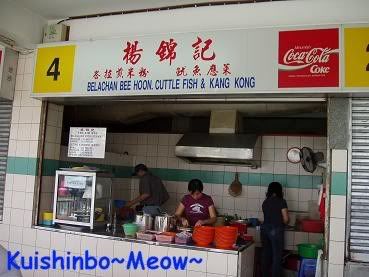 In this hawker centre, one of the famous stall is Stall no 4, named Yang Jin Ji (楊錦記). The famous product is Belachan Beehoon.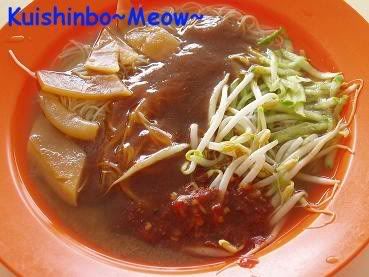 This is how the Belachan Beehoon looks like. Eddie was thinking a dry version. Hehehe... nope nope... It is Belachan Soup. The soup was kind of salty sweet. The one that prepared on that day a bit too sweet. I would prefer it to be more salty and spicy. This stall Belachan Beehoon is a very famous one in Kuching... Some Belachan Beehoon, when prepared not well, will have a hard-to-accept stinky taste.
So, how does Belachan Beehoon taste? A unique one I would say. Go and taste it yourself, and make your own judgement.
Fish Fish personally dun really enjoy this so much. I like to have the Kuching Rojak next to this stall more. Too bad, it was closed on that day.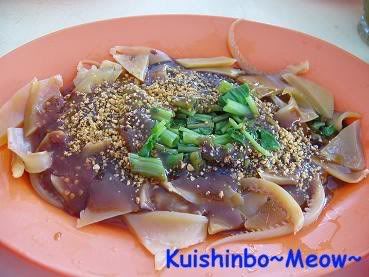 In the same stall, we ordered a big plate of rehydrated squid with kangkung vege. It is normally called You Hu Eng Chai in local. In Hokkien, You Hu means squid, and Eng Chai means kangkung vege. (Err... anyone knows how to call kangkung in English?)
I didn't quite enjoy this dish as well, I think the gravy a bit too watery. Not spicy enough. Still prefer the one prepared in Open Air.
The owner's wife was actually my ex-colleague. I only saw her before we were going to leave the place...
"Ai yar~ Didn't see you just now. Miss Yong rite?"
The first sentence she said when we were face to face... Geee... she still remember me after these few years.
"Still study in Japan ar?"
Ok, so she didn't get the wrong person. A very nice and cheerful lady, was very helpful when I was having industrial training there.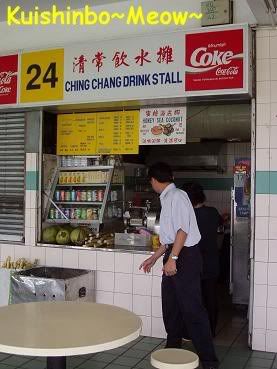 For drink, I owez love to have a glass of 三酸 (San Suan, literally means 3 sours) by this stall no 24. One of the best thirst quencher that I deeply enjoy. Too bad, I couldn't order from here this time, as I was having food at stall no 4. The rule limits you to order drink in....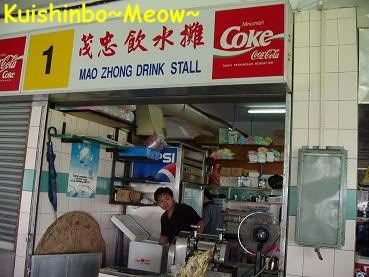 Stall no 1. Mao Zhong drink stall.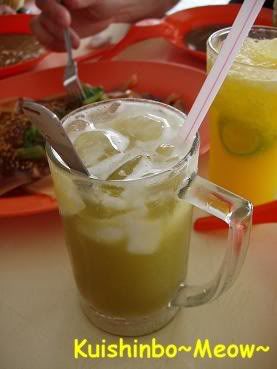 Usually in this stall, I order 甘蔗椰子水 (Fresh Sugarcane Coconut drink). We ordered 4. Ann didn't like it much, as it was too sweet. Yah~ think they put too much sugarcane. Should have ask the taukeh to put more coconut juice.
Here was a little episode when I was ordering drinks...
"Taukeh, you got San Suan? I want one..."
I asked.
"Sorry, we dun have. We got Er Suan (2 sours) though...""Dun want. I only want San Suan.""Errr... how bout you try Orange Squash Lime?"
He then suggested. (Actually I can't really remember the name of the drink).
"What's that? Nice or not?""Miss, you just try ok? Then you tell me if you like it. Why dun like this, I treat you one, FOC?""Taukeh, true or not?"
Didn't espect him to say that.
"Of course I mean it.""Thank you~"
*thick face fish fish* of course happily accept the offer and showed with a 'sweet' smile. :P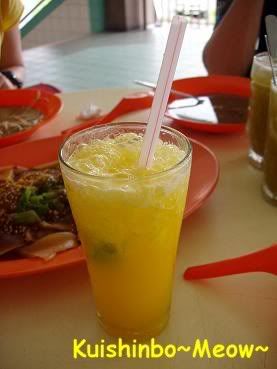 Dang Dang!! My glass of free drink. No need to go to a pub, oso got a free drink. *_*
The taste? Mmmmm~~~ nice! Better than the Sugarcane Coconut. I think it definitely worth to order again next time. Hey taukeh, you're smart, you have get another new customer for this drink. ;) Hey, those of you in Kuching... if you feel like you almost hydrated and want to faint during a hot day noon... Why dun you go there and try a glass of this? It will immediately soothe you outside-in. Just tell him,
"Taukeh, I want an orange colour sweet, salty and sour drink..."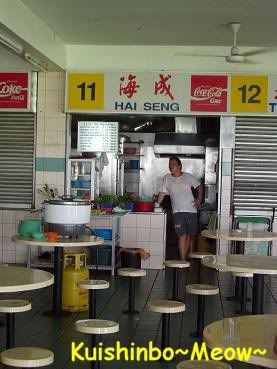 Another regret of mine... I didn't make time to have my favorite food in stall no. 11 this trip back. The taukeh cooks good local delicacy, with very reasonable price. I never miss this whenever I get home. But this time, due to very short stay, as well as CNY... I have to let it go. But, I'll sure be back for you Char Kueh Tiaw, Fried Bee Hoon and Lo Kueh Tiaw next time. :)
With a full stomach, I went to JPJ to renew my driving license first.
Then... yippie!! Finally we were heading to the cave...
Be ready for that tomolo. ;)