Muara Tebas (Feb 16, Pt 1)
After
the dinner
, at home...
"I'm going to Qing San with ur uncle and auntie tomolo, you wanna go with me?"
That nite, mum suddenly broke the silent.
I paused for a while.
"What time?"
Finally I asked.
"6 am depart from home."
Kekeke... from mum's voice, I know she pulled out the white flag first liao. :P
"Can~"
Still pretended to be cool, but deep inside, fish fish was yelling Yah hoo!
So... we turned up goin to Qing San Yan (青山岩) (Green Hill Temple) in Muara Tebas fish village.
Look for the site for it, dun really got. But found one
related photo site
which is quite interesting inside
catscity.com.my
. Wow! The person was one day earlier there than me... too bad, we missed to bump into each other... or else, it would be fun to know someone thru this way. :P
Ok, a little info about Qing San Yan...
A Chinese Temple that exists peacefully in a Malay fish village call Muara Tebas. This temple has been there for a long time, before there even wasn't any road to connect Kuching to it yet. During the old days, to go to the temple, people have to take sampan to reach there. Regardless of the inconveniece of the transportation, it has been one of the famous temple since that time.
Fish Fish like this temple the most personally. Dun know why, just feel like I have somekind of fate with it. During my UKM time, every year I will go to this temple to pray and to consult an oracle. For consecutive 3 years, I get the same oracle. :)
Today, this temple has turned into much bigger and prettier. If you join tour to travel in Kuching, most probably the tour will include a visit to this temple... Muara Tebas fish village oso gets their economy turning better due to the chances of earning money that brought by the locals and tourists. Such as charging parking fee, selling sea product and running restaurant.
I'm going to do 2 reviews on this place. Today let us have a look at the temple itself. :)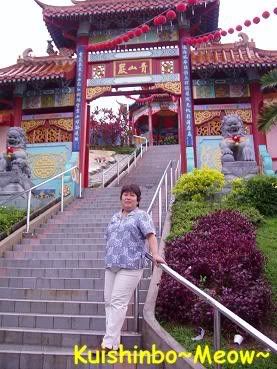 Mum in action in front of the entrance up to the temple.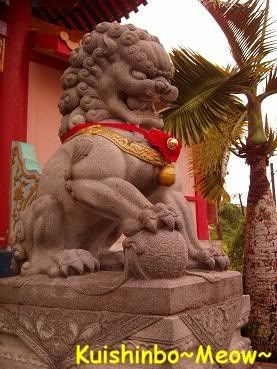 One of the 2 stone guardians in front of the temple. It doesn't has one mouth open and one mouth close like the one in Japanese temple.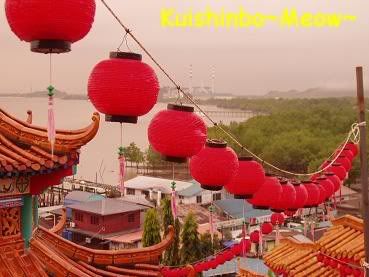 It was CNY time, so could see a lot of red lantern hanging all over the temple. Luckily it was the 8th day... if we went of the 9th day of CNY, the place would be terribly jammed.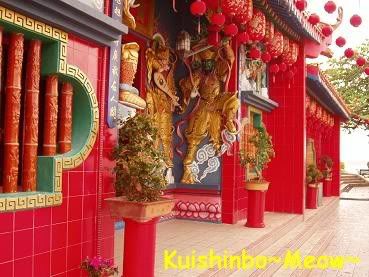 The entrance into the temple building. Red~~~ everywhere.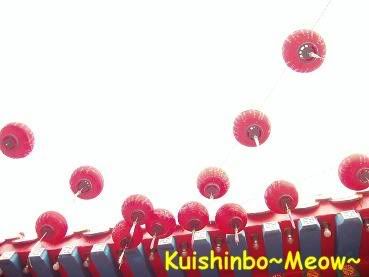 Floating red lanterns in the air. Wooo~~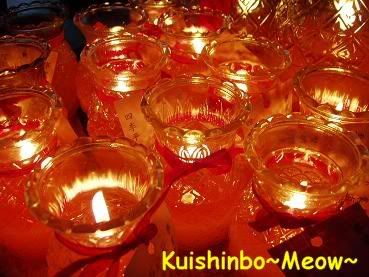 Inside the temple, found out these beautiful candle vases. Which you will frequently see in a Chinese temple.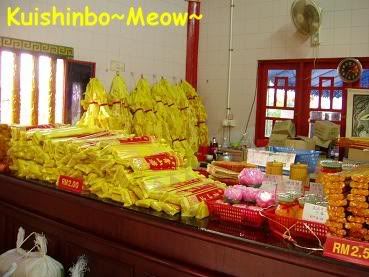 We bought 4 sets of candle + joss stick + paper money... Each set for RM2.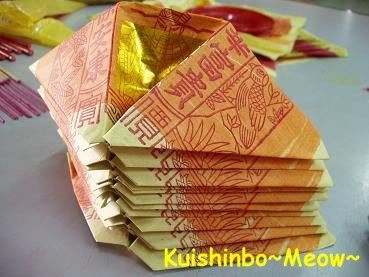 Then mum, uncle and auntie started to fold the paper money into nice shape like this. Well, it is actually symbolized Yuan Bao (something like a golden bloke).
I was lazy... so while they were helping to fold mine as well, I took the time to do some snapshots.
Then, we did our praying. The rule was you pray from outside in, then right and left.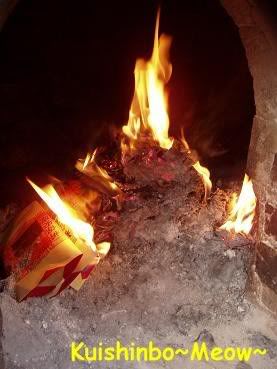 The nicely folded Yuan Bao then just burnt in minutes and gone with the wind~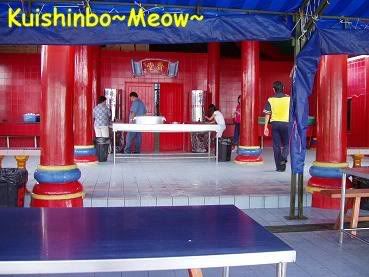 Canteen of the temple. Clean and nice. Mum, uncle and auntie were busy taking some "Blessed Water" to bring home for the others.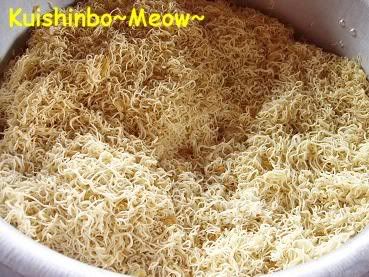 We oso had some noodle that prepared by the temple. During CNY, this noodle, coffee and tea service that FOC was on for everyday. However, for normal days, this kind of service will only be seen on the 1st and 15th day of Lunar calendar.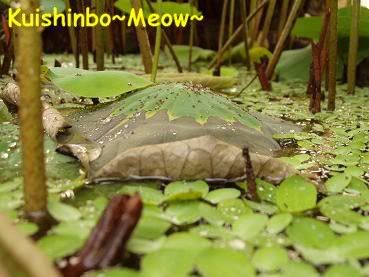 Some of the pictures I've taken around the temple compound.
Such as a scene inside a flower pot.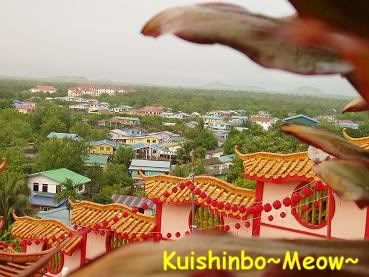 Muara Tebas fish village vs the temple's wall.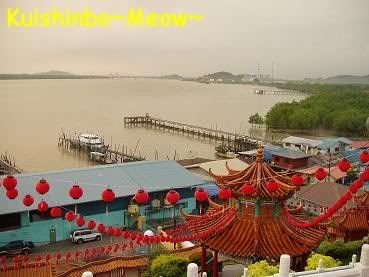 Small port seen from the temple on top of the hill.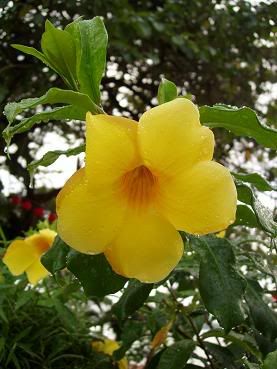 This is called Allamanda or Buttercup Flower.
City flower
of
Kuching North
.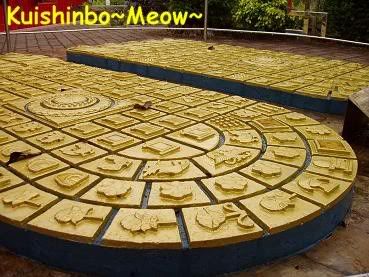 The Foot Print of Lord Buddha. The inprints symbolises the 108 auspicious signs of His soles.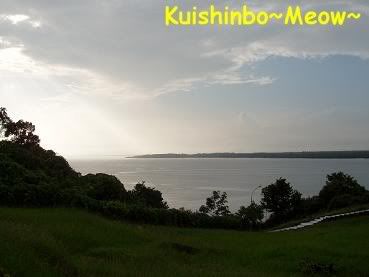 The sea view you can have from the temple... I love this peaceful feeling.
My uncle and auntie. :)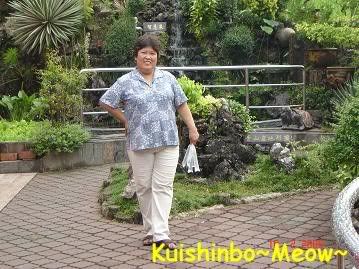 And my dear mummy... with her tubes of blessed water. :P
Well, I consulted an oracle again that day. ;)
To be cont...