Nam Kwong Cafe (Feb 18)
On that Friday morning,
Eddie
and
Ann
came to pick Ber Bert and me around 7.00am. We were goin to have a nice trekking at
Kubah National Park
. This national park is one of the 15 national parks that are under
Sarawak Forestry
.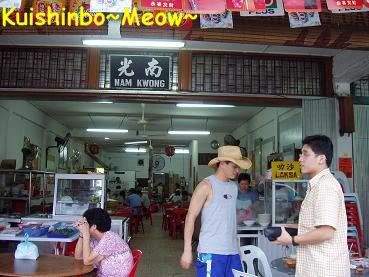 We stopped by in Nam Kwong cafe (南光) to have breakfast. Nam Kwong is located in old 3rd mile market area, can be easily spotted once you go from the entrance opposite Sunny Hill School.
Eddie ordered one Foochow delicacy, called Cao Zhu Mian (炒煮麺), literally means stir fry and boil noodle. Prawn and pig liver are the main things that decide the umami taste of the noodle soup.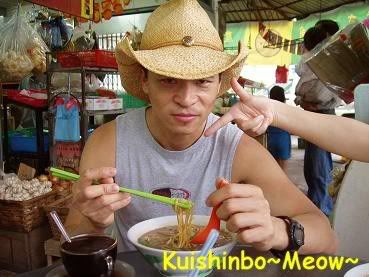 Cheh! Someone acted cool with his noodle... and... the mystery 3rd hand~ Make a guess whose hand it was. ;)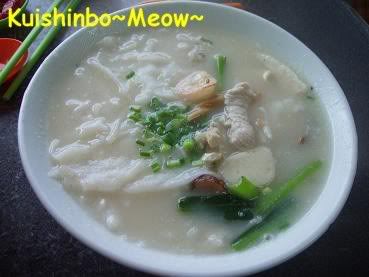 As for fish fish, ordered another type of Foochow special, Ding Bian Hu (鼎邊糊). I'm too lazy to explain what it is, if you are interested, please go to read a good
explanation by Eddie
. :P
Ok, it didn't has the Golden Needle Flower that Eddie said essential for a genuine one. But I like the taste of this cafe. I had a few in other places before, not thick enough. Bert Bert was telling me his mum made a very delicious on.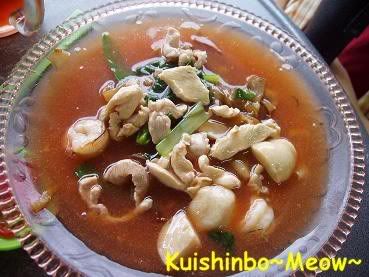 Bert Bert ordered Tomato Kueh Tiaw, a famous Kuching delicacy. Hmm... I don't really favour the version in this shop. As usual, it only tasted so so on that day. I prefer to have a home-made fish fish Tomato Kueh Tiaw or Mee... Yum Yum~ making me feel like to make one for myself liao~ No time, so now I'm gulping instant Japanese soba while typing this post. :P
Road to Kubah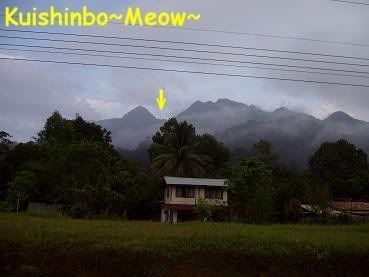 After the breakfast, we started our journey. After around 30 min, finally get to see the Gunung Serapi (Serapi Mountain, or local prefer to call it Matang Mountain in common). The yellow arrow is the point where we were going to hike until.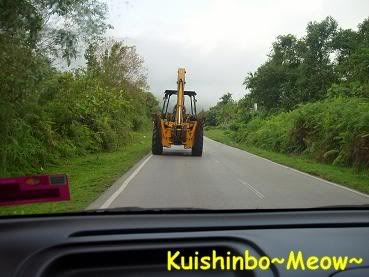 Eddie is a very careful driver. Definitely not like fish fish. You can go to read
his description on my driving
. -_-"
He followed this pickup truck patiently for quite a while before we headover it. Heee... good time for me to take a picture. ;)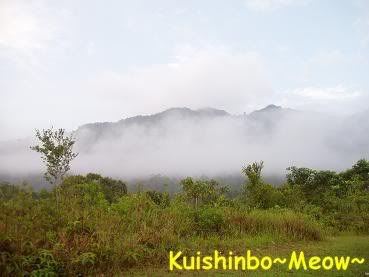 It was quite a foggy morning.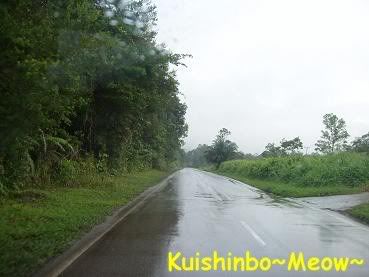 And the road was wet, due to rain a while ago.
Well, we reached the place finally.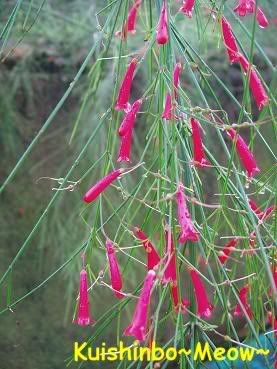 We saw a lot of this lovely red tiny flower at the carpark area. The local call this Firecracker flower. One of my favorite flower when I was a kid. My neighbour had a very nice one... And frequently, I'll go to play with the flower, to make the cracker 'Pik Pik Pak Pak' by pressing the non-yet-bloom buds... and oso to suck the honey from the tips of the flowers.
Ok... tomolo, I'll start a very long post about our nice hiking. I will devide it into 2-3 posts.
Tata~